Jordanian F-16 crashes in Saudi Near Yemen Border, pilot survives
NAJRAN – A Jordanian F-16 warplane crashed in Saudi Arabia on Friday but its pilot survived, the Saudi-led military coalition fighting Shiite Huthi rebels in neighbouring Yemen said.
"Technical reasons" caused the crash of the US-built aircraft in the Najran district on the Saudi side of the border with Yemen, the coalition said.It added that the pilot was in good condition.
The rebels' Al-Masirah television website claimed that the fighter-bomber had been shot down by "anti-aircraft defences."
Separately, the United Arab Emirates army command announced the death of one of its soldiers fighting in Yemen as part of the coalition.He was the second Emirati soldier in a week to die in Yemen, raising to around 80 the number of troops from the UAE killed in coalition operations against the Huthis and their allies.
The coalition launched air strikes, training and other military assistance nearly two years ago to support Yemen's President Abedrabbo Mansour Hadi.
The rebels are allied with former members of the security forces loyal to ex-president Ali Abdullah Saleh.
In March last year, two Emirati pilots were killed when their Mirage warplane crashed in Yemen because of what the coalition called a "technical fault".Three months earlier, a Bahraini pilot survived when his F-16 crashed in Saudi Arabia, reportedly also for technical reasons.A Moroccan air force pilot died in May 2015 when his F-16 went down in Yemen, with the coalition blaming human error or a technical fault.Two Saudi F-15 pilots were rescued when they ejected from their jet off Yemen's coast shortly after coalition air strikes began.Rights groups have repeatedly criticised the coalition bombing campaign over high civilian casualties.
http://www.middle-east-online.com/english/?id=81666
ISIS attack kills 15 Iraqi guards near Jordan border
At least 15 Iraqi border guards, including two officers, were killed Friday morning in an attack by ISIS  in Iraq's western Anbar province, according to a military source.
ISIS gunmen and suicide bombers targeted a border guards headquarters near Anbar's Trebil border crossing with Jordan, Army Colonel Walid al-Deleimi told Anadolu Agency.
Al-Deleimi said that reinforcements, including army troops and border guards, had since been dispatched to the area to help repel the attack.
https://www.middleeastmonitor.com/20170224-daesh-attack-kills-15-iraqi-guards-near-jordan-border/
Hundreds of thousands of Yemeni children are nearing starvation
The United Nations and other humanitarian groups are describing alarming scenes in the Middle East's poorest country as a humanitarian crisis and conflict deepen after nearly two years of war.
In recent weeks, clashes between rebels known as Houthis and forces loyal to the U.S.-backed government have intensified, especially along the western coast of the country. Airstrikes near a major port in the city of Hodeida – the main entry point for food, medicine and humanitarian aid into northern Yemen – have slowed the delivery of supplies and exacerbated the misery.
Almost a half million children are severely acutely malnourished, a nearly 200 percent increase since 2014, the United Nations Children's Fund said this week. The United Nations described Yemen, along with Somalia and northern Nigeria, as "on the brink of famine," and declared that famine has already gripped parts of South Sudan. In Yemen, more than 7.3 million are in need of urgent food assistance.
http://www.the-journal.com/article/20170224/AP/302249887/Hundreds-of-thousands-of-Yemeni-children-are-nearing-starvation
Kim Jong-nam killed by VX nerve agent, say Malaysian police
Kuala Lumpur airport terminal to be decontaminated after deadly attack on North Korean leader's half-brother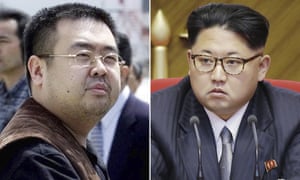 The substance used in the killing of Kim Jong-nam was a "VX nerve agent", a highly toxic liquid used only in chemical warfare, Malaysian police have said.
The findings follow a preliminary analysis of swabs taken from the face and eyes of the victim, who is the half-brother of the North Korean leader, Kim Jong-un. More items linked to the attack at Kuala Lumpur airport were still being analysed and the terminal would be decontaminated, police said.
VX – also known as ethyl N-2-Diisopropylaminoethyl Methylphosphonothiolate – is classified by the United Nations as a weapon of mass destruction.
https://www.theguardian.com/world/2017/feb/24/kim-jong-nam-north-korea-killed-chemical-weapon-nerve-agent-mass-destruction-malaysian-police
Geert Wilders suspends election campaign over alleged security leak
Dutch far-right leader stops campaigning in public for March polls after a member of his security team is arrested
Wilders, current frontrunner for the Netherlands' general elections, to be held on 15 March, said on Twitter: "Very alarming news. The PVV is suspending its public activities until all facts in connection with the corruption investigation are known."
Dutch media reported this week that a member of the far-right politician's police security team had been arrested on suspicion of leaking details of his whereabouts to a Dutch-Moroccan criminal gang.
The Algemeen Dagblad newspaper reported on Thursday that the officer and his brother, both previously members of the Utrecht police force, had also been investigated in the past in connection with suspected leaks of confidential information.
https://www.theguardian.com/world/2017/feb/23/geert-wilders-suspends-election-campaign-over-alleged-security-leak
Carnage as suicide bomber kills 42 people in Syrian town just hours after it was taken from ISIS by Turkish-backed rebels
A suspected ISIS jihadi detonated a car bomb inside a Free Syrian Army position
The attack took place in the village of Susian, five miles from the town of Al-Bab
Turkish-backed forces seized the village overnight which is close to the frontier
Human rights observers said the attack was probably conducted by ISIS  
A suicide bomber attacked Turkish-backed rebels just outside the Syrian town of Al-Bab Friday, killing 42 people in a major blow just hours after they hailed its capture from ISIS.
The bomber blew up a vehicle packed with explosives outside a rebel command centre in the village of Susian, five miles northeast of Al-Bab, the Syrian Observatory for Human Rights said.
The blast devastated the twin command posts and also seriously wounded a large number of fighters, the Britain-based monitoring group said.
http://www.dailymail.co.uk/news/article-4256102/Suicide-bomber-kills-42-near-Syria-town-taken-IS.html#ixzz4ZbcKn0zn
German secret service spied on journalists at the BBC, The New York Times and Reuters for more than a DECADE
BND listed at least 50 phone and fax numbers and emails for journalists and newsrooms 'selector' keywords for surveillance since 1999
These included several dozen numbers of the British Broadcasting Corporation 
A number for The New York Times in Afghanistan was also on the list 
News of the surveillance is a culmination of the three year inquiry that resulted in German Chancellor Angela Merkel giving evidence last week 
Germany's foreign intelligence service BND long spied on journalists of the BBC, The New York Times, Reuters and other media, news weekly Der Spiegel reported Friday.
Media rights group Reporters Without Borders labelled the alleged surveillance 'a monstrous attack on press freedom', voiced fears the eavesdropping was ongoing and said it was planning legal action, according to Der Spiegel.
The magazine, which has extensively worked with US fugitive intelligence contractor Edward Snowden and reported on US and German espionage scandals, only cited documents it had seen.
While it is unknown exactly who the BND spied on, news of the surveillance is a culmination of the three year inquiry that resulted in German Chancellor Angela Merkel giving evidence last week.
http://www.dailymail.co.uk/news/article-4257192/German-secret-service-spied-journalists-DECADE.html#ixzz4ZchwR1Cq
German entrepreneurs see pickup in Russia business
Following two years of recession, the Russian economy is slowly gaining momentum again. German businesses operating in the country are confident a rebound in bilateral trade activities is just around the corner.
German companies operating in Russia expect their business activities in the country to expand considerably in the course of 2017, a fresh poll by the Committee on Eastern European Relations and the German-Russian Chamber of Trade and Commerce (AHK) has shown.
Two-thirds of the German firms polled predicted mounting revenues, exports and investments in Russia, with the poll taking into account the views of companies with a total of 122,000 employers and combined annual revenue of 29 billion euros ($30.7 billion) in Russia.
AHK chief Matthias Schepp told reporters that after years of recession, Russia was finally "leaving behind a valley of tears."
http://www.dw.com/en/german-entrepreneurs-see-pickup-in-russia-business/a-37702800
US-led coalition is 'killing more civilians than Russia'
The US-led coalition against the Islamic State (Isil) is for the first time killing more civilians with its airstrikes than Russia is with its own bombing campaign, according to a new analysis.
Coalition warplanes have dramatically stepped up their strikes against Isil in both Mosul and Raqqa, while Russia has scaled back its campaign in Syria after a patchy ceasefire went into effect in December.
While Russia has killed far more civilians in total than the coalition, it is currently killing fewer civilians than the allies, research by the Airwars monitoring group found.
Airwars estimated that between 254 and 369 civilians were killed by the coalition in Iraq and Syria in January. That is almost twice the number estimated killed in December, when 134 to 187 civilians were found to have died.
http://www.telegraph.co.uk/news/2017/02/23/us-led-coalition-killing-civilians-russia/
Syria talks hit snag before opening ceremony in Geneva
Negotiations off to rocky start after opposition threatens to skip opening ceremony over disagreements.
Geneva, Switzerland – UN-led negotiations on the war in Syria got off to a delayed start following disputes over the participation of the Syrian opposition delegation.
Opposition representatives nearly missed the opening ceremony of the talks on Thursday after threatening not to attend over disagreements on the make up and format of the session. But in a last-minute turnaround, they arrived late and as one large delegation.
http://www.aljazeera.com/news/2017/02/syria-talks-geneva-170223213801586.html
'Al-Qaeda is eating us': Syrian rebels are losing out to extremists
GAZIANTEP, Turkey —

The biggest surviving rebel stronghold in northern Syria is falling under the control of al-Qaeda-linked extremists amid a surge of rebel infighting that threatens to vanquish what is left of the moderate rebellion.The ascent of the extremists in the northwestern province of Idlib coincides with a suspension of aid to moderate rebel groups by their international allies.

The commanders of five of the groups say they were told earlier this month by representatives of the United States, Saudi Arabia and Turkey that they would receive no further arms or ammunition until they unite to form a coherent front against the jihadists, a goal that has eluded the fractious rebels throughout the six years of fighting.