Parliament in lockdown: Police open fire outside Westminster and shoot knife-wielding man amid reports of explosion and 'at least 12 pedestrians mowed down on bridge'
Several shots have been fired at the House of Commons in Westminster
At least three people have been hit and emergency teams are on the scene 
Reports aslo suggest a car ploughed into pedestrians on Westminster Bridge
The Prime Minister has been evacuated and staff told to stay inside
Armed Police have opened fire and shot an intruder inside the grounds of the Houses of Parliament amid reports a car drove into pedestrians on Westminster Bridge.
An intruder with a knife managed to break into the grounds of Parliament and stabbed a police officer before he was shot, reports suggest.
More than 10 people are said to have been hit by a car on Westminster Bridge after a vehicle described as a '4×4' reportedly drove into pedestrians and cyclists.
Three bodies were visible on the floor outside Parliament and the Palace was placed on an immediate lock down.
Prime Minister Theresa May is said to have been bundled into a car by a plain-clothes police officer and driven quickly from the scene.
http://www.dailymail.co.uk/news/article-4338998/Police-open-fire-outside-House-Commons.html#ixzz4c4HvpJta
FOUR people are dead – including police officer and terrorist – and 20 more injured – after killer mowed down pedestrians on Westminster Bridge before killer is shot attacking police in Parliament grounds
Four-wheel drive was driven over Westminster Bridge knocking down pedestrians this afternoon
Victims were said to have been left scattered in the road, with one woman knocked into the River Thames
Emergency services  treated at least 20 injured people on the bridge, with one woman dead under a bus 
'Asian' knifeman got into the grounds of Parliament where he stabbed and killed a police officer
The 'middle-aged' attacker was then shot by armed officers and died after being taken to hospital
Parliament was suspended and the Prime Minister was rushed from the scene in her official car
At least 20 people were hit when a 4×4 drove along the pavement on the crowded bridge, knocking down and seriously injuring pedestrians before crashing into a fence below Big Ben.
The killer, described by witnesses as 'middle-aged and Asian', then managed to break into the grounds of the Parliament where he fatally stabbed a police officer with two knives.
The policeman died at the scene. The attacker, who was shot by armed officers, died after he was taken to hospital.
It is currently believed one attacker was involved and he killed three people, including the policeman, and left at least 20 pedestrians and three other police officers seriously injured.
Prime Minister Theresa May was bundled into her car by a plain-clothes police officer and driven quickly from the scene as the attack unfolded. She will chair a meeting of the Government's emergency Cobra Committee tonight.
Scotland Yard said the attack, which comes a year to the day after the terrorist atrocities in Brussels, is being treated 'as a terrorist incident until we know otherwise'.
A police officer was killed by a knifeman (pictured on stretcher) before the attacker was shot by other officers outside Parliament today. The suspected terrorist is also dead, along with two pedestrians killed when the attacker drove a 4×4 across Westminster Bridge, ploughing down and seriously injuring at least 20.
http://www.dailymail.co.uk/news/article-4338998/Police-open-fire-outside-House-Commons.html
Isil supporters cheer Westminster attack as 'revenge' for British air strikes on Syria
Isil supporters have cheered the attack on Westminster, suggesting it was "revenge" for the UK's airstrikes on the terror group in Syria and Iraq.

Followers on pro-Islamic State of Iraq and the Levant channels on the social media service Telegram posted messages applauding the knife-wielding suspect and called the attack "blessed".

One said the UK was paying "blood for blood" for its involvement in the US-led coalition's campaign against the jihadists.

"Our battle on your land is only just beginning," read one poster next to a photoshopped image of Big Ben being blown up.

http://www.telegraph.co.uk/news/2017/03/22/isil-supporters-cheer-westminster-attack-revenge-british-air/
China issues warning to US bomber flying in East China Sea
The Chinese military issued a warning to a U.S. Air Force B-1 bomber flying in the East China Sea Wednesday morning amid escalating tensions in the region, two U.S. officials told Fox News.
The Chinese said the U.S. bomber was flying in Chinese airspace. Both American officials said the bomber was flying in international airspace and continued on its mission.
The Chinese warning came over the emergency radio frequency known as "guard," according to one official. The incident occurred when the American bomber was flying 70 miles southwest of the South Korean island of Jeju.
The episode occurred amidst rising tensions with North Korea, which tried to launch another ballistic missile Wednesday, but failed.
http://www.foxnews.com/world/2017/03/22/china-issues-warning-to-us-bomber-flying-in-east-china-sea.html
North Korea missile test ends in failure as projectile "explodes within seconds" of launch
The launch made near the city of Wonsan, on North Korea's east coast, was detected by Japanese, South Korean and American systems
North Korea's latest missile launch ended in catastrophic failure as it appeared the projectile exploded within seconds, say US officials.
The launch made near the city of Wonsan, on North Korea's east coast, was detected by Japanese, South Korean and American systems, leaving those countries scrambling to find out more about the type of missile that was launched and why it failed.
Neighbouring countries were preparing for the possibility of additional launches after the failed weapons test.
North Korea has launched a series of tests in recent months, with Wednesday's launch coming after the nuclear-armed state claimed it had made a major breakthrough in its rocket programme.
http://www.mirror.co.uk/news/politics/north-korea-fires-several-missiles-10072049?service=responsive
US Marines said to land behind Islamic State lines in Syria
Reported deployment of American troops to territory held by terror group part of offensive to retake city of Raqqa
An American-backed Syrian Kurdish coalition said Wednesday that the US had landed infantry behind Islamic State lines to spearhead an assault on the town of Tabqa.
The Syrian Democratic Forces said the US airlifted several Marines and SDF fighters by helicopter into Islamic State-held territory, capturing four villages, and cutting the main artery running between the terrorist group's self-proclaimed capital of Raqqa and the western countryside.
It was not immediately possible to confirm the deployment with US commanders.
The group said in a statement on social media Wednesday that the operation was in preparation for an assault on Tabqa, an IS redoubt 45 kilometers (28 miles) west of Raqqa.
The activist-run group Raqqa is Being Slaughtered Silently said 500 US and Syrian Kurdish forces were deployed in the operation Wednesday morning. The group relies on local contacts to smuggle information out of IS territory.Earlier this month, a couple of hundred Marines were deployed into Syria with heavy artillery guns, as part of the preparations to oust the IS from Raqqa.
The Marines moving into Syria were pre-positioning howitzers to be ready to assist local Syrian forces, a senior US official said at the time.
http://www.timesofisrael.com/us-marines-said-to-land-behind-islamic-state-lines-in-syria/
ISIS Supporters Are Tracking Americans In Ramadi
Pro-ISIS followers are threatening Americans who are helping restore the city that was once an ISIS stronghold
---
Images of Americans inside the Iraqi city of Ramadi have roiled ISIS supporters, who are calling online for anyone near the western city to attack them.
A pro-ISIS channel on Telegram posted that over 60 American soldiers are in Ramadi, specifically seen inside Anbar University and being escorted by Iraqi security forces and tribal militiamen.
"They tour and walk inside the university like it is their own land," someone in the channel posted. 'Wake up and attack them." Earlier this month the same channel reported "Americans are walking freely" in the area and that "civilians are greeting them, taking pictures and laughing with them."
The U.S. State Department's Bureau of Political-Military Affairs tweeted earlier this week that it was "demining work targets stockpiles of homemade explosives, IEDs, and improvised ordnance" and "clearing the mess" in one of Ramadi's schools.
While ISIS was routed out of Ramadi nearly a year ago, the terror group has sympathizers and former members in towns on its outskirts. The presence of U.S. officials has been keenly monitored on the ground.
http://www.vocativ.com/413621/isis-supporters-are-tracking-americans-in-ramadi/
Fillon 'was paid €50k to fix meeting between Vladimir Putin and Lebanese billionaire'
Beleaguered presidential candidate faces fresh allegations over 2015 meeting as prosecutors widen fake jobs inquiry
Kim Willsher in Paris
The French presidential candidate François Fillon has been hit by allegations he was paid $50,000 (£43,000) to arrange a meeting between a Lebanese billionaire and Vladimir Putin as prosecutors investigating whether his wife was paid for fake jobs widened their inquiry into whether she had signed forged documents.
The latest accusations came a week after Fillon, 63, was formally put under investigation for a misuse of public funds over the €700,000 of taxpayers' money British-born Penelope Fillon earned for acting as his parliamentary assistant.
French media reported on Tuesday that the inquiry was examining suspected "aggravated fraud, forgery and use of forgeries" to claim she had worked when she had not, which her lawyer denies.
The allegations of Fillon's role in a meeting between the Russian president, Lebanese businessman Fouad Makhzoumi and Patrick Pouyane, the chief executive of energy giant Total, were made in the latest issue of the satirical newspaper Le Canard Enchainé, which broke the alleged 'fake jobs' scandal in January.
The article said Fillon's consultancy company 2F Conseil had earned $50,000 for setting up the 2015 meeting.
Fillon's spokesman vigorously denied the allegation, saying Canard Enchaîné's "insinuations" were "completely without foundation". The Kremlin dismissed the report as "fake news".
https://www.theguardian.com/world/2017/mar/22/fillon-paid-50k-to-fix-meeting-vladimir-putin-lebanese-billionaire-allegation
Lawyer for family of Russian whistleblower 'thrown from building'
Nikolai Gorokhov, who represents family of Sergei Magnitsky, is in intensive care after falling from fourth floor of apartment block
Shaun Walker in Moscow
A Russian lawyer who represents the family of Sergei Magnitsky is in intensive care after falling from the fourth floor of his apartment building, according to unconfirmed reports.
The Russian newspaper Novaya Gazeta suggested Nikolai Gorokhov had fallen after a winch snapped as he tried to lift a bath to a fourth-floor apartment, though details of the incident remained murky.
Magnitsky uncovered a massive fraud that implicated government officials, but was himself arrested in 2008 and died in prison in 2009, amid allegations he had been tortured and medical care had been withheld. Russia later put him on trial posthumously for tax evasion.
Gorokhov, 53, has represented the Magnitsky family since 2011, and was due in court on Wednesday as part of a case brought by Magnitsky's mother against some of those allegedly involved in the fraud he uncovered.
https://www.theguardian.com/world/2017/mar/22/lawyer-for-family-of-russian-whistleblower-seriously-injured-after-fall
World leaders gather to discuss 'secret plan' to defeat Isil after laptop terror threat prompts UK flight ban
World leaders will gather for talks on how to defeat the Islamic State today after it emerged that an aircraft cabin ban on electronic devices was prompted by warnings of a new terrorist threat.
During the presidential campaign, Donald Trump said he had a "secret plan" to defeat the Islamic State of Iraq and Levant (Isil) and pledged to "bomb the hell out of" the terror group.
He has ordered his administration to "develop a comprehensive plan", but is yet to set out the details.
Rex Tillerson, the US Secretary of State, will today host the first full meeting of the international coalition against Isil since 2014.
Boris Johnson, the Foreign Secretary, is attending the major 69-nation conference in Washington DC.
It comes as British passengers on holiday flights from the Middle East and North Africa were told they would be banned within days from carrying laptops, tablets and other electronic devices on board the aircraft.
http://www.telegraph.co.uk/news/2017/03/22/laptop-terror-threat-prompts-uk-flight-ban-world-leaders-gather/
Trump's former campaign chairman Paul Manafort was paid $10 million yearly in secret deal to help Vladimir Putin
President Donald Trump's former campaign chairman, Paul Manafort, secretly worked for a Russian billionaire to advance the interests of Russian President Vladimir Putin a decade ago and proposed an ambitious political strategy to undermine anti-Russian opposition across former Soviet republics, The Associated Press has learned. The work appears to contradict assertions by the Trump administration and Manafort himself that he never worked for Russian interests.
Manafort proposed in a confidential strategy plan as early as June 2005 that he would influence politics, business dealings and news coverage inside the United States, Europe and the former Soviet republics to benefit the Putin government, even as U.S.-Russia relations under Republican President George W. Bush grew worse. Manafort pitched the plans to Russian aluminum magnate Oleg Deripaska, a close Putin ally with whom Manafort eventually signed a $10 million annual contract beginning in 2006, according to interviews with several people familiar with payments to Manafort and business records obtained by the AP. Manafort and Deripaska maintained a business relationship until at least 2009, according to one person familiar with the work.
"We are now of the belief that this model can greatly benefit the Putin Government if employed at the correct levels with the appropriate commitment to success," Manafort wrote in the 2005 memo to Deripaska. The effort, Manafort wrote, "will be offering a great service that can re-focus, both internally and externally, the policies of the Putin government."
http://www.telegraph.co.uk/news/2017/03/22/trumps-former-campaign-chairman-paul-manafort-paid-10-million/
Laptop ban on flights 'is based on intelligence about an ISIS plot to target the West gathered during the raid on Yemen which killed Navy SEAL'
[Editor's Note: The press and members of Congress and others in Europe owe Donald Trump an apology for criticizing his decision to carry out the raid.]
The intelligence centered around al-Qaeda's 'successful development' of compact battery bombs that fit inside laptops or other devices, sources claimed
Bombs would reportedly be manually triggered which explains cabin luggage ban
The US and the UK have instituted similar bans on large electronics in carry-on bags for direct flights from certain Middle East and North African nations
The US ban applies to 10 airports in Morocco, Turkey, Saudi Arabia, Jordan, Kuwait, Qatar, Egypt and the United Arab Emirates 
Britain's restrictions apply to flights originating from the countries of Turkey, Lebanon, Jordan, Egypt, Tunisia and Saudi Arabia 
Electronics cellphone sized and small will still be permitted in passenger cabins 
Restrictions come a year after the bombing of Daallo Flight 159, in which a bomber used an explosive hidden inside a laptop  
The ban of carry-on electronics on flights was prompted by intelligence gathered about an ISIS plot to target the West.
The US and UK announced restrictions on large electronics in carry-on baggage for direct flights from certain Middle Eastern and North African nations on Tuesday.
The move is allegedly based on the suspicion that Islamic State are working on ways to smuggle explosives on to planes by hiding them in electronics.
Information was gathered during a raid against al Qaeda in Yemen in January that killed Navy SEAL senior chief petty officer William 'Ryan' Owens.
The intelligence centred around al Qaeda's 'successful development' of compact battery bombs that fit inside laptops or other devices, sources claimed.
http://www.dailymail.co.uk/news/article-4337982/Laptop-ban-based-intelligence-ISIS-plot.html
Nunes Says Trump Team Conversations Caught in Surveillance
by
,
, and
Republican says 'I'm actually alarmed' conversations picked up

Disclosure may bolster Trump's claim he was under surveillance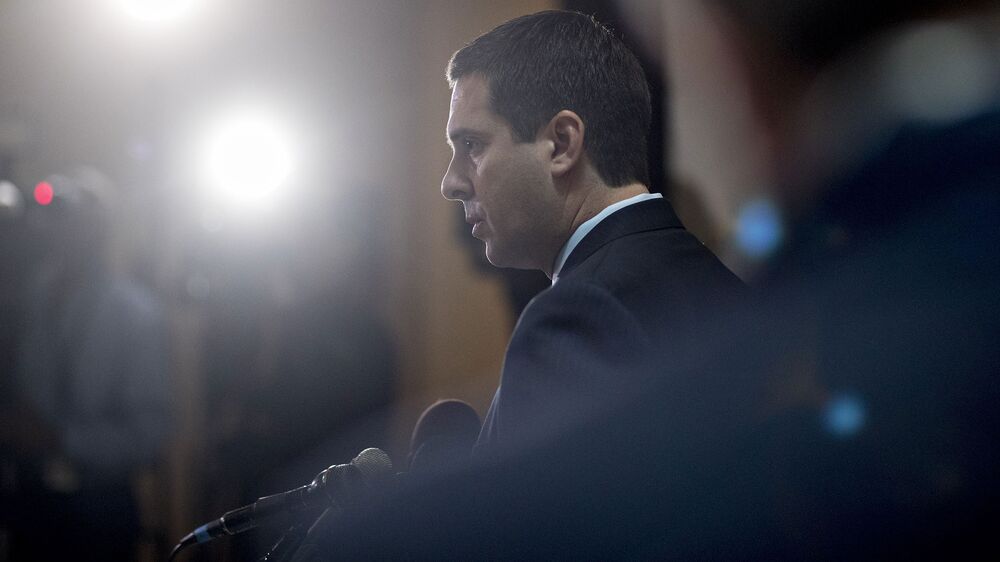 House Intelligence Chairman Devin Nunes said Wednesday that the U.S. intelligence community collected multiple conversations involving members of Donald Trump's transition team after he won the election last year.
He said the intercepts he's seen appear to be legal and weren't targeted at the transition team or related to an investigation of Russia's attempts to influence the U.S. presidential election. But he said he was troubled by the collection — which he described as part of unrelated foreign surveillance — and that the intelligence community reported the names of transition team members internally.
"I'm actually alarmed by it," Nunes, a California Republican, told reporters at the Capitol. "Details with little or no apparent foreign intelligence value were widely disseminated in an intelligence community report," he said. He said he didn't know if Trump's "own communications were intercepted."
The disclosure may bolster Trump's effort to back up his disputed claim in Twitter postings that former President Barack Obama tapped his phones, which his spokesman later said shouldn't be taken literally and referred generally to having his team under surveillance. FBI Director James Comey testified before the House committee this week that "I have no information that supports those tweets."
Nunes told reporters outside the White House, where he briefed the president on his findings, that "it is possible" Trump's tweets were correct concerning surveillance.
It was previously disclosed that U.S. intelligence agencies had picked up conversations between Michael Flynn, Trump's first national security adviser, and the Russian ambassador to the U.S. before Trump's inauguration. Flynn was fired in February after making contradictory statements to Vice President Mike Pence about those discussions.
https://www.bloomberg.com/politics/articles/2017-03-22/nunes-says-trump-team-communications-caught-in-u-s-surveillance
5 congressional staffers in criminal probe over unauthorized computer access
Five people employed by members of the House of Representatives remain under criminal investigation for unauthorized access to Congressional computers. Former DNC chair Debbie Wasserman Schultz employed at least one of those under investigation.
The criminal investigation into the five, which includes three brothers and a wife of one of the men, started late last year, as reported by Politico in February. The group is being investigated by US Capitol Police over allegations that they removed equipment from over 20 members' offices, as well as having run a procurement scheme to buy equipment and then overcharge the House.
House Speaker Paul Ryan said last week Capitol Police are receiving additional help for the investigation. "I won't speak to the nature of their investigation, but they're getting the kind of technical assistance they need to do that, this is under an active criminal investigation, their capabilities are pretty strong but they're also able to go and get the kind of help they need from other sources," Ryan said.
The brothers, Abid, Jamal and Imran Awan, worked as shared employees for various members of the House, covering committees relating to intelligence, terrorism and cybersecurity, which included the House Committee on Foreign Affairs, the Committee on Homeland Security and the Subcommittee on Tactical Air and Land Forces of the Armed Services Committee.
Imran's wife, Hina Alvi, and Rao Abbas, both of whom worked as House IT employees, are also under investigation.
DEBBIE WASSERMAN SCHULTZ
The group were banned from accessing the computers as a result of the investigation but, as of earlier this month, Imran Awan remains as an "technology adviser" to former Democratic National Committee chair, Debbie Wasserman Schultz, who was forced to resign in July following revelations that she worked to further Hillary Clinton's chances of winning the Democratic primary at the expense of Vermont Senator Bernie Sanders.
https://www.rt.com/usa/381692-congressional-staffers-criminal-investigation/
Moscow extends Turkish food ban in response to heavy tax on Russian agriculture
Russia will not lift the import ban on Turkish vegetables, fruit, and meat, according to agriculture watchdog Rosselkhoznadzor. Last week, Turkey imposed stiff tariffs on Russian wheat and corn, making exports unprofitable
According to watchdog spokeswoman Yulia Melano, "the issue of full or partial removal of restrictions on Turkish fruit and vegetable products for the Russian market should be discussed in conjunction with the removal of counter restrictions on Russian products from the Turkish side."
Last week, the Russian media reported that Turkey had imposed a 130 percent tariff on wheat, corn and sunflower meal that is making deliveries highly unprofitable for local businesses.
Turkey's Trade Ministry denied the reports, but a representative of the Russian trade mission in Ankara said Turkey had excluded Russia from a list of countries with zero rates of customs duties. Turkey is the second largest buyer of Russian wheat after Egypt. Russia will keep the ban on Turkish frozen meat and poultry as well as tomatoes, cucumbers, grapes, apples, pears, strawberries and other fruit and vegetables.
In March, Rosselkhoznadzor lifted the restrictions against Turkish onions, cauliflower, broccoli and some other vegetables, explaining there is a lack of these food items in Russia.
Food imports from Turkey were blocked in response to the downing of a Russian jet in Syria in November 2015. There were other restrictions, including the cancellation of charter flights to Turkey, the introduction of a visa regime, and a ban on hiring Turkish citizens. At the request of the Kremlin, Russian travel agencies suspended sales of package tours to the country.
Moscow-Ankara relations began to improve after Turkish President Recep Tayyip Erdogan apologized over the jet incident. Russia lifted the flight ban, but the food ban has remained.
https://www.rt.com/business/381728-russia-turkey-food-ban/
Minister's son reportedly arrested as probe into IAI defense firm expands
Police confirm 2 suspects detained, 10 more questioned as part of investigation into corruption at Israel's largest state-owned company
Police arrested two people, including, reportedly, the son of a minister, as part of an ongoing probe into corruption suspicions at Israel Aerospace Industries, one of the country's largest defense firms.
Another 10 people were hauled in for questioning, police spokeswoman Luba Samri said.
The two suspects were arrested early in the morning and their homes searched, police said. They are expected to appear at an arraignment hearing at Rishon Lezion Magistrate's Court later Wednesday to determine if they will remain in custody, police said.
One of the suspects is the son of a Likud minister, Channel 10 news reported. Police did not divulge the identities of those arrested Wednesday.
Suspicions of of corruption, fraud, and breach of trust surrounding IAI became public last week when police raided the defense contractor, arresting 14 people.
The labor union at IAI, which employs some 16,000 people and is Israel's largest state-owned company, is known as a Likud stronghold.
The suspects detained last week were from IAI and private companies who either supplied or were supplied by IAI, along with a former senior Israel Defense Forces officer, who police said was "well known in the defense establishment."
"This is an extensive investigation, with a wide scope, which includes a number of sub-scandals, and raises suspicions of a range of charges — corruption, aggravated fraud, money laundering, theft by public officials, illegal business practices, fraud and breach of trust," police said in a statement last week.
http://www.timesofisrael.com/ministers-son-reportedly-arrested-as-part-of-probe-into-iai-defense-firm/
Syrian rebels report fresh Israeli airstrikes near Damascus
Raids reportedly target regime posts in Mount Qasioun region; no immediate reports of casualties, damage
Israeli jets were reported to have carried out airstrikes near the Syrian capital early Wednesday, hours after Prime Minister Benjamin Netanyahu vowed to continue hitting weapons convoys and rebuffed claims Russia had ordered the strikes halted.
Syrian opposition news outlets reported that the airstrikes took place in the Mount Qasioun region near Damascus overnight.
The Israeli raids targeted Syrian army posts in the area, the reports said, in the fourth round of airstrikes attributed to Israel in Syria in less than a week.
There was no immediate confirmation from Jerusalem, nor any information on casualties or damage.
http://www.timesofisrael.com/syrian-rebels-report-fresh-israeli-airstrikes-near-damascus/
Airstrike reportedly kills 33 civilians sheltering in school
[This story is NOT confirmed.]
A London-based activist and monitoring group said Wednesday that a U.S.-led coalition airstrike had hit a school in ISIS-held territory in northern Syria that was being used to shelter displaced families, killing dozens of civilians.
The Syrian Observatory for Human Rights (SOHR), which relies on an extensive network of contacts on the ground in Syria and which generally proves a reliable source of information on the war, said coalition aircraft "most likely" carried out the strike but did not explain how it reached that conclusion.
In a statement to CBS News, a spokesperson for the U.S.-led coalition said it had no evidence yet to back up the claim of a strike hitting civilians, but that all such reports were taken seriously and investigated.
"At this time the Coalition has no indication that an airstrike struck civilians near Raqqah as the Syrian Observatory for Human Rights claims," a statement from the Operation Inherent Resolve public relations office said. "However, since we have conducted several strikes near Raqqa we will provide this information to our civilian casualty team for further investigation."
The coalition has targeted ISIS militants and infrastructure in and around the northern Syrian city of Raqqa for months. It is the terror group's last major urban stronghold in Syria and its self-declared capital.
Russian aircraft have also carried out one or two strikes in the area in recent months, but have largely focused on targeting groups other than ISIS. Both U.S. and Russian-backed factions on the ground are battling ISIS in an effort aimed at eventually retaking Raqqa.
The Wednesday strike reportedly hit a school in the town of Mansoura, about 15 miles southwest of central Raqqa.
"We can now confirm that 33 people were killed, and they were displaced civilians from Raqqa, Aleppo and Homs," SOHR director Rami Abdel Rahman told the French news agency AFP. They're still pulling bodies out of the rubble until now. Only two people were pulled out alive."
http://www.cbsnews.com/news/syria-alleged-us-coalition-airstrike-school-raqqa-mansoura-shelter-civilians/
Cyber Firm at Center of Russian Hacking Charges Misread Data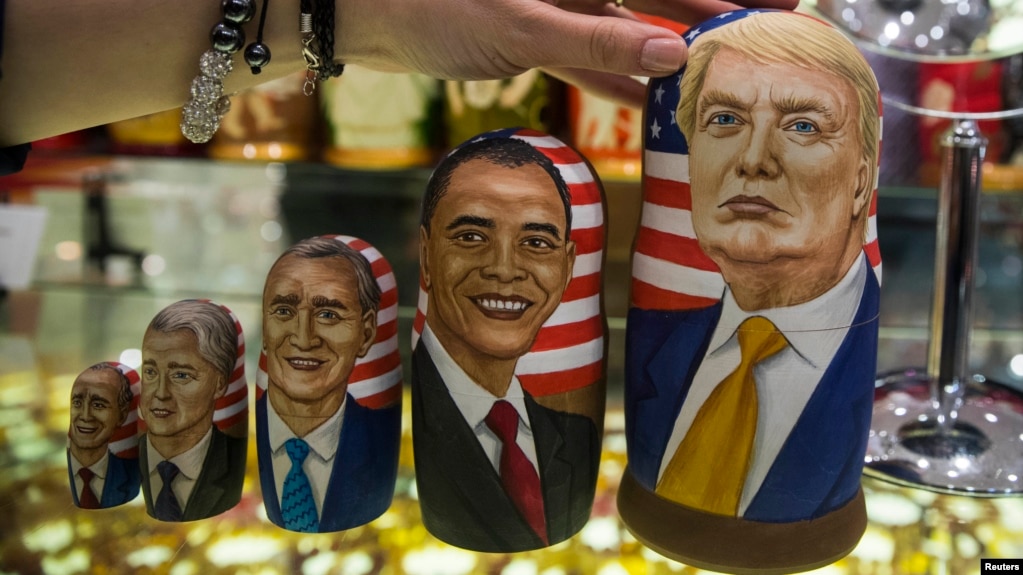 WASHINGTON — 
An influential British think tank and Ukraine's military are disputing a report that the U.S. cybersecurity firm CrowdStrike has used to buttress its claims of Russian hacking in the presidential election.
The CrowdStrike report, released in December, asserted that Russians hacked into a Ukrainian artillery app, resulting in heavy losses of howitzers in Ukraine's war with Russian-backed separatists.
But the International Institute for Strategic Studies (IISS) told VOA that CrowdStrike erroneously used IISS data as proof of the intrusion. IISS disavowed any connection to the CrowdStrike report. Ukraine's Ministry of Defense also has claimed combat losses and hacking never happened.
The challenges to CrowdStrike's credibility are significant because the firm was the first to link last year's hacks of Democratic Party computers to Russian actors, and because CrowdStrike co-founder Dimiti Alperovitch has trumpeted its Ukraine report as more evidence of Russian election tampering.
Alperovitch has said that variants of the same software were used in both hacks.
The Russian government has denied covert involvement in the election, but U.S. intelligence agencies have concluded that Russian hacks were meant to discredit Hillary Clinton and help Donald Trump's campaign. An FBI and Homeland Security report also blamed Russian intelligence services.
While questions about CrowdStrike's findings don't disprove allegations of Russian involvement, they do add to skepticism voiced by some cybersecurity experts and commentators about the quality of their technical evidence.
Iran steps up support for Houthis in Yemen's war – sources
By Jonathan Saul, Parisa Hafezi and Michael Georgy
LONDON/ANKARA/DUBAI, March 22 (Reuters) – Iran is sending advanced weapons and military advisers to Yemen's rebel Houthi movement, stepping up support for its Shi'ite ally in a civil war whose outcome could sway the balance of power in the Middle East, regional and Western sources say.
Iran's enemy Saudi Arabia is leading a Sunni Arab coalition fighting the Houthis in the impoverished state on the tip of the Arabian peninsula – part of the same regional power struggle that is fuelling the war in Syria.
Sources with knowledge of the military movements, who declined to be identified, said that in recent months Iran has taken a greater role in the two-year-old conflict by stepping up arms supplies and other support. This mirrors the strategy it has used to support its Lebanese ally Hezbollah in Syria.
A senior Iranian official said Major General Qassem Soleimani, commander of the Qods Force – the external arm of the Islamic Revolutionary Guard Corps – met top IRGC officials in Tehran last month to look at ways to "empower" the Houthis.
"At this meeting, they agreed to increase the amount of help, through training, arms and financial support," the official said.
"Yemen is where the real proxy war is going on and winning the battle in Yemen will help define the balance of power in the Middle East."
Iran rejects accusations from Saudi Arabia that it is giving financial and military support to the Houthis in the struggle for Yemen, blaming the deepening crisis on Riyadh.
But Iran's actions in Yemen seem to reflect the growing influence of hardliners in Tehran, keen to pre-empt a tougher policy towards Iran signalled by U.S. President Donald Trump.
http://www.dailymail.co.uk/wires/reuters/article-4338066/EXCLUSIVE-Iran-steps-support-Houthis-Yemens-war–sources.html
Russia underplayed losses in recapture of Syria's Palmyra
Russia's force in Syria has suffered losses since late January more than three times higher than the official toll, according to evidence gathered by Reuters, a tally that shows the fight in Syria is tougher and more costly than the Kremlin has disclosed.
Eighteen Russian citizens fighting alongside Moscow's allies, the Syrian government forces, have been killed since Jan. 29 — a period that coincided with intense fighting to recapture the city of Palmyra from the Islamic State group.
The Russian defense ministry has publicly reported only five servicemen's deaths in Syria over the same period, and its officials' statements have not mentioned any large-scale Russian ground operations in the fight for Palmyra.
Military casualties abroad are not as politically sensitive in Russia as in some other countries but send a negative message ahead of a presidential election next year which is expected to give President Vladimir Putin a fourth term.
The toll was revealed in interviews with relatives and friends of the dead men, cemetery workers, local media reports of funerals and evidence collected by a group of investigative bloggers, Conflict Intelligence Team (CIT).
In each case, Reuters has independently verified information about the death by speaking to someone who knows the dead man.
The casualties since the end of January represent one of the highest tolls for the Russian contingent in Syria since the start of Moscow's military intervention 18 months ago.
An official with the Russian foreign ministry referred questions about them to the defense ministry. The Russian defense ministry did not respond to Reuters questions about the casualties and about military operations in Syria. The Kremlin did not immediately respond to a request for comment.
Most of the dead were not regular Russian soldiers but Russian civilians working as private military contractors under the orders of Russian commanders. Moscow has not officially acknowledged the presence of the contractors in Syria.
http://www.reuters.com/article/us-mideast-crisis-syria-russia-casualtie-idUSKBN16T0S4
BEIRUT, Lebanon — Syrian insurgents seized several government positions on the outskirts of Damascus on Tuesday in the third day of their most ambitious offensive in the capital in years, sending a sharp reminder that the war in Syria is far from over.
Fierce fighting broke out on the northeastern edge of Damascus, as a mix of Islamist rebel groups and hard-line Qaeda-linked jihadists seized an industrial area about a mile from the historic Old City near the heart of the Syrian capital. Rebel offensives erupted in several other parts of the country.
Government forces have been scrambling to repel the attack since it began on Sunday, bringing troops and allied militias from other front lines to hold their territory in Damascus, as government warplanes pummel rebel-held suburbs with scores of strikes. Rebel shells hit the city, wounding 15, and the authorities shut down many of the main roads.
After the government seized the eastern half of Aleppo from rebels last year, it worked hard to create the impression that the war was essentially over. The recent activity, including a series of suicide bombings in Damascus and a rebel attack Thursday on the northern city of Hama, seemed to indicate that the war might be entering a new phase instead.
Intelligence official says Russia must contain Iran in Syria
Chagai Tzuriel says Moscow has interest in preserving regional stability, warns that Iran is seeking to expand its military presence in Syria
 Russia must work to ensure that Iran is unable to establish a military presence in Syria that poses a threat to Israel and the region, the director-general of the Intelligence Ministry
Chagai Tzuriel, who told The Times of Israel last month "the most important strategic issue we're currently facing is the strengthening of the Shiite axis led by Iran in Syria," warned that Iran is seeking to exploit its status as one of the main backers of the Syrian regime in order to establish a long-term military presence in the country.
"Iran is in the process of putting together agreements, including economic agreements, with Syria to strengthen its hold, its ports and naval bases there," he said.
He added: "There is a need for Russia and other powers to work to avoid the threat that Iran ends up with military, air and naval bases in Syria."
According to Tzuriel, the six-year long Syrian civil war has undermined the balance of power in the region to Iran's advantage, which poses a threat to both Russia and other world powers' interests in the Middle East.
"When it comes to Iran, the United States, Russia and other powers need to understand that (growing Iranian influence in Syria) is going to be a constant source of friction," he said.
http://www.timesofisrael.com/intelligence-official-says-russia-must-contain-iran-in-syria/
Trudy Rubin: Iran deepens presence in Iraq
Washington should regard the black flags as a warning signal. Even before the Islamic State is fully defeated, Shiite Iran is laying the groundwork to expand its deep penetration of Iraq. Tehran wants to control the Baghdad government through its Shiite political and militia proxies, marginalizing Sunnis, including in Mosul.
But judging by history, repression in Sunni areas of Iraq will provide fertile ground for the next jihadi movement to take root.
So the Shiite flags at Mosul's gateway signal that a military defeat of the Islamic State is insufficient. There must also be a political plan (although none is yet evident in Baghdad or Washington) to assure Sunnis of a role in a post-Islamic State Iraq.
That plan is needed sooner rather than later. So far, the Shiite militias are not entering the city proper, Mosul residents tell me. "Right now they are not pushing people out," says an elementary school teacher who lives in East Mosul. He says, however, that sectarian Shiite political parties linked to the militias are already opening offices in the city.
In other contested parts of Iraq, hardline Shiite militias are ethnically cleansing Sunnis from towns and villages to create a Sunni-free corridor from Iran across Iraq to the Syrian border. These militias receive extensive Iranian support and Iraqi government funds.
Maslawis (as Mosul natives are called) view the Iraqi military far more positively than they do the militias, even though Iraqi forces are composed heavily of Shiites (who make up a majority of the population). That's because Iraqi forces are loyal to the state, not to Shiite political parties or Tehran.
I heard nothing but praise for the behavior of the Iraqi military units that entered the city, especially the U.S.-trained Counter Terrorism Service, or CTS. "The only force people like is the CTS and (its) Golden Division," the prominent Sunni Sheikh Abdullah al-Yawar told me. "It did not force people to leave their homes."
Although the militias are technically under military control, no one knows their future after the Islamic State is defeated. Sunnis fear they will act as armed wings of competing Shiite parties or an Iraqi version of the Iranian Revolutionary Guard corps, which took over Iran's army from within.
And Sunnis rightly fear Iran's long-term intentions. They know Tehran still remembers Saddam Hussein's 1980 invasion of Iran, when Sunnis ran Iraq, and the decade-long war that followed. "Iran wants to see Iraq's Sunnis weak and divided," one Sunni politician told me, "so the 1980s can never happen again."
http://www.spokesman.com/stories/2017/mar/22/trudy-rubin-iran-deepens-presence-in-iraq/
Germany blocks arms sales to Turkey – report
The German government has refused approval for military exports to NATO partner country Turkey on a growing number of occasions. Ministers are concerned the weapons could be used to oppress the local population.
Berlin has rejected more than 10 applications for arms exports to Turkey in recent months, the German daily "Süddeutsche Zeitung" (SZ) reports, citing a letter from the Ministry of Economic Affairs. The ministry was answering questions by the left-wing MP Jan van Aken.
"The importance of observing human rights will be particularly important in respect to arms export approvals," a ministry official reportedly said in his reply to van Aken. Since the failed coup, "the federal government's foreign security policy review" has given special consideration "to the risk of an intervention in the context of internal repression of the Kurdish conflict."
http://www.dw.com/en/germany-blocks-arms-sales-to-turkey-report/a-38059815
Turkey's AKP cancels campaign rallies in Germany
Turkish politicians have abandoned plans for more campaign events on German soil ahead of the April referendum, says the ruling AKP party. Previously, Angela Merkel threatened to ban such events over Nazi insults.
The decision to halt referendum events was made in Ankara, a Cologne-based representative of Recep Tayyip Erdogan's AKP party said on Tuesday.
"All future events that were planned have been cancelled," she told the AFP news agency.
The move was a "gesture of goodwill" towards Germany, said rally organizers from the Union of European Turkish Democrats (UETD) who confirmed the cancelation to German news agency DPA.
Turkish AKP politicians are eager to gain votes of Turkish citizens living in Germany ahead of the April 16 referendum. Roughly 1.4 million of them are eligible to vote. The controversial plebiscite would approve a constitutional reform to give the Turkish president more power.
However, their attempts to hold campaign events in Europe sparked a thunderous diplomatic row that saw Erdogan compare German and Dutch officials with Nazis.
On Monday, German Chancellor Angela Merkel had warned that Germany could ban all AKP campaign events if Ankara continued with Nazi jabs.
'Enough is enough'
Despite the AKP's announcement on Tuesday, it remains unclear whether President Erdogan – who continued with the harsh rhetoric on Tuesday, urging his supporters to vote "yes" on the constitutional reform as a response to a "fascist" Europe – would also stay home.
According to German media reports, Erdogan was planning to visit Germany. When asked about the reports, however, UETD General-Secretary Bulent Bilgi said that his organization "cannot determine" the president's actions.
http://www.dw.com/en/turkeys-akp-cancels-campaign-rallies-in-germany/a-38050660
NSA Official Suggests North Korea Was Culprit in Bangladesh Bank Heist