Kim Jong-Un vows to reduce the US 'to ashes' with nuke strikes if Donald Trump fires 'even a single bullet' at North Korea
The rogue state threatened to use its 'invincible Hwasong rockets' to rain down nuclear destruction on its enemies
KIM Jong-un has threatened to reduce the US "to ashes" as tensions with North Korea continue to increase.
The secretive state released a statement earlier this month warning Donald Trump of nuclear destruction if America fires "even a single bullet" towards Pyongyang.
The statement said: "The Korean People's Army will reduce the bases of aggression and provocation to ashes with its invincible Hwasong rockets tipped with nuclear warheads and reliably defend the security of the country and its people's happiness in case the US and the South Korean puppet forces fire even a single bullet at the territory of the DPRK."
The menacing talk came as South Korea warned that its northern neighbour's latest rocket-engine test showed "meaningful" progress.
The North's KCNA news agency said on Sunday the engine would help the country achieve world-class satellite-launch capability – indicating a new type of rocket engine for an intercontinental ballistic missile.
https://www.thesun.co.uk/news/3131278/kim-jong-un-nuclear-weapons-donald-trump-north-korea/
SECRET SERVICE THEFT CAUGHT ON VIDEO
Thief Knew What He Was After
EXCLUSIVE
The thief who swiped a Secret Service agent's laptop targeted the agent in question and knew exactly what he was after … law enforcement sources tell TMZ.
Our sources say the thief — whom they say is a man — was caught on surveillance video pulling up to the agent's driveway in an Uber at around 3 AM Thursday.
The video shows the man make a beeline for the agent's car, removing a backpack with the computer inside and then walking off. As we reported, the hard drive contained Trump Tower floor plans and evacuation protocols, but the agency insists there was no classified info inside.
The thief also made off with a passport and several Secret Service lapel pins.
It's unclear what the thief was looking for if all the content was non-sensitive.
We're told the video is grainy so it's hard to make out the thief's features, but it's definitely a lead.
http://www.tmz.com/2017/03/20/mystery-thief-secret-service-laptop/
Electronics banned from cabins on some Middle Eastern and African flights to U.S.
Airlines that fly from certain countries in the Middle East and Africa to the U.S. must require passengers to check in almost all electronic devices rather than carry them into the cabin, said a U.S. official.
The official told CNN that there is a security concern regarding passengers boarding non-stop flights to the U.S. from some specific countries. The directive is to ensure enhanced security measures at select airports for a limited duration.
The source said it will impact over a dozen airlines flying into the US. Another US administration official says this covers devices larger than a cellphone.
In a written statement, the Department of Homeland Security said, "We have no comment on potential security precautions, but will provide any update as appropriate."
A State Department officials says embassy officials have been notifying relevant countries and airlines.
An aviation official said U.S. carriers are not impacted because none flies directly from the countries in question to the U.S. Neither source would specify what airlines were impacted beyond Royal Jordanian Airlines, which tweeted Monday that it will ban most electronics from the cabins on its flights to and from its North American destinations.
http://money.cnn.com/2017/03/20/news/companies/middle-east-airline-electronics-ban/index.html
3 US soldiers shot in Afghanistan 'insider attack'
Three U.S. Army soldiers were shot and wounded Sunday when an Afghan Army soldier opened fire on them inside a base in southern Afghanistan's volatile Helmand Province, officials told Fox News.
The attack occurred around 1:30 p.m. local time at Camp Antonik in Washer District in Helmand.
"Coalition security forces on the base killed the soldier to end the attack," Capt. Bill Salvin, spokesman for U.S. Forces in Afghanistan, told Fox News. "The U.S. soldiers are receiving medical treatment at this time and we will release more information when available."
The severity of the soldiers wounds was not immediately clear. Salvin declined to offer more details.
There are roughly 8,400 U.S. troops on the ground in Afghanistan — more than in Iraq and Syria combined.
http://www.foxnews.com/world/2017/03/19/3-us-soldiers-shot-in-afghanistan-insider-attack.html
Russian space official found dead with stab wounds while awaiting embezzlement trial
Published time: 20 Mar, 2017 11:03
A top-tier official of Russian space agency Roscosmos has been found dead at a pre-trial detention center where he was being held on charges of embezzlement. Stab wounds were found on his body, but no suspects have been identified so far.
Vladimir Evdokimov, 56, was found dead on Saturday in his cell at a pre-trial detention center in Moscow, according to Russia's Investigative Committee. Investigators found two stab wounds on Evdokimov's chest and one on his neck, and also retrieved a knife from the crime scene, committee spokesperson Yulia Ivanova said.
Later in the day, Roscosmos, where Evdokimov served as executive director in charge of quality control and reliability issues, confirmed his death in a brief statement published on the space agency's Twitter account.
In December last year, Evdokimov was jailed on charges of embezzling 200 million rubles ($3.1 million) from the MiG aerospace corporation, an indictment he strongly denied.
Eleven people in Evdokimov's cell have already been questioned, and investigators are now trying to identify a suspect, the Investigative Committee says.
https://www.rt.com/news/381382-roscosmos-official-stabbed-prison/
TEL AVIV — A senior Israeli Air Force officer on Monday provided operational context to the unusual March 17 Arrow intercept of a Syrian SA-5 surface-to-air missile, which the jointly developed U.S.-Israel anti-ballistic missile system was not designed to fight.
Briefing reporters here, the officer said the Syrian SAM launched against Israeli fighter aircraft following a bombing mission in Syria "behaved like a ballistic threat" with "an altitude, range and ballistic trajectory" that mimicked the Scud-class targets the Arrow 2 interceptor was designed to kill.
"It wasn't a Scud-class ballistic threat. But from our perspective, it doesn't matter if it was a SAM. Once it behaved like a ballistic missile weighing tons and with a warhead of hundreds of kilograms, we couldn't allow it to threaten our cities and towns," the officer said.
When asked to identify the specific threat, the officer confirmed that the Arrow 2 had indeed scored its first operational intercept against a Syrian SA-5.
China to ax military corps of disgraced generals amid downsizing of world's biggest army – sources
Published time: 20 Mar, 2017 06:43Edited time: 20 Mar, 2017 06:47
China's People's Liberation Army will reportedly disband five of its 18 army corps, including two that served as the power base of two disgraced generals, sources with knowledge about the ongoing shakeup told the South China Morning Post.
Two years ago, Beijing announced that it would lay off 300,000 members of its 2.3 million-strong military as part of a major reform, which is meant to turn the PLA into a more efficient and flexible modern fighting force. The country's top brass has since been overhauled, and China has restructured its military and investigated generals for alleged corruption.
Among the dozens of senior officers caught in the anti-corruption probes were two former vice-chairmen of the Central Military Commission, Xu Caihou and Guo Boxiong. According to the newspaper's sources, among the five army corps slated to be disbanded are the 16th and the 47th, which had served as the disgraced generals' power base.
"The axing of the 16th and 47th army groups is a decision made by [President] Xi [Jinping] to further clean up all the pernicious influence left by Guo and Xu, paving the way for Xi to assign his men amid the ongoing leadership reshuffle ahead of the party's congress in autumn," one of the sources said.
https://www.rt.com/news/381350-china-army-cut-sources/
Israeli airstrike in Syrian Golan said to kill pro-Assad fighter
IDF refuses to confirm reported drone strike near Quneitra, as tensions between Jerusalem and Damascus ratchet up
An Israeli drone strike reportedly killed a member of a Syrian pro-regime militia Sunday afternoon, amid spiraling tensions between Jerusalem and Damascus.
The Britain-based Syrian Observatory for Human Rights said that Israeli aircraft struck a truck driving near the town of Khan Arnabeh in the Quneitra province, on the road to Damascus.
The National Defense Force, a pro-regime militia set up in 2012, claimed the man killed was from among its ranks.
It named the man as Yasser Hussien Assayed.
http://www.timesofisrael.com/israeli-airstrike-said-to-kill-driver-in-syrian-golan-heights/
Assad: Oscar-feted White Helmets are part of Al-Qaeda
Syrian President Bashar Assad has hit out at the controversial nonprofit White Helmets, calling it a front for Islamic terrorism, and saying they are an example of Western narratives grotesquely distorting the truth about the conflict in the country.
"White Helmets are Al Qaeda members and that's proven on the net," Assad told RT during an interview with Russian journalists in Damascus. "The same members are killing or executing or celebrating over dead bodies, at the same time they are humanitarian heroes, and now they have an Oscar."
The White Helmets, which calls itself a civil defense organization, operates in rebel-controlled parts of Syria, where they say they are involved exclusively in peaceful activities such as rescuing civilians after bombing raids. They are part-funded by donations, and by Western governments.
An eponymous British-made film about their work was given an Oscar for Best Documentary at last month's Academy Awards.
Both Damascus and Moscow have repeatedly accused them of functioning as a propaganda operation that stages videos and manipulates coverage to generate sympathy abroad for the rebel cause, and as a jihadist rescue service that operates in tandem with Al Nusra and other radical groups in Syria.
https://www.rt.com/news/381542-white-helmets-al-qaeda-members/
Israel to Declare Air Defense Shield Fully Operational: Officer
JERUSALEM — 
Israel's multi-tier air defense missile system will be fully operational early next month with the deployment of the David's Sling interceptor, a senior Israeli air force officer said on Monday.
David's Sling, designed to shoot down rockets fired from 100 to 200 kilometers away, will be the final piece of a shield that already includes short-range Iron Dome and long-range Arrow-2 and Arrow-3 missiles.
"In the next two weeks we will declare operational the David's Sling and at that time we will have completed our multi-tier (defense capability)," said the officer who could not be identified under military rules.
"I'm sure that together with the Iron Dome and the Arrow-2 and Arrow-3 it will enhance our ability to deal with threats," he added.
Israel used Iron Dome extensively to intercept rockets fired by Palestinian militants in the 2014 Gaza war, and the Arrow missiles were developed with an Iranian missile threat in mind.
David's Sling, developed and manufactured jointly by Israel's state-owned Rafael Advanced Defense Systems Ltd and the U.S. Raytheon Co, would likely be used to intercept projectiles fired by the Iranian-backed Lebanese guerrilla group Hezbollah, which last fought a war with Israel in 2006.
The Israeli military said it used an Arrow-2 on Friday to destroy an anti-aircraft missile fired from Syria after Israeli aircraft carried out strikes there.
http://www.voanews.com/a/israel-to-declare-air-defenses-shield-fully-operational-officer-says/3773961.html
Turkish buyers put Russia wheat deals on hold, despite denial of ban: sources
Turkish buyers have put purchases of Russian agricultural products – mainly wheat, maize (corn) and sunflower oil – on hold, despite denials from Ankara that it has effectively banned imports from Moscow, trade and industry sources said on Monday.
Last week, import licenses issued by the Turkish government no longer included Russia in a list of accepted tax-free origins, the sources said, suggesting an import tariff of 130 percent could be applied to supplies from Russia.
Turkey's Economy Ministry said on Friday media reports it had banned imports of certain products from Russia were wrong.
However, one trader, speaking on condition of anonymity due to the sensitivity of the matter, told Reuters: "The exports from Russia to Turkey remain suspended. My understanding is that Turkish customs have instructions not to allow the discharge of vessels with Russian wheat, corn, sunflower oil and other grain and agricultural products."
http://www.reuters.com/article/turkey-wheat-russia-idUSL5N1GX1J7
IRAN LOSES THOUSANDS, 10 GENERALS IN SYRIA-IRAQ WARS
Iran has lost thousands of fighters and more than 10 generals during its engagement in the Syria- Iraq wars, the Meir Amit Intelligence and Terrorism Information Center reported on Sunday.
The report from the Glilot-based center analyzed the different estimates of Iranian losses that have been recently announced.
At a conference on martyrdom in Iranian culture on March 6, Mohammad Ali Shahidi, director of the Martyrs Foundation, estimated Iranian losses in the Syria-Iraq wars at 2,100.
The report noted that Washington Institute for Near East Policy researcher Ali Alfoneh recently put the number of Iranian losses at 2,603.
The center broke down the 2,603 as 511 actual Iranians, 1,045 Hezbollah fighters and 1,047 Afghan, Pakistani and other Shi'ite militia fighters – all under Iranian command.
Notably, more than 10 Iranians of the rank equivalent to a brigadier- general have been among those killed.
The intelligence report claimed that the high losses, especially of so many senior officers, is the reason Iran's military footprint in Syria and Iraq has fallen from thousands to hundreds.
REVEALED: Turkey's Plan To 'Camouflage' Its Lobbying Activities In The US
The government of Turkey planned to use front groups and operatives "camouflaged" as journalists to gain access to Capitol Hill and the U.S. security apparatus, hacked emails released by WikiLeaks reveal.
The documents, which are from the Gmail account of Berat Albayrak, Turkey's energy minister and the son-in-law of Turkey's president, Recep Tayyip Erdogan, show the nascent plan for what has turned into a sprawling lobbying and PR campaign undertaken by the Turkish government.
Turkey's lobbying efforts catapulted into the news last week after Donald Trump's short-lived national security adviser Michael Flynn registered as a foreign lobbyist for Turkey.
Flynn was paid $530,000 for three months of work by Inovo BV, a Dutch shell company owned by a businessman with deep connections to Ankara.
http://dailycaller.com/2017/03/15/revealed-turkeys-plan-to-camouflage-its-lobbying-activities-in-the-us/#ixzz4bsB2o2KS
Iran's third Airbus delivery postponed
TEHRAN, Mar. 20 (MNA) – An informed resource said, most probably, banking issues have caused a delay in delivery of the third Airbus aircraft to Iran Air.
As quoted by IRIB from Paris, the informed resource said Iran's third purchased aircraft from Airbus Airbus Aerospace company was not delivered according to the schedule mainly due to banking restrictions rather than technical issues.
An A330 aero plane was scheduled to be handed over to Iran Air, the Iranian national flag carrier, prior to beginning of the new Persian calendar year Nowruz though the process has been postponed to following days.
"Banking restrictions rather than technical issues have most probably caused the delay in the delivery process," he underlined.
In a lucrative deal, Iran Air (Homa) has purchased 100 Airbus aircraft though only two airplanes have been so far delivered to the Iranian airline.
http://en.mehrnews.com/news/124342/Iran-s-third-Airbus-delivery-postponed
Iraq buys fighters with Israeli radars
According to the website Israel Defence, Iraq bought 24 'T-50IQ' fighter jets made in South Korea and equipped with radars made in an Israeli factory.
The Israeli website, according to Safa, said that Iraq had bought the fighter jets which are similar in performance to the F-16s.
https://www.middleeastmonitor.com/20170320-iraq-buys-fighters-with-israeli-radars/
TURKEY S-400 TALKS PROGRESSING
Following Turkish President Recep Tayyip Erdogan's official visit to Moscow, Turkish and Russian officials have their respective media outlets that talks regarding the sale of Almaz-Antey S-400 long-range surface-to-air missile (SAM) systems to Turkey are progressing.
Sergey Chemezov, the CEO of Rostec (the overarching firm involving Russia's state-owned industries), told the Russian broadcaster Rossiya-24 that Ankara requested a loan to back an S-400 purchase (via Russian News Agency TASS). Chemezov added that the Russian Ministry of Finance is actively engaged in the talks, indicating that Moscow is eager to finalize a sale to Turkey.
Turkish Minister of Defence Fikri Işık told A Haber that "there is progress in the discussions." Responding to questions regarding the S-400's place in NATO's air defence environment, Işık reportedly stated (via the Daily Sabah) that the S-400 "will not be integrated into the NATO system."
Işık also confirmed that Turkey's homegrown long-range SAM is under development, and is expected to enter production "within five-to-seven years." Earlier reports indicated that Turkey is also seeking Russia's technical support for the domestic SAM program.
http://quwa.org/2017/03/20/turkey-s-400-talks-progressing/
Juncker warns Turkey death penalty is 'red line' issue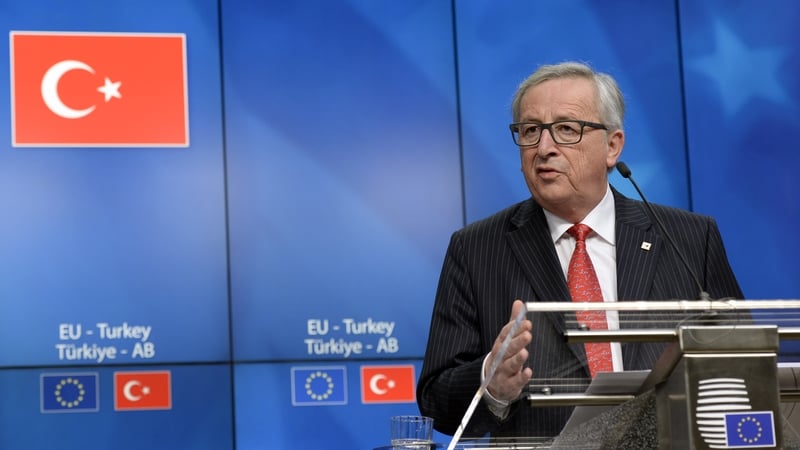 European Commission chief Jean-Claude Juncker has warned Turkey that any return of the death penalty would be a "red line" in the country's stalled EU membership bid."If the death penalty is reintroduced in Turkey, that would lead to the end of negotiations," he told Sunday's edition of Germany's Bild newspaper, calling it a "red line".Turkish President Recep Tayyip Erdogan said yesterday he expected parliament to approve the restoration of capital punishment after next month's referendum on controversial consitutional changes to expand his powers.Mr Juncker nevertheless said he was opposed to a complete halt to all membership negotiations with Turkey."It makes no sense to try to calm (Erdogan's) nerves by stopping negotiations that are not even taking place."German Foreign Minister Sigmar Gabriel went even further, saying in an interview with Der Spiegel: "We are farther away than ever from Turkey's accession to the EU."
https://www.rte.ie/news/world/2017/0319/860931-turkey-death-penalty/
Outrage as Juncker boasts that no-one else will want to leave the EU after they see how badly the UK is punished for Brexit
EU commission president says 'example' of Brexit will discourage other states
Warns that Theresa May will have to accept divorce bill demand from Brussels
But Brexiteers deride Juncker for living in a 'fool's paradise' as EU 'crumbles'
Comes as PM announces she will triggers the Article 50 process on March 29
Eurosceptics have reacted with fury after Jean-Claude Juncker boasted that no-one else will want to leave the EU after they see how harshly Britain is punished.The European Commission chief crowed that the 'example' of the UK would ensure the survival of the Brussels club.He also threatened that Theresa May will have to accept demands from the EU for a divorce bill.But his bullish stance was derided by Brexiteers who branded him 'out of touch' and accused him of living in a 'fool's paradise'.No 10 played down the intervention, pointing out negotiations were yet to begin.
Why Chabahar Deal is so Important for India?
The Chabahar deal is an extremely important strategic decision which would help India to get a transit route to Afghanistan and further to Central Asian region and beyond. This 500 million $ investment would give India a much wanted access to the region's resources bypassing the land route via hostile Pakistan. Secondly, this port is located very close (around 100kms) to Pakistan's Gwadar Port, which has been developed by China. Therefore, a geo-strategic game is at play between the two regional powerhouses (India and China) in the region.India's trade relations and economic relations with Central Asian region in future depends a lot on the utilisation of Chabahar Port because it provides direct sea-land route access for India to reach Central Asia via Iran. The distance between India's Kandla Port and Chabahar Port is quite short, thereby reducing the transportation costs of the goods. It can be inferred that this is a win-win situation for India. The Chabahar deal would also help in countering the China's string of Pearl of strategy against India.https://defenceaviationpost.com/chabahar-deal-important-india/Germany owes zero debt to NATO – defense ministerGermany's defense minister has rejected US President Donald Trump's assertion that Berlin owed "vast sums of money" to NATO. Relations between the two allies have soured over Germany's military spending commitments.
German Defense Minister Ursula von der Leyen said in a statement on Sunday that "there is no account where debts are registered with NATO," responding to accusations by US President Donald Trump that the Berlin government was in debt to the military alliance.The German defense minister also questioned how military spending was calculated, arguing that a country's financial commitment to the military alliance shouldn't be the only measure.Trump: Germany owes 'vast sums' for NATO
On Saturday, Trump tweeted that Germany owed NATO "vast sums of money," just hours after meeting German Chancellor Angela Merkel in Washington for the first time since taking office.US demands more cashThe billionaire added that Washington "must be paid more for the powerful, and very expensive, defense it provides to Germany."Since he began his campaign for the US presidency, Trump has regularly used Twitter to make sweeping and contentious remarks in which he outlines changes of direction in domestic and foreign policy. But the lack of clarity often leaves other politicians and world leaders guessing.http://www.dw.com/en/germany-owes-zero-debt-to-nato-defense-minister/a-38015228
Fierce fighting erupts in Damascus as rebels, government forces clash
Syrian rebels launched a major offensive on Sunday that brought them close to the heart of the Old City of Damascus, and government forces responded with intense bombardments of rebel-held areas.The escalation, reported by witnesses, state TV, rebel sources, and a monitoring group, marked a bid by the rebels to relieve army pressure on besieged areas they control to the east of the capital.Moderate Free Syrian Army (FSA) and jihadist groups were both involved in the assault on the districts of Jobar and Abbasiyin, some 2 km (1.2 miles) east of the Old City walls. Syrian state television said the army had repelled an infiltration attempts by the militants and bombarded them with artillery, inflicting heavy losses.
Witnesses said the army deployed tanks in some adjacent neighbourhoods, and troops could be seen patrolling on foot.
HUNGARY BOOSTS GEORGIA'S NATO AND EU INTEGRATION, FOREIGN MINISTER SAYS ON VISIT TO TBILISI
Hungary fully supports a visa waiver for Georgian citizens to the EU by the end of the month. It also maintains its role in the UN Observer Mission in Georgia, providing six police officers and five army officers, Szijjártó told Hungarian news agency MTI. Szijjártó held talks with his counterpart Mikheil Janelidze, and met President Giorgi Margvelashvili (featured above), Prime Minister Giorgi Kvirikashvili and Chairman of Parliament Irakli Kobakhidze. Hungary's top diplomat also signed an agreement with Natia Loladze, head of the Georgian Red Cross, of 10 million forints' (EUR 32,422) support to alleviate flood damage.
http://hungarytoday.hu/news/hungary-supports-georgia-nato-eu-integration-foreign-minister-says-visit-tbilisi-36048
Taiwan confirms China's deployment of DF-16 missiles
2017/03/20 16:15:21
Taipei, March 20 (CNA) Defense Minister Feng Shih-kuan (馮世寬) on Monday confirmed that there is a growing military threat from China, which he said has been deploying a new type of medium-range ballistic missiles capable of hitting Taiwan.
Since 2016, China has been pushing military reform, including streamlining its armed forces to improve joint combat capabilities, Feng said in a report to the Legislature on Taiwan's responses to the changing situation in East Asia since U.S. President Donald Trump took office.
In recent years, China's air and naval forces have built main and auxiliary combat ships and produced the J-10, J-11 and J-15 fighter jets, bought Russian Su-35 fighter jets and unveiled their most advanced stealth J-20 fighter jets, Feng said.
As part of the weapons modernization program to strengthen its combat power, China has also been deploying Dong Feng-16 (DF-16) ballistic missiles capable of launching precise attacks on Taiwan proper, Feng said.