Laptop holding Trump Tower floor plans, Hillary Clinton email investigation info stolen from Secret Service agent
A laptop computer containing floor plans for Trump Tower, information about the Hillary Clinton email investigation and other national security information was stolen from a Secret Service agent's vehicle in Brooklyn, police sources told the Daily News.Authorities have been frantically searching for the laptop since it was stolen Thursday morning.

Some items stolen along with the laptop — including coins and a black bag with the Secret Service insignia on it — were later recovered.

But the laptop, along with other documents described as "sensitive," were still being sought.

The thief stepped out of a car, possibly an Uber, on a street in Bath Beach and stole the laptop from the agent's vehicle, which was parked in the driveway of her home.

http://www.nydailynews.com/new-york/laptop-trump-tower-floor-plans-stolen-secret-service-article-1.3001078
31 Somali refugees killed in helicopter attack off Yemen coast
[Editor's Note: The number has grown higher with some 42 dead, 80 survivors rescued. The boat was filled with women and children.]
Boat carrying refugees was travelling to Sudan when it was hit by airstrike from Apache helicopter, coastguard says
While the identity of the helicopter was not immediately clear, Saudi Arabia, which is leading a coalition in the war in Yemen, has US-built Apache A-64 Longbow attack helicopters.
The International Organization for Migration's spokesman, Joel Millman, told a UN news briefing in Geneva that he was unable to confirm news reports indicating that an Apache helicopter strike was responsible for the attack.
He said: "Our confirmation is that there are dozens of deaths and many dozens of survivors brought to hospitals."
https://www.theguardian.com/world/2017/mar/17/somali-refugees-killed-helicopter-attack-off-yemen-coast
Israeli fighter jets fired upon during Syria mission in clash with pro-Assad forces
Israeli fighter jets targeting sites inside Syria came under anti-aircraft missile fire but returned unharmed, says military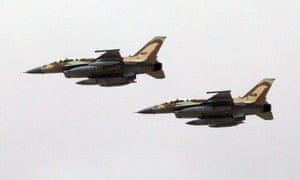 Israeli and pro-Assad forces have had their most serious clash since the beginning of the civil war in Syria after Israeli military jets on an operation over Syria were targeted by anti-aircraft missiles.
Israeli said none of the aircraft was hit, but one of the missiles was intercepted north of Jerusalem by an Israeli missile defence system.
The first indications of the exchange of fire came in the middle of the night with air raid sirens in the Israeli-occupied Jordan valley and reports of an explosion, which was later confirmed as the sound of one of the missiles being brought down by Israeli air defences.
In its own account of the incident the Syrian army said that four Israeli jets had entered Syrian airspace, and that one had been shot down and a second hit, a claim denied in the Israeli military statement.
Lebanese media and websites affiliated with Hezbollah, said the strike had killed Badie Hamya, a veteran of the Shia militant group, who was described as a "mujahedin leader".
https://www.theguardian.com/world/2017/mar/17/israeli-fighter-jets-fired-upon-missiles-syria-mission-assad
IAF 'Arrow' battery intercepts Syrian missile, in first reported use of the system
Syria fires three anti-aircraft missiles at Israeli jets; one knocked down by defense system, reportedly over Jordan; other two land in Israel, cause no damage
According to Arab media, the target of the IAF strikes was a Hezbollah weapons convoy.
"Several anti-aircraft missiles were launched from Syria following the mission and IDF aerial defense systems intercepted one of the missiles," the army said in a statement.
The anti-aircraft missiles were fired from eastern Syria by Bashar Assad's military, traveling over Jordan and toward the Jerusalem area. They were apparently SA-5 surface-to-air missiles (SAMs).
The Arrow is primarily designed to shoot down intercontinental ballistic missiles outside the atmosphere, intercepting the weapons and their conventional, nuclear, biological or chemical warheads close to their launch sites.
Surface-to-air missiles are designed to detonate at high altitudes to bring down aircraft or other missiles, and so do not pose much of a threat to people on the ground other than the possibility of being directly hit by falling shrapnel or the remains of the missile.
Therefore, it was not immediately clear why the IDF used the Arrow against a SAM, possibly indicating a misidentification of the type of weapon being fired from Syria.
http://www.timesofisrael.com/iaf-arrow-battery-intercepts-syrian-missile-in-first-reported-use-of-the-system/
UN chief's spokesman: He 'cannot accept' officials publishing reports without consultation
Head of UN body resigns as her group's anti-Israel report is withdrawn
Rima Khalaf cites pressure to remove document accusing Jewish state of apartheid; Israeli envoy says her departure was 'long overdue'
The head of a Lebanon-based United Nations agency that promotes development in Arab countries resigned Friday, after the body she led was ordered by the UN secretary-general to remove from its website a controversial report that charged Israel has established an "apartheid regime" guilty of "racial domination" over the Palestinians.
Rima Khalaf, a Jordanian who served as executive secretary of the Beirut-based Economic and Social Commission for Western Asia (ESCWA), announced her resignation at a hastily arranged press conference in the Lebanese capital.
She said UN Secretary-General Antonio Guterres's insistence that the document be removed from the agency's website led her to quit.
"The secretary general asked me yesterday morning to withdraw (the report). I asked him to rethink his decision, he insisted, so I submitted my resignation from the UN," Khalaf said.
Turkish daily depicts Merkel as 'Frau Hitler' on front page
Turkey furious over refusal in Germany, the Netherlands to allow rallies in support of expansion of President Erdogan's powers
ANKARA, Turkey — A Turkish pro-government newspaper on Friday depicted Chancellor Angela Merkel on its front page in Nazi uniform with a Hitler-style mustache, labeling the German leader "Mrs. Hitler" amid a bitter war of words between Ankara and Berlin.
Right-wing tabloid-style daily Gunes ("Sun") printed the picture along with the words in German: "#Frau Hitler" and called her an "ugly aunt."
The mocked-up image took up most of the front page of the daily, with a Nazi swastika on Merkel's "uniform" and another swastika next to her head while she is shown holding a gun.
http://www.timesofisrael.com/turkish-daily-depicts-merkel-as-frau-hitler-on-front-page/
Sirens Blare As Japan, Fearing North Korea, Holds First Missile Drill
OGA:  Sirens blared and loudspeakers broadcast warnings in Japan's first civilian missile evacuation drill on Friday, conducted in a fishing town by officials wary about the threat of North Korean missiles.
The exercise comes more than a week after North Korea launched four ballistic missiles into the sea off Japan's northwest coast, with one rocket landing about 200 km (124 miles)from the town of Oga.
Friday's drill played out a scenario in which North Korea had fired a ballistic missile on the Japanese islands.
"The missile is seen to have landed within a 20-km (12-mile) boundary west of the Oga peninsula," a speaker blared during the evacuation. "The government is currently examining the damage."
Residents of the largely rural peninsula jutting into the ocean about 450 km (280 miles) north of the capital, Tokyo, made their way to a designated evacuation centre equipped with emergency kits and protective gear.
Russian spy ship steers clear of U.S. waters while passing near Kings Bay, Mayport
Government officials insist a Russian spy ship steered clear of U.S. waters Wednesday as it moved north in the Atlantic Ocean near Florida's Mayport Naval Station and Georgia's Kings Bay Naval Submarine Base, according to the Department of Defense.
"The ship has not entered U.S. territorial waters," said Maj. Jamie Davis, a spokesman for the Department of Defense. "We respect freedom of navigation exercised by all nations beyond the territorial sea of a coastal state consistent with international law."
Davis said the Vishnya-class intelligence ship Viktor Leonov was about 20 miles south of Kings Bay on Wednesday. He said the same ship was spotted off the coast of Connecticut last month, and it has travelled up the Atlantic Coast before in 2014 and 2015.
http://jacksonville.com/news/military/2017-03-16/russian-spy-ship-steers-clear-us-waters-while-passing-near-kings-bay
Delegation of French MPs visit Russia, wanting stronger ties
A delegation of French MPs starts the second day of its two-day visit to Russia on Friday. They are from the 'French-Russian Dialogue association' — a group of French MPs who are friendly to Russia and who have visited the country several times over the past few years. They have also visited Crimea in the past and several of them have stated that Russia had the right to annex Crimea in 2014.
This group of MPs is known for thinking that the West is too harsh on Russia, and that France could benefit from restoring ties. Many of them feel that France has common interests with Russia – notably in the fight against Islamic terrorism.
"Russia is not an enemy in Europe; it should be a partner," says Jacques Myard, a politician in France's right-wing party Les Republicans, who is not part of the current delegation, but is widely considered to be relatively pro-Russian.
Myard acknowledges that "we have differences with Russia", he highlights that "in combatting the Islamic State, we have good relations with Russia", because "you cannot avoid that we have a common enemy".
http://en.rfi.fr/europe/20170316-delegation-french-mps-visit-russia-wanting-stronger-ties
It's time for the US to quit enabling Iran in Syria
If the Trump administration is serious about taking on Iran in the Middle East it must transform its strategy in Syria for fighting the terrorist Islamic State of Iraq and al Sham (ISIS).  Our current strategy will only continue to strengthen Tehran's grip on the region.
The US needs a new approach that gives it the independence and leverage it needs to begin pushing back successfully.
It won't be easy. The strategy the administration inherited from President  Obama sees Iran as a partner in the fight.  The U.S. has therefore done nothing to contain the dramatic and alarming Iranian expansion of military power in Syria.
Yet the expansion was avoidable.
Tehran had used Syria as a base for Lebanese Hezbollah, HAMAS, and its own subversive activities for decades at no cost.  The 2011 uprising against Syrian President Bashar al Assad was a blow to its position.  Therefore Iran rushed to support Assad, sending in special Qods Force operatives, then advisors from the Islamic Revolutionary Guards Corps (IRGC).
As the revolt against Assad deepened, Tehran added thousands of fighters from Lebanese Hezbollah and Iraq's Shi'a militias. Conventional combat forces of the IRGC joined in when a Russian air campaign in support of Assad started in late 2015.
Today, Iran commands tens of thousands more fighters in Syria than it did before the Arab Spring uprising.  It has established its own military headquarters and embedded troops and advisors so deeply in the Assad regime that it cannot survive without them.
http://www.foxnews.com/opinion/2017/03/16/its-time-for-us-to-quit-enabling-iran-in-syria.html
Iran, Pakistan to hold joint naval drills in east of Hormuz Strait
The Pakistani flotilla comprising Navy ships Tippu Sultan and PNS Jurrat and a chopper on Wednesday left the southern Iranian port city of Bandar Abbas for the east of the Hormuz Strait where the drills will be held, Tasnim quoted Commander of Iran's First Naval Zone Admiral Hossein Azad as saying.
He added that Iranian Navy's Jamaran Destroyer besides a missile-launching frigate and a helicopter will join the Pakistani fleet.
The commander noted that some 800 personnel of the Iranian and Pakistani navies will participate in the drills.
The Pakistani flotilla berthed at Bandar Abbas on Sunday and was officially received by the Iranian Navy's officers, Tasnim reported.
Speaking at the welcoming ceremony, Admiral Azad said the visit was in line with efforts to boost security cooperation between Tehran and Islamabad.
https://www.geo.tv/latest/134531-Iran-Pakistan-to-hold-joint-naval-drills-in-east-of-Hormuz-Strait
U.S.

Denies Striking Syrian Mosque After Dozens Reported Killed
The organization said it didn't know who launched the attack.
Some human rights activists and monitors alleged that the United States hit the mosque. But a senior U.S. military official told NBC News that while there was a mosque about 50 feet from the U.S. target, the United States has photographic evidence that the mosque was not hit and was still standing.
The official wouldn't rule out the possibility that the mosque may have been struck or blown up later by someone else.
Al-Jinnah is located in one of the main rebel-held parts of Syria, the northwest that includes Idlib province and the western parts of Aleppo province, and its population has been swollen by refugees, U.N. agencies have said.
Rebels in northwest Syria fighting to oust President Bashar al-Assad also include groups supported by Turkey, the United States and Gulf monarchies.
The conflicting reports come one day after at least 25 people were killed in a suicide bombing at the main court complex in Syria's capital, Damascus, on the sixth anniversary of the start of the uprising against Assad.
http://www.nbcnews.com/news/world/u-s-denies-striking-syrian-mosque-after-dozens-reported-killed-n734696
MOSUL, Iraq — Iraqi and U.S. commanders offered conflicting accounts Thursday of progress in western Mosul, where U.S.-backed Iraqi forces have been battling the Islamic State group for nearly a month as they try to retake the remainder of the city.
Maj. Gen. Joseph Martin, the American commander of coalition ground forces in Iraq, said the troops had recaptured "a little over a third" of neighborhoods west of the Tigris River, while Brig. Gen. Yahya Rasool, an Iraqi military spokesman, said they had retaken up to 60 percent, with fighting still underway. Iraq declared eastern Mosul "fully liberated" in January.
Iraqi officials have overstated gains in the past, declaring areas liberated from ISIS militants only to see the resumption of fighting or militant attacks. The extremists have targeted eastern Mosul with bombings and other attacks on several occasions in recent weeks.
Front-line commanders meanwhile said progress has been slow over the past week, with troops advancing just a few hundred meters (yards) in the face of ISIS car bomb attacks.
Turkey is about to take another step toward dictatorship
Seyla Benhabib is a professor of political science and philosophy at Yale University.
On April 16, Turkish voters — some 58 million of them — will take part in a constitutional referendum proposed by President Recep Tayyip Erdogan. Though the referendum will have all the appearances of democratic legitimacy, the reality could not be more different. At issue is a sweeping program of constitutional changes that, if passed, will establish a new form of autocracy with Erdogan at its top. Parliament gave its approval to the referendum this year, albeit by the narrowest of majorities, with only nine more votes than were needed for the required two-thirds majority. That result came only after a long and intensive campaign of government-sponsored intimidation. (The leaders of one of the main opposition parties, which appeals to a mainly Kurdish constituency, are still in jail.)
Now Turkish voters find themselves confronting an even broader system of state-orchestrated pressure and coercion as they prepare to go to the polls. If the referendum passes, the effect will be to transform a multiparty, parliamentary democracy into an authoritarian presidential regime in the model of Kazakhstan or Russia. It is no exaggeration to say that the vigorous if flawed parliamentary Turkish republic founded in 1923 by Kemal Ataturk — one that long granted me and millions of other citizens wide-ranging rights and freedoms — will be no more.