CHINA WARNS OF NUCLEAR FIRST STRIKE IN RESPONSE TO THAAD DEPLOYMENT
"US must pay the price"
China warns that it is reconsidering its policy not to use nuclear weapons against South Korea in response to the U.S. deploying the THAAD missile system and sending B-52 bombers to protect its ally.
THAAD is being deployed to shield South Korea from North Korean ballistic missiles after several tests by the Stalinist state in recent months. Beijing is furious because the system will also be capable of detecting and tracking missiles launched from China.
It was also reported yesterday that the U.S. will send B-1 and B-52 nuclear bombers to South Korea in order to display a stern show of strength.
300,000 South Korean troops and 15,000 US personnel have also started their annual Foal Eagle military exercise. The USS Carl Vinson nuke-powered aircraft carrier will join the drill – carrying dozens of fighter jets.
An article in the Global Times, which is widely regarded as the voice of the Chinese government, says that Beijing will respond to America's "strategic provocations" by actioning a "rapid increase in the number and quality of China's strategic nuclear weapons" and that China isn't worried about starting a limited "arms race".
Asserting that "the US must pay the price for the THAAD deployment," the piece goes on to warn that, "If the US further intensifies its anti-missile attempts and strategic containment, China may reconsider its pledge of not being the first to use nuclear weapons."
https://www.infowars.com/china-warns-of-nuclear-first-strike-in-response-to-thaad-deployment/
Defiant Iran Conducts More Ballistic Missile Tests; This Time From Naval Vessel
As tensions between the U.S. and Iran continue to mount, the semi-official news agency Tasnim is reporting that Iran's Revolutionary Guard has successfully conducted yet another ballistic missile test, this time from a navy vessel.  Called the Hormuz 2, these latest missiles are designed to destroy moving targets at sea at ranges up to 300 km (180 miles).
Reports on the latest test quotes Amir Ali Hajizadeh, commander of the IRGC's Aerospace Force, who confirmed that "the naval ballistic missile called Hormuz 2 successfully destroyed a target which was 250 km away."
The missile test is the latest event in a long-running rivalry between Iran and the United States in and around the Strait of Hormuz, which guards the entrance to the Gulf. About 20% of the world's oil passes through the waterway, which is less than 40 km wide at its narrowest point.
http://www.zerohedge.com/news/2017-03-09/defiant-iran-test-fires-naval-ballistic-missile
Terror fears over hundreds of 'ghost ships' turning off their tracking devices while sailing close to hotspots including Syria and Libya before entering European waters
Vessels entering Europe routinely turn off their GPS tracking to 'disappear' 
Often become ghost ships after making dubious stops near terrorist hotspots
It is fuelling concerns they are smuggling people and weapons to the continent
2,850 ships 'went dark' before entering Euro waters in first two months of 2017
Hundreds of 'ghost ships' turn off their tracking devices and sail suspiciously close to terror zones before entering European waters – including dozens who ended up off the British coast, it was revealed today.
Large vessels entering Europe routinely turn off their GPS tracking to 'disappear' from monitoring systems after making dubious stops close to terrorist hotspots.
It is fuelling concerns they are smuggling people and weapons to the continent, especially on the route between Libya and Greece.
Data from Windward, an Israeli-based maritime analytics company, shows that in total, 2,850 ships 'went dark' by halting transmission of their location before entering European waters in the first two months of this year.
Around 45 did this off the British coast for up to 24 hours – 50 other entered British waters without proper paperwork.
http://www.dailymail.co.uk/news/article-4300170/Terror-fears-hundreds-ghost-ships-turning-GPS.html#ixzz4avbL4SCQ
Park Geun-hye: South Korean court removes president over scandal
Park loses immunity from prosecution over corruption claims after constitutional judges uphold impeachment vote
Justin McCurry in Tokyo and agencies in Seoul
Friday 10 March 2017 06.25 ESTFirst published on Thursday 9 March 2017 21.24 EST
Park Geun-hye has become the first democratically elected South Korean president to be forced from office, after the country's constitutional court upheld a parliamentary vote to impeach her over a corruption and cronyism scandal that could see her face criminal charges.
Friday's dramatic judgement brings an abrupt and ignominious end to Park's four years in office – the most dramatic development yet in a scandal that has gripped and horrified South Koreans in equal measure. Two died in protests after the ruling.
Park will immediately forfeit the executive immunity she enjoyed as president, meaning prosecutors can summon, question and possibly arrest her.
https://www.theguardian.com/world/2017/mar/10/south-korea-president-park-geun-hye-constitutional-court-impeachment
Donald Trump unaware Michael Flynn was a 'foreign agent', Sean Spicer says
Former national security adviser retroactively disclosed that he lobbied for firm linked to Turkish government while working as Trump's campaign adviser
Amber Jamieson in New York
Donald Trump was unaware his former national security adviser Michael Flynnwas working as a "foreign agent" when he gave him the job, according to his press secretary.
"I don't believe that was known," said Sean Spicer, when asked by reporters at his regular press briefing on Thursday.
Flynn resigned in February after just four weeks as national security adviser when it came to light that he had misled the vice-president, Mike Pence, about phone conversations with the Russian ambassador about sanctions in December. The resignation came after a flow of intelligence leaks revealed that he had secretly discussed sanctions with the ambassador, Sergey Kislyak, and then tried to cover up the conversations.
On Wednesday, it was revealed that from September to November last year, while he was working as a top adviser to Trump's presidential campaign, Flynn was lobbying for a firm linked to the Turkish government, earning $530,000. He and his company Flynn Intel Group Inc filed retroactive documents with the Department of Justice two days ago to register as a foreign agent.
https://www.theguardian.com/us-news/2017/mar/09/michael-flynn-foreign-agent-sean-spicer
Poland reacts with fury to re-election of Donald Tusk
Almost all EU nations back his second term as European council president but Poland's opposition leaves it isolated in Europe
Jennifer Rankin in Brussels
Donald Tusk has won a second term as European council president, overcoming bitter opposition from Poland that has left the country isolated in Europe.
Tusk, a former Polish prime minister, was re-elected on Thursday with overwhelming support to lead the council, the body that organises EU leaders' meetings, for a second term lasting two and a half years. His reappointment until the end of 2019 means he will play a crucial role in Britain's negotiations to leave the EU.
The Pole, from the pro-European centre-right Civic Platform party, overcame strong resistance from his own government, led by the Eurosceptic Law and Justice party (PiS). The outcome was never in doubt, but is a blow for the Warsaw government, which responded with fury.
"We know now that it [the EU] is a union under Berlin's diktat," the Polish foreign minister, Witold Waszczykowski, told Polish media, echoing persistent claims by PiS that the EU is controlled by Berlin.
Despite its anger, however, Poland was left isolated as other countries including traditional central European allies lined up to back Tusk, a popular choice to guide the EU through difficult Brexit talks and tense debates on migration
https://www.theguardian.com/world/2017/mar/09/donald-tusk-re-elected-as-european-council-president-despite-polish-opposition
Man arrested after injuring seven people in Düsseldorf axe attack
Police say there is no indication of terrorist motive after detaining 36-year-old from the former Yugoslavia
Philip Oltermann and agency
A man was arrested after injuring seven people with an axe at Düsseldorf's main train station on Thursday night, police have said.
In a statement, they described the man as a 36-year-old from the former Yugoslavia who apparently had mental health problems. Police said three of the victims were seriously injured, with the others suffering minor injuries. The suspect was also injured.
Police said there was no indication of a terrorist motive behind the attack.
The station remained closed while crime scene specialists carried out their work but police are not searching for any other attackers.
https://www.theguardian.com/world/2017/mar/09/man-arrested-after-injuring-five-people-in-duesseldorf-axe-attack
Five people including four Russian businessmen are killed as a helicopter crashes into a TV tower moments after taking off in Istanbul
It is being reported the helicopter hit a television tower as it flew in dense fog
The helicopter belonged to the Eczacibasi group of companies, it has been said 
Four Russians, two pilots and a Turkish official were all travelling on the chopper
The Russians make up four of the five killed, and the other two are injured 
A helicopter has crashed on a motorway in the outskirts of Istanbul killing at least five people.
It is understood the Sikorsky S-76 chopper was flying in dense fog when it hit a television tower which caused it to plunge into the road.
There were seven people on board – four Russian guests, a Turkish official and two pilots.
A Twitter account for a crisis centre confirmed that four of the victims were Russian nationals.
Is Alexa working for the CIA? Video shows owner asking Amazon's smart assistant if it is connected to the intelligence agency – causing it to shut down repeatedly
Video shows anonymous woman asking Amazon's Alexa a series of questions
Started with 'would you lie to me' and then asked what is the CIA
Then asked if Alexa was connect to the CIA and the virtual assistant shutdown
Amazon said it was a glitch and now Alexa says 'no I work for Amazon'
With the CIA's ability to 'breach almost anything connected to the internet' made public, many citizens have begun questioning their devices.
A clip has surfaced showing an anonymous woman asking Amazon's Alexa a series of questions – starting with 'would you lie to me' and finishing with 'Alexa, are you connected to the CIA?'
The virtual assistant swiftly responded to the first question, but shutdown after it was interrogated about its connections with the US government agency.
US deploys 2,500 paratroopers to Kuwait, ready for missions in Syria & Iraq – report
The US military is deploying 2,500 troops from the 82nd Airborne Division to Kuwait, with the declared goal of taking part in operations against Islamic State (IS, previously ISIS/ISIL) in both Syria and Iraq, according to the Army Times.
The deployment of 2,500 personnel will include units of the Fort Bragg-based 82nd Airborne Division 2nd Brigade Combat Team (2nd BCT), Army Times reported on Friday, adding that 1,700 troops from the 2nd BCT have already been deployed to the region, spreading between Iraq and Kuwait.
On Thursday, an unnamed military official told Reuters the Pentagon wants to have a rapidly deployable Kuwait-based force as part of the ongoing change in the US strategy to defeat IS.
Army Lieutenant General Joseph Anderson, the US Army's deputy chief of staff for operations, told House members on Wednesday that the additional troops will be "postured there to do all things Mosul, Raqqa, all in between," as cited by the Army Times, referring to the Islamic State's two main bastions in Iraq and Syria respectively.
https://www.rt.com/usa/380111-us-troops-deployment-kuwait/
Less than half of Marine Corps aircraft are ready to fly
Less than half of the Marine Corps' aircraft are ready to fly, far short of the 75 percent goal by the service, the deputy commandant for programs and resources told Congress on Friday.
Lt. Gen. Gary Thomas said that, while readiness across the Marine Corps is on an upward trend, readiness in the aviation community is "still much lower than we would like."
The service's goal is to have 75 percent of its aircraft on the flight line ready to go, a number he called "reasonable" since routine maintenance will always take some aircraft out of commission.
But the actual number now is just 45 percent, mostly due to aircraft exceeding their planned service life, Thomas said. The statistic seemed to shock Rep. Michael Turner, R-Ohio, chairman of the House Armed Services Tactical Air and Land Subcommittee.
http://www.washingtonexaminer.com/less-than-half-of-marine-corps-aircraft-are-ready-to-fly/article/2617014
'Giant leap': China's 5th-gen stealth fighter enters service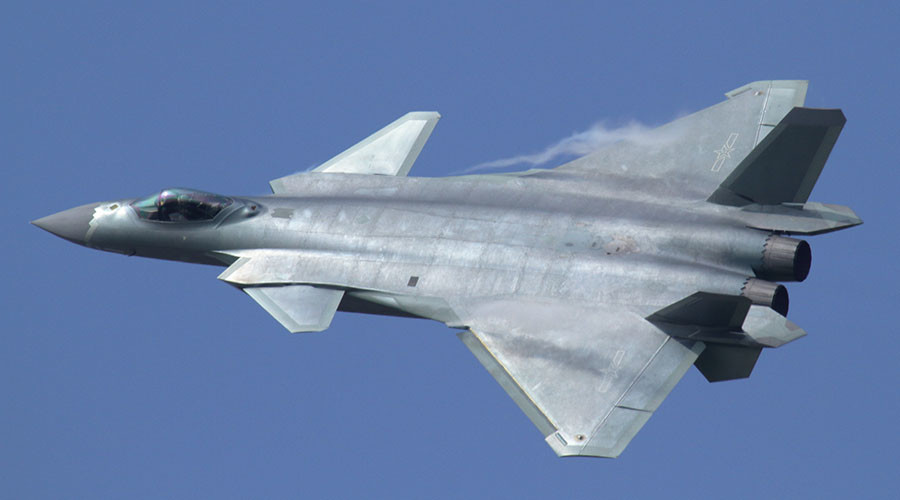 Months after unveiling its first fifth-generation J-20 fighter jet, China's People's Liberation Army announced that the advanced aircraft has entered service. The jet is meant to counter the US and its regional allies in a potential battle for air superiority.
The brief announcement on Friday made on state broadcaster CCTV's military and agricultural affairs channel said the J-20 had entered service in the People's Liberation Army Air Force (PLAAF). The report did not provide further details.
The announcement did not come as a big surprise; in November, the Chinese military demonstrated two J-20s during a pre-announced brief fly-past at the Zhuhai Air Show in Guangdong province, signaling that the aircraft was about to enter service.
The development of the Chengdu J-20 began in the late 1990s, with the first prototype taking flight in January 2011. Eight prototypes have been built so far, with two being LRIP, or low rate initial production – an indicator that the aircraft design was generally fixed. The J-20 is yet to receive its designated engine, the Xian WS-15, but has been reportedly tested with China's advanced PL-15 and PL-10 air-to-air missiles.
https://www.rt.com/news/380147-china-j20-fighter-service/
China to intercept 'intruding' aircraft, follow military vessels amid efforts to strengthen navy
China is building a "first-class navy" which will intercept "intruding aircraft" and follow any military vessels traveling within its controlled areas, an official has stated, adding that sailors should "stay vigilant."
"We will intercept any intruding aircraft and follow every military vessel in areas under our responsibility," Wang Weiming, deputy chief of staff of the Chinese People's Liberation Army Navy, told Xinhua on the sidelines of the annual session of the National People's Congress (NPC).
"Our sailors should stay vigilant and be able to deal with emergencies at all times," he added.
Wang's statements come as China looks to strengthen its navy, expanding its fleet of naval destroyers and frigates and stepping up air and sea patrols.
The senior official noted that the country's second aircraft carrier – a refitted Soviet Union-made carrier – is taking shape, with the hull blocks having been joined.
The carrier will have a displacement of 50,000 tons and will be a base for J-15 fighters and other aircraft, according to a Defense Ministry spokesperson. It is expected to enter service around 2020.
https://www.rt.com/news/380135-china-navy-aircraft-vessels/
Get Ready, Russia and China: America's F-22 Raptor Is Getting More Stealth and More Firepower
The Air Force has contracted Lockheed Martin to perform essential maintenance to the F-22's low-observable stealth coating to ensure it is equipped to manage fast-emerging threats.
Lockheed Martin completed the first F-22 Raptor at the company's Inlet Coating Repair (ICR) Speedline, a company statement said.
"Periodic maintenance is required to maintain the special exterior coatings that contribute to the 5th Generation Raptor's Very Low Observable radar cross-section," Lockheed stated.
The increase in F-22 deployments, including ongoing operational combat missions, has increased the demand for ICR. Additionally, Lockheed Martin is providing modification support services, analytical condition inspections, radar cross section turntable support and antenna calibration.
The Air Force is performing key maintenance on the F-22 Raptor's stealth materials and upgrading the stealth fighter with new attack weapons to include improved air-to-air and air-to-surface strike technology, service officials said.
http://nationalinterest.org/blog/the-buzz/get-ready-russia-china-americas-f-22-raptor-getting-more-19735
Pentagon: Russia, China Able to Launch Catastrophic Cyber Attacks on U.S. Infrastructure for Next 10 Years
Defense Science Board calls for new cyber deterrence plan targeting foreign leaders
Critical American infrastructure like the electric grid will remain vulnerable to catastrophic cyber attacks from Russia and China for at least 10 years, according to a Pentagon study.
A report by a Defense Science Board task force concludes that the decade-long cyber vulnerabilities must be mitigated while the Pentagon quickly creates new cyber deterrence capabilities, including offensive cyber weapons designed to inflict damage on adversaries and their leaders.
The 44-page report, "Task Force on Cyber Deterrence" was made public Feb. 28. It is based on a two-year study by a panel of military and defense experts.
 The report presents a dire picture of weaknesses in both military and civilian information and control systems that are being exploited by advanced cyber warfare states such as China and Russia, along with second-tier cyber threats from states such as North Korea and Iran.
Hezbollah Missiles Aimed at Israel's Nuclear Reactor
Terror leader boasts of ability to strike Dimona reactor
BY: Adam Kredo
March 9, 2017 1:42 pm
The Iranian-backed terror group Hezbollah currently has advanced missiles capable of hitting Israel's nuclear reactor, according to Hassan Nasrallah, the terror group's leader, who boasted in a recent interview that the terror group is prepared to strike the reactor and cause nuclear havoc across the Middle East.
Nasrallah, speaking to an Iranian interviewer, disclosed that the Islamic Republic has smuggled a variety of new missiles to Hezbollah operatives and that the group is prepared to strike the Israeli nuclear reactor, which is located near the southeastern city of Dimona.
"We are ready to carry it out and we have the courage to do so," Nasrallah is quoted as saying in the interview, which was translated into English by the Meir Amit Intelligence and Terrorism Information Center, or ITIC, an Israel-based security organization.
 Israeli experts who compiled the 
report
warned that Hezbollah has upgraded its weapons capabilities with the help of Iran and stands ready to inflict heavy damage on Israeli civilians.
Nasrallah boasted that a strike on the Dimona nuclear reactor would cripple Israel.
http://freebeacon.com/national-security/hezbollah-missiles-aimed-israels-nuclear-reactor/
Syrian government urges U.N. to make Turkey withdraw from Syria
The Syrian government has called on the United Nations to force Turkey to pull "its invasion forces" out of Syria, state media said on Friday.
Turkey's military shelled Syrian government forces and their allies in northern Syria on Thursday, causing deaths and injuries, state-run SANA news agency reported.
Turkey launched its first major military incursion into Syria in August, deploying tanks and air power in support of rebel groups opposed to Syrian President Bashar al-Assad.
Turkey's operation aims to drive Islamic State from the border and stop Kurdish militias from gaining ground in their wake.
Syria's foreign ministry urged the U.N. secretary general and security council to "force Turkey to withdraw its invasion forces from Syrian land and stop the attacks", SANA said.
http://www.reuters.com/article/us-mideast-crisis-syria-government-idUSKBN16H1JP
Shi'ite Militia in Iraq & Syria Offers to 'Liberate' Golan Heights
Hezbollah al-Nujaba spokesperson Seyed Hashem al-Moussavi announced the establishment of the 'Golan Liberation Brigade' on Wednesday, after what he called "recent victories," quoted by the Iranian Fars News Agency. "If the Syrian government requests, we are ready to take action to liberate Golan," he told FNA.
The group's leader, Sheikh Akram al-Ka'abi said last month the presence of Hezbollah al-Nujaba in Syria was aimed at "resisting the plot" of the Islamic State (ISIS / Da'esh) terrorist organization, which he claimed was implementing an Israeli-initiated road map "under the supervision of the U.S., with the cooperation of Turkey and Arab states of the Persian Gulf in the region," according to Fars.
U.S. troops have been fighting alongside Iraqi soldiers and members of the Kurdish security forces and Shi'ite militia members to oust the Islamic State terrorist group from its stronghold in Mosul. A radical Shi'ite cleric called Moqtada al Sadr has called for American troops to leave Iraq, Fox News reported.
http://www.jewishpress.com/news/breaking-news/shiite-militia-in-iraq-syria-offers-to-liberate-golan-heights/2017/03/09/
Turkey-PKK conflict: UN report tells of '2,000 dead' since truce collapse
When a man in the Turkish town of Cizre was told his sister had been killed, his family was invited to pick up her remains from the public prosecutor's office.
But all they received were three small pieces of charred flesh – and no information on how she died.
His account from February 2016 is among many included in a new UN report on Turkish government operations in the country's mainly Kurdish south-east.
UN investigators found some 2,000 people were killed in 18 months of fighting, and accuse Turkish forces of serious human rights violations.
The killings, disappearances and instances of torture documented in the report took place during a surge in violence after the ceasefire between Turkey and the Kurdistan Workers' Party (PKK) broke down in July 2015.
http://www.bbc.com/news/world-europe-39228548
PARIS — Following the recent pick of the Airbus Helicopter H160 for France's joint light helicopter, work will now begin to study modifications to adapt the civil rotorcraft to military missions, according to Laurent Collet-Billon, the head of the French Direction Générale de l'Armement acquisition office.
This work includes fitting the Anti-Navire Léger anti-ship missile for the Navy and a machine gun for the Army.
That work is expected to lead to a program launch in 2019 for 160-190 units, said DGA Director of Operations Monique Legrand Larroche, who declined to give an estimated value of an eventual order. Such information would handicap the office's negotiations on the deal, she said.
France rebukes construction firm's offer to help build Trump's border wall
[Editor's Note: This is the sort of intimidation that illustrates problems of the outgoing leftist regime in France.  This threat is ridiculous, anti-American, and rude. One presumes Lafarge will make political contributions elsewhere. ]
France's top diplomat is pressing a French-Swiss cement manufacturer to rethink its bid to sell the United States material to build President Trump's proposed border wall.
French Foreign Minister Jean-Marc Ayrault said Thursday that while construction giant LafargeHolcim can do what they want as a private company, the company should consider the social responsibility it has and the fact that the move could hurt its business with other clients.
"It should reflect upon what its interests are. There are other clients who will be stunned by this," Ayrault told France Info radio. "Lafarge says it doesn't do politics. … Very well, but I would say companies … also have social and environmental responsibilities."
British govt admits to secret Syria war fund but refuses to identify 'non-extremist' fighters
Responding to questions from the Defence Committee, the government refused to identify the forces it is training in Iraq and Syria but appeared to confirm it has increased the amount of cash available for the conflict from a secretive war fund.
The committee asked a number of questions about the supposed 70,000 moderate fighters available to fight Islamic State (IS, formerly ISIS/ISIL), cited by then Prime Minister David Cameron to make the case for British intervention in Syria in December 2015.
The committee said it had been forced to examine the claim with the help of outside sources because the government had previously refused to name the groups.Critics say the figure was either made up or consisted of groups similar to IS and Al-Qaeda.
"It would not be appropriate for the government to release or confirm such information on individual groups in Syria," the official response said.
The government insisted "there are significant numbers of non-extremist fighters in Syria opposing both the Assad regime and terrorist groups like Daesh [IS]."
It disclosed that infantry and tactical training is being provided to some groups in the region and that money had been pooled from the controversial and highly secretive Conflict, Stability and Security Fund (CSSF) to pursue UK aims in the region.
https://www.rt.com/uk/380032-syria-iraq-fighters-funding/
DUTCH ARMED FORCES SERIOUSLY NEGLECTED: ADVICE COUNCIL
By Janene Pieters on March 10, 2017 – 09:55
The state of the Dutch armed forces is extremely worrying, according to advisory council on international affairs AIV in an advice report to the cabinet titled 'Russia and the Dutch defense efforts'. According to the report, the "employability of the armed forces was further undermined this government term" and if the policy is not changed, the basic readiness of the army will only be back in order in 2021, NU.nl reports.
According to the AIV, the government continually paints an overly optimistic picture on the state of the armed forces. "These positive framings may serve a political purpose, but creates a false picture", the report states.
The AIV calls on the next government to ensure that the Defense budget is increased to at least the NATO average. Over 8 years 2 percent of the gross domestic product must be spent on defense – the standard mutually agreed upon by NATO countries.
http://nltimes.nl/2017/03/10/dutch-armed-forces-seriously-neglected-advice-council
The Latest: Dutch PM tells Turkey minister: 'Don't show up!'
BERLIN (AP) — The Latest on the growing tensions between Germany and Turkey
Dutch Prime Minister Mark Rutte says that apart from arresting a Turkish minister on arrival in the Netherlands, his government is giving the strongest possible hints to Ankara to not send its representatives to address any rallies on the upcoming Turkish referendum.
Rutte says any planned weekend visit by Turkish Foreign Minister Mevlut Cavusoglu could only stir trouble between the two NATO allies.While attending a European Union summit on Thursday, Rutte said: "This is the most serious thing we can do. You tell the foreign affairs minister of a NATO ally, 'We know you will come to the Netherlands: Don't show up!'"
Rutte added that local authorities would be unlikely to authorize any rally Cavusoglu would attend."
And if you still decide to come, you won't have a chauffeur driven car, no escort, no support," he said.Rutte says that while "there are people who will say, 'you have to arrest him at Schiphol,' but we will stop just short of that."
http://kdwn.com/2017/03/09/the-latest-dutch-pm-tells-turkey-minister-dont-show-up/
Pentagon hires former lobbyist for Peter Thiel's company