Tokyo calls North Korea's latest missile launch a 'grave threat to national security'
AP, AFP-JIJI, KYODO, STAFF REPORT
SEOUL – North Korea on Monday launched four ballistic missiles, three of which fell into Japan's exclusive economic zone in the Sea of Japan, the Japanese government said.
There were no immediate reports of damage to ships or aircraft in the area, Japan's top government spokesman, Yoshihide Suga, said at a news conference in Tokyo, calling the latest missile launch a "grave threat to national security."
Prime Minister Shinzo Abe separately told reporters that the missiles traveled around 1,000 km. He later said at a Diet session that the remaining missile also fell near the EEZ.
Japan has filed a protest with North Korea over the latest missile launches, according to Abe.
Suga also said the launches are in defiance of U.N. Security Council resolutions adopted against North Korea, banning it from developing nuclear arms and missile technologies.
In Seoul, Yonhap News Agency reported earlier, citing South Korea's Joint Chiefs of Staff, that a possible intercontinental ballistic missile had been launched at 7:36 a.m. from North Korea's northwest in an apparent protest by North Korea against a joint military drill by South Korea and the United States that began last week.
http://www.japantimes.co.jp/news/2017/03/06/national/tokyo-says-north-korea-fired-three-four-missiles-came-japans-eez/#.WLzMM5ArJD8
Trump Inherits a Secret Cyberwar Against North Korean Missiles
Agence France-Presse
Sunday 5 March 2017 07.42 ESTLast modified on Sunday 5 March 2017 08.10 EST
TARGET KIM
Strategic expert reveals exactly how the US military will 'take out' North Korea's nuke bases
Donald Trump reportedly sees the trigger-happy state as his number one overseas challenge
A TOP military expert has revealed exactly how the US military will 'take out' North Korea's nukes  if Donald Trump gives the green light for deadly strikes.
After the rogue state carried out another missile test and following the assassination of Kim Jong-un's half brother it was reported the President is on the brink of ordering direct military action.
Trump reportedly sees North Korea and its despotic leader as his number one overseas challenge – and it is one he has pledged to tackle head-on.
Now a senior analyst from Stratfor – which provides strategic analysis to the US government – has told Business Insider exactly how Trump's military could potentially carry out crippling strikes against the hermit kingdom.
The US would have to choose between a full-scale destruction of North Korea's nuclear facilities and ground forces or a quicker attack on only the most important nuclear facilities.
https://www.thesun.co.uk/news/3014821/military-expert-reveals-exactly-how-the-us-military-will-take-out-north-koreas-nuke-bases/
Malaysia expels North Korea ambassador over Kim Jong-nam killing
Kang Chol given 48 hours to leave country after a break in diplomatic relations over assassination of Kim Jong-un's half-brother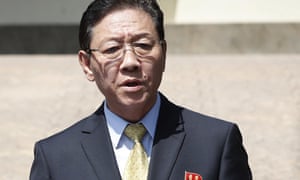 Agence France-Presse in Kuala Lumpur
Sunday 5 March 2017 09.36 ESTLast modified on Sunday 5 March 2017 11.10 EST
Malaysia has expelled North Korea's ambassador, giving him 48 hours to leave the country in a major break in diplomatic relations over the assassination of the half-brother of the North Korean leader.
Kim Jong-nam was poisoned on 13 February with deadly nerve agent VX. North Korea has repeatedly disparaged the murder investigation, accusing Malaysia of conniving with its enemies.
The ambassador was declared persona non grata after Malaysia demanded but did not receive an apology for Pyongyang's attacks on the investigation, Malaysia's foreign minister, Anifah Haji Aman, said.
"Malaysia will react strongly against any insults made against it or any attempt to tarnish its reputation," he said in a statement released late on Saturday.
Ambassador Kang Chol failed to present himself at the ministry when summoned and is expected to leave Malaysia within 48 hours, the statement added. The deadline is 6pm on Monday.
https://www.theguardian.com/world/2017/mar/05/malaysia-expels-north-korea-ambassador-over-kim-jong-nam
Trump Orders Counterterrorism Expansion in Yemen
Tribune Washington Bureau
|
by By W.J. Hennigan
More than two years after a multi-sided civil war erupted in Yemen that allowed al-Qaida's local franchise to amass power and seize territory, President Donald Trump has told the Pentagon to conduct a complicated counter-terrorism campaign.
Trump's decision, just six weeks into his presidency, intends to reverse the largely unchecked expansion across southern Yemen of the group, Al-Qaida in the Arabian Peninsula.
The willingness to expand counter-terrorism operations inside war-torn Yemen is another signal that Trump is more willing to defer to military commanders on national security policy than was President Barack Obama, who was criticized publicly by three of his four Defense secretaries and privately by uniformed officers for micromanaging the military.
Over two days this past week, armed drones and warplanes conducted more than 30 airstrikes against suspected al-Qaida positions in three Yemeni provinces. They were the first U.S. attacks in the country since an ill-fated Navy SEAL raid in January that killed two dozen civilians, including women and children, al-Qaida militants and Navy SEAL William "Ryan" Owens.
http://www.military.com/daily-news/2017/03/05/trump-orders-counterterrorism-expansion-yemen.html
Jordan: 15 executions 'shocking' says human rights group
Amnesty International says hangings carried out in 'secrecy without transparency' are a 'big step backwards'
Human rights groups have condemned Jordan's mass execution of 15 people on Saturday. Human rights group Amnesty International said the executions by hanging had been carried out in "secrecy and without transparency."
"The scale of today's mass executions is shocking and it's a big step backwards on human rights protection in Jordan," said Samah Hadid, deputy director of Amnesty International's regional office in Beirut.
Ten of the 15 people executed on Saturday had been convicted on terrorism charges ranging from an attack a decade ago on Western tourists to the slaying of a writer.
It was the largest number of executions in one day in Jordan's recent history, said a senior judicial source who was not authorised to speak publicly about the matter and requested anonymity.
Government spokesman Mohammad al Momani told state media those executed included one man who was convicted of an attack last year on an intelligence compound near a Palestinian camp that killed five security personnel.
Another five were involved in an assault by security forces on a hideout by suspected Islamic State militants in Irbid city. The rest related to separate incidents going back as far as 2003.
https://www.theguardian.com/world/2017/mar/05/jordan-15-executions-shocking-says-human-rights-group
Revealed: Tony Blair's secret White House summit as he launches astonishing bid to work for Donald Trump… as his Middle East peace envoy
Blair attended a secret meeting at the White House to discuss working for Trump
Held talks with Trump's son-in-law and senior adviser Jared Kushner this week 
The former PM and Kushner have met three times in secret since September
Could setback Theresa May's hopes of forging 'special relationship' with Trump
By Simon Walters Political Editor For The Mail On Sunday
Tony Blair has attended a secret meeting at the White House to discuss working for Donald Trump, The Mail on Sunday can reveal.
The former Prime Minister held talks with Trump's son-in-law and senior adviser Jared Kushner on Wednesday with a view to becoming a Middle East peace envoy for Trump.
This newspaper has learned that Blair and Kushner have met three times in secret since September, including their three-hour summit in the West Wing last week.
If Trump gives Blair the new role, it would mark an astonishing international comeback for the man whose reputation was left in tatters after the Iraq War.
And it would be a major setback to Theresa May's hopes of forging her own 'special relationship' with Trump, especially as former Ukip leader Nigel Farage is already a close confidant of the President.
Blair's wooing of the Trump family is also likely to re-open speculation about his close friendship with Rupert Murdoch's ex-wife Wendi Deng, who is a friend of Kushner's wife, Ivanka, Trump's daughter.
http://www.dailymail.co.uk/news/article-4282190/Tony-Blair-s-secret-White-House-summit-work-Trump.html#ixzz4aSPpTi6P
Netanyahu: Putin meeting to focus on averting Iranian entrenchment in Syria
Ahead of Moscow trip Thursday, PM warns of attempt to establish a Golan Heights front against Israel, lauds cooperation with Russia
Prime Minister Benjamin Netanyahu said Sunday that he will meet with Russian President Vladimir Putin in Moscow to address developments in Syria and how to combat Iran's military presence in the war-torn country.
Speaking at the opening of the weekly cabinet meeting in Jerusalem, Netanyahu said Iran was seeking to exploit recent attempts to reach a political settlement in Syria in order to cement its military presence there.
"There is an attempt by Iran to entrench itself permanently in Syria, with a military ground and naval presence," he said, adding that even without an agreement guaranteeing its long-term military presence in the country, Iran will seek to ensure it retains a foothold there.
Netanyahu also said: "There is also a gradual attempt to establish a front against us in the Golan Heights." He would "express to President Putin Israel's strong and resolute opposition to this possibility" when he goes to Moscow on Thursday, he said.
http://www.timesofisrael.com/netanyahu-says-putin-meeting-to-focus-on-averting-iranian-entrenchment-in-syria/
Pilot of crashed Syrian plane rescued in Turkey – report
Opposition group claims to have shot down Russian-made MiG as it was bombing in countryside around Idlib
A Syrian pilot who crashed-landed his plane in Turkish territory was recovered on Sunday morning by a Turkish rescue team and taken to a hospital.
While no details on his condition have been released, the Turkish news agency Dogan reported that the pilot had been found 40 kilometers (25 miles) from the crash site. He was then taken to a police compound before being transferred to the Hatay region State Hospital.
Turkish officials said that the the aircraft, believed to belong to the Syrian military, crashed near the Turkey-Syria border Saturday night, with the Syrian opposition claiming to Turkish media that they were responsible for shooting the plane down.
Prime Minister Binali Yildirim told reporters that "we have information that a MiG model plane belonging to the Syrian regime" had crashed near the town of Samandag in Hatay province.
http://www.timesofisrael.com/pilot-of-crashed-syrian-plane-rescued-in-turkey-report/
Vandalism reported at largely Jewish Brooklyn cemetery
New York police probing latest in a string of violations of Jewish cemeteries, amid nationwide surge in anti-Semitic incidents
The New York Police Department is investigating a report of possible vandalism at a predominantly Jewish cemetery.
An NYPD spokesman said Sunday that the department's hate crimes division had been notified of headstones found toppled over at Washington Cemetery in Brooklyn.
Assemblyman Dov Hikind tweeted photos Saturday night showing some headstones on the ground. The Democrat says he'll go to the cemetery Sunday to see them.
The Washington Cemetery was previously targeted in 2010, when some 200 headstones were toppled.
http://www.timesofisrael.com/vandalism-reported-at-largely-jewish-brooklyn-cemetery/
Iran Said Seeking Russian Cruise Missiles Ahead Of Weapons Ban Expiration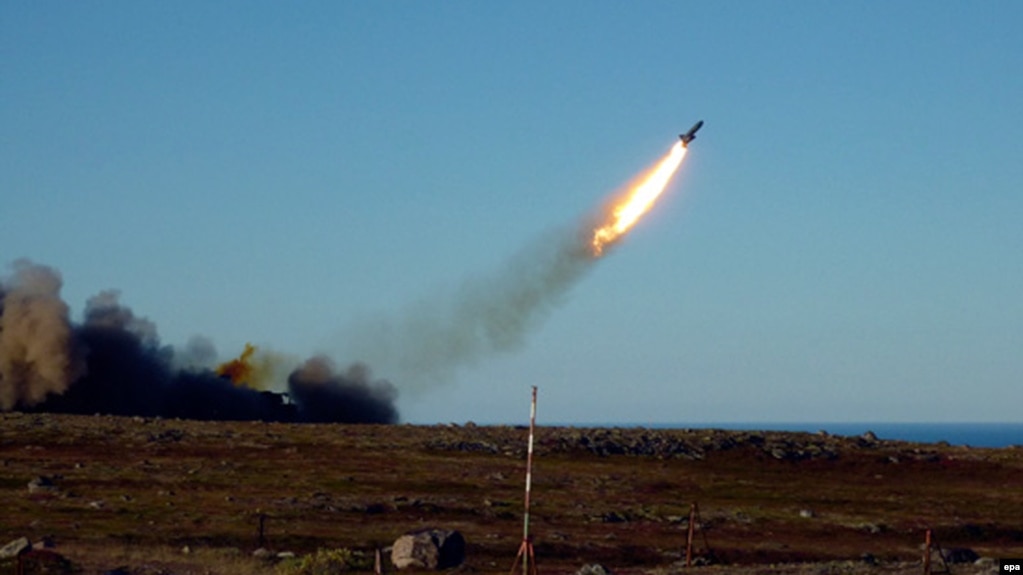 Apparently in anticipation of the ban being lifted, it says Iran is already negotiating with Russia to acquire the SS-N-26 Yakhont coastal-defense cruise missile.
The report says most of Tehran's weapons are currently made in Iran and are inferior in quality and performance to weapons manufactured in Russia, China, and the West.
http://www.rferl.org/a/iran-said-seeking-russian-cruise-missiles-ahead-un-weapons-ban-expiration/28349940.html
Trump indicates he might halt Russia deal amid tension over alleged ties to Moscow
President Trump may shelve a joint plan to combat ISIS with the help of Russia as he faces a new wave of questions about his ties to Moscow, according to administration officials and diplomats.Trump, who routinely speaks glowingly of Russian President Vladimir Putin, is believed to have wanted to work out deals with Russia regarding the fight against the terrorist group, nuclear weapons, and Russia's provocations in Ukraine.But FBI investigations into his campaign associates' connections to Moscow and congressional committees ramping up their probes of Russia's meddling in the 2016 election have cooled Trump's initial enthusiasm, officials said.Trump insists he had no knowledge of any aides having contact with Russia during his campaign.

http://www.nydailynews.com/news/national/trump-halt-russia-deal-tension-article-1.2988603
Russian navy growth 'puts the West at risk': Fears ships and submarines could launch sea attacks to 'paralyse' Europe
A report by the Royal United Services Institute has warned the Kremlin is building up its maritime arsenal
It calls on Nato to prepare for how to deal with Russian hybrid warfare at sea 'before it is too late'
The report comes as it is announced Boris Johnson will visit Moscow this year 
By Larisa Brown Defence Correspondent For The Daily Mail
The Kremlin is building up its maritime arsenal in ways that could stop Nato's free movement of the sea and pose an 'existential risk' to the West, former chiefs warn.
Russia could send new submarines and ships to launch undersea attacks to 'paralyse' Europe, they claim.
For example, Russia might cut vital undersea cables carrying commercial and military data between the US and Europe or target North Sea oil platforms, the Whitehall report says.
The Whitehall report says the introduction of new classes of submarines and long-range missiles on ships is a 'step-change' by Russian President Vladimir Putin
It means Nato must prepare for how to deal with Russian hybrid warfare at sea 'before it is too late' and it loses control of the seas, the most comprehensive paper of its kind says.
http://www.dailymail.co.uk/news/article-4284636/Russian-navy-growth-puts-West-risk-report-says.html#ixzz4aVgfvDS8
France Plans Loans for Companies Wanting to Invest in Iran
France is working on plans to issue direct loans to companies that want to invest in Iran, Finance Minister Michel Sapin said in a press conference in Tehran.
"We are trying to help these companies," Sapin told reporters at the Ministry of Finance and Economic Affairs in Tehran at a joint press conference with his Iranian counterpart, Ali Tayebnia. "They wil be able to apply for loans, but it's not active yet. We are working on this."
French companies were among the first to return to Iran after sanctions were eased last year under Tehran's nuclear deal with six world powers, but officials have said financing issues have hobbled some big infrastructure projects. France's largest banks have been reluctant to do business with the oil-rich country because of remaining U.S. sanctions, and Iran lacks access to major international lenders.
https://www.bloomberg.com/news/articles/2017-03-05/france-plans-loans-for-companies-wanting-to-invest-in-iran
Iran says S-300 system operational
Iran says advanced S-300 defense system, bought from Russia, tested and operational.
Iranian state television reported on Saturday that the advanced S-300 air defense system, which the Islamic Republic bought from Russia, is now operational.
"The S-300 air defense system has been tested … in the presence of government and military officials," the Iranian report said, according to the AFP news agency.
It added that the test at a desert base had seen several targets, including a ballistic missile and a drone, intercepted.
Air defense commander General Farzad Esmaili told the television that a domestically manufactured air defense system dubbed Bavar 373 which was "more advanced than the S-300" would be tested very soon.
"The S-300 is a system that is deadly for our enemies and which makes our skies more secure," he claimed.
http://www.israelnationalnews.com/News/News.aspx/226088
Iraq to get 10 billion pound loan for British contracts
Britain agreed on Sunday to arrange 10 billion pounds ($12.3 billion) in loans to finance infrastructure projects in Iraq over a 10 year period, a program that would only benefit British companies, an Iraqi minister said in Baghdad.
The two countries signed a memorandum of understanding in the Iraqi capital that serves as a framework to provide up to 10 billion pounds in funds to specific projects during this period, including water, sewage, electricity, healthcare and transport.
"This loan is exclusively allocated to British companies," Iraqi Acting Finance Minister Abdul Razzak al-Essa told a news conference at the signing ceremony. Interest rates will be set when the contracts are agreed, the minister said.
http://www.reuters.com/article/us-iraq-britain-loans-idUSKBN16C0I7
Pentagon confirms 21 more civilians killed, 2 injured by coalition strikes in Syria & Iraq
American coalition warplanes killed 21 civilians in 9 separate strikes in Iraq and Syria, the US Central Command has confirmed following the latest round of investigations, which brings the officially acknowledged casualty total to 220 since 2014.
In January, the Combined Joint Task Force received 27 new reports of civilian casualties in US-led coalition strikes against Islamic State (IS, formerly ISIS/ISIL). At the same time, it completed reviews on 19 reports, ten of which were assessed and dismissed as "non-credible."
"Nine reports were assessed to be credible resulting in the unintended death of 21 and injury to two civilians," CENTCOM said. A further 19 reports, some of which have been carried over from previous months, are still open and being assessed.
The new casualty figures released by CENTCOM on Saturday bring the official civilian death toll of the US-led campaign, which began under the Barack Obama administration in 2014, to 220 people.
https://www.rt.com/usa/379472-syria-iraq-civilian-casualties-centcom/
US allies in Syria make deal with Moscow and Damascus
The deal could be viewed as a sign of eroding US influence in Syria
The new agreement is likely to further complicate the picture in Northern Syria
Washington (CNN)Some of America's most critical allies in the fight against ISIS have made a deal to cede territory to Russian and Syrian government troops in northern Syria, the Pentagon confirmed Friday.
The Manbij Military Council, a key US ally in Syria, has permitted Russian and Syrian regime forces to take over villages near the town of Manbij, according to a defense official.
US military officials said the purpose of the deal was not immediately clear. But as a result, US military advisers could soon find themselves in close proximity to Syrian and Russian troops. The advisers are currently training local forces in Manbij to combat ISIS in the vicinity, part of the approximate 500-strong contingent of American Special Operations Forces in Syria.
Russian general confirms a Kurdish-Russian deal against Turkey
Lieutenant General Sergei Rudskoy, Chief of the Main Operational Directorate of the Russian General Staff, has confirmed a deal between Russia, the Syrian government and the Kurds in Manbij against Turkey and Turkish-backed rebels.
"The detachments of the Syrian army approached the south-west areas of the city of Menbij, which is under control of Kurdish militia groups," he said.
"Today, the Russian Centre for reconciliation of the opposing sides sent the first humanitarian convoy with food, medicines and items of the first necessity to Menbij," he added.
Furthermore, the Russian Army confirmed the entry of Syrian army forces to the Syrian Democratic Forces-held areas.
"In addition, since March 3 the Syrian Armed Forces enter the territory occupied by Kurdish militia groups [in reference to SDF] according to the agreements reached with the participation of the command of the Russian grouping of forces in Syria," General Sergei Rudskoy said.
BREAKING OBAMA'S RULES, TRUMP BOMBS MOSQUE KILLING ISIS' ENTIRE IRAQI LEADERSHIP
This post was written by Connor Balough
[Editor's Note: This post needs further confirmation.  Of particular interest are the countries of origin of the ISIS leaders killed in the attack.]
Obama's old rules of Mosques being off limits is off the table. President Trump authorized an air strike on a mosque in Mosul, Iraq, which has wiped out the entire remaining Iraqi ISIS leadership. This comes as the organization collapses all around itself.
The US Air Force released the names on Friday of the remaining leaders killed due to the airstrike on Al-Najjar Mosque in the northwestern part of the city:
– Abu Khalid (Saudi national).
– Sabah al-'Anzhi (Saudi national).
– Abu 'Azzam (Saudi national).
– Abu Hijab (Saudi national).
– Abu Siyah (Jordanian national).
– Abu Taybah (Jordanian national).
– Abu Abdul-Rahman Al-Ansari (Saudi national, commander of Jund al-Khalifa, ISIS' elite assault troops).
In retaliation,  Under the guise of poor weather, ISIS militants unleashed a massive counter-attack in residential neighborhoods of western Mosul the following day.According to a military source on the ground, upwards of nine ISIS suicide bombers blew up near army positions held primarily by the Iraqi Federal Police and Rapid Response Units.
The attack was repelled however as the jihadists could not hold onto the neighborhoods seized following the assault. The terror group is rapidly collapsing, with almost all of their Iraqi checkpoints vanishing overnight in ISIS territory.
http://prntly.com/2017/03/04/breaking-obamas-rules-trump-bombs-mosque-killing-isis-entire-iraqi-leadership/
Bahrain uncovers terror cell with Germany-based leader, says chief prosecutor
Police have arrested more than 20 members of a militant group suspected of launching attacks against security forces. The chief prosecutor said one of the group's leaders is a fugitive living in Germany.
Police arrested 25 members of the militant group, 10 of whom were former inmates, the report said. The remaining suspects appeared to be at large.
Executions are latest rights violations in Bahrain
The suspects face 16 charges, including killing two police officers during a prison break, attempted murder of another police officer, sheltering terrorists and joining a terrorist group. Prosecutors said only four of the suspects denied the charges.
Authorities said they found "large quantities of explosives, detonators and hand grenades" alongside pistols and AK-47 assault rifles.
Bahrain's chief prosecutor Ahmed al-Hammadi told BNA that several of the militant group's operations had been planned from outside the country, including from Germany.
China to increase military spending by 7% in 2017
China says it will increase military spending by about 7% this year, just days after Donald Trump outlined a boost to the US defence budget.
The scheduled announcement was made ahead of the annual National People's Congress (NPC) in Beijing.
China has been modernising its armed forces recently as its economy expands.
China's announced defence budget remains smaller than that of the US. But many China observers argue the real figure could be much higher.
The announcement marks the second consecutive year that the increase in China's defence spending has been below 10% following nearly two decades at or above that figure.
It means that total spending will account for about 1.3% of the country's projected GDP in 2017, the same level as in recent years, said government spokeswoman Fu Ying.
http://www.bbc.com/news/world-asia-china-39165080
Defence Secretary warns Russia is interfering in Libya to test Nato alliance
The Defence Secretary has warned Russia against interfering in Libya, as Britain and its Nato allies consider sending more aid to help the fragmented country rebuild its armed forces.
Sir Michael Fallon said Russia was "testing" the military alliance with overtures to a Libyan strongman in competition with the UN-backed Tripoli government.
"We don't need the bear sticking his paws in," he said as defence and foreign ministers gathered at the Munich Security Conference.
http://www.telegraph.co.uk/news/2017/02/17/defence-secretary-warns-russia-interfering-libya-test-nato-alliance/
Serbia's New Missile Will Keep NATO at Bay (VIDEO)
"If someone is crazy enough to make his airspace available to a third country willing to attack Serbia, we have a missile capable of knocking out all major cities in the region," Miroslav Lazanski, a military observer with the Belgrade-based newspaper Politika, told Sputnik Serbia.
Summing up the results of the recent international arms expo in Abu Dhabi, Lazanski said that Serbia had made a serious comeback to become southeastern Europe's number one arms manufacturer.
Serbia offers a wide range of combat gear to potential buyers, ranging from handguns and combat outfits, to UAVs, armored vehicles and artillery pieces.
"This means that the Serbian military-industrial complex is back on its feet after 1999 and all NATO did to us by bombing Yugoslavia," Miroslav Lazanski told Sputnik Serbia.
The Sumadija, a surface-to-surface missile capable of hitting targets up to 300 kilometers away, designed and built in Serbia, grabbed much attention during the Abu Dhabi show.
https://sputniknews.com/military/201703041051263518-serbia-missile-nato/
Pentagon plan to seize Raqqa calls for significant increase in U.S. participation