Former journalist arrested, charged with threats against Jewish facilities
Authorities investigating recent bomb threats against Jewish institutions nationwide arrested a former journalist Friday morning and said he was behind at least some of the threats, describing them as part of the man's campaign to harass a woman.
The arrest in St. Louis appears to be the first made in response to a recent wave of bomb threats at Jewish centers and schools across the country in recent days. Headstones also have been vandalized at Jewish cemeteries in Missouri, Pennsylvania and, most recently, upstate New York.
But officials said Friday that they don't believe the man — Juan Thompson, 31 — was behind all of the calls or the vandalism.
The bomb threats against Jewish centers and schools in January and February — including another string of such calls on Monday that evacuated schools in Maryland and Virginia, among other places — brought the total number of incidents to 100 across dozens of states, according to the Jewish Community Center Association of North America. The threatening behavior, arriving at a time of increased anxiety about anti-Semitism, has prompted frenzied evacuations and forced people to scramble from schools, offices and daycare facilities, sometimes pushing cribs carrying young children.
https://www.washingtonpost.com/news/post-nation/wp/2017/03/03/missouri-man-arrested-charged-with-threats-against-jewish-facilities/?utm_term=.01016c67ca4d
USS Porter Buzzed by Russian Planes in Black Sea
A U.S. guided missile destroyer was buzzed by four Russian military aircraft last week – with one coming as close 200 yards – in incidents the Navy has deemed, "unsafe and unprofessional," a U.S. European Command spokesman told USNI News on Tuesday.
Three incidents in which Russian aircraft made low passes occurred on Feb. 10 while USS Porter (DDG-78) was operating in international waters in the Black Sea, Capt. Danny Hernandez told USNI News.
Two Sukhoi Su-24 Fencer fighters made low-altitude, high-speed passes on the destroyer, an Ilyushin Il-38 surveillance aircraft also made a low pass and a separate Fencer made a low altitude pass on the ship, he said. The commander of Porter determined the actions were unsafe and unprofessional.
It's unclear if the Fencers were armed.
At least one Fencer came within 200 yards of the ship, flying at 300 feet at more than 500 knots, a defense official told USNI News on Tuesday.
None of the aircraft responded to radio queries from Porter and had their transponders turned off, Hernandez said.
The destroyer had just completed the ten-day Romanian-led multinational Sea Shield 2017 exercise. Porter left the Black Sea on Feb. 11.
https://news.usni.org/2017/02/14/uss-porter-buzzed-russian-planes-black-sea
Terror Threat to U.S. Airports Said to Grow as al-Qaeda Rebounds
by
March 2, 2017, 11:19 AM EST
Former CIA official sees risk from domestic, foreign paths

Terrorists will continue targeting aviation for generations
The threat to U.S. airports from terror groups such as al-Qaeda and Islamic State is expected to grow because of instability in parts of the Middle East and Asia, a former high-ranking intelligence official said Thursday.
The focus on fighting Islamic State, also known as ISIS, has allowed al-Qaeda and its offshoots to "rebound" in countries including Yemen, Pakistan and Afghanistan, said Michael Morell, former deputy director of the Central Intelligence Agency.
At the same time, as Islamic State loses territory in Syria and Iraq, the tens of thousands of its fighters who poured in from other countries will leave, and some will try to infiltrate the U.S., Morell said.
"The threat is actually going to get worse over the next several years," Morell said in an appearance at the U.S. Chamber of Commerce's Aviation Summit in Washington.
https://www.bloomberg.com/news/articles/2017-03-02/terror-threat-to-u-s-airports-said-to-grow-as-al-qaeda-rebounds
Kim Jong-nam death: police seek North Korean airline employee
Malaysian police issue arrest warrant for Air Koryo employee who they say arrived in country two weeks before attack on Kim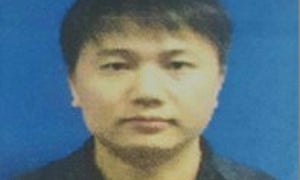 Malaysian police have issued an arrest warrant for an employee at North Korea's state airline over
the fatal poisoning
of Kim Jong-nam, the estranged half-brother of supreme leader Kim Jong-un.
Police had previously named Kim Uk-il, 37, who works for Air Koryo, as a person of interest who had been called in for assistance. He arrived in Malaysia about two weeks before the attack on Kim Jong-nam and is believed to have remained in the country.
"We have given him time to cooperate but he has not done so," the national police chief, Khalid Abu Bakar, was quoted by the Star newspaper as saying. "Thus, the warrant was issued to compel him to cooperate."