'Dress up like a Jew and make sure you have plenty of weapons under your coat': ISIS fanatics issue chilling call to 'terrorise' Jewish people in the West
Chilling post urges ISIS supporters to 'dress up like a Jew' and launch attacks
Terror group's supporters were advised to conceal weapons in their clothes
ISIS-linked Telegram channel also gives a list of possible targets in Britain
Also uses a picture of Amedy Coulibaly who attacked a Jewish shop in Paris
ISIS fanatics have issued a chilling call for fellow extremists to 'terrorise' Jewish communities in the West.
Brainwashed supporters were advised to 'dress up like a Jew' and conceal weapons under their coats before 'unleashing the pain of the Muslims' on their victims.
The terrifying call to arms emerged on an ISIS-linked Telegram channel called Lone Mujahid – a chat room where aspiring terrorists are encourage to carry out 'lone-wolf'-style attacks.
http://www.dailymail.co.uk/news/article-4267184/Chilling-ISIS-post-calls-attacks-Jews-West.html#ixzz4Zz34G9RI
Syria war: Russia and China veto sanctions
Russia and China have vetoed a UN resolution to impose sanctions on Syria over the alleged use of chemical weapons.
It is the seventh time Russia has vetoed a UN Security Council resolution to protect the Syrian government.
China has also vetoed six security council resolutions on Syria since the civil war began in 2011.
Syria agreed to destroy its chemical weapons in 2013 under an agreement negotiated between Russia and the US.
The Syrian government has previously denied carrying out chemical attacks.
Is this proof US forces' deadly new drone can take out targets with astonishing accuracy? Images reveal how Al Qaeda leader was killed in his car – but the vehicle remained largely intact
Abdullah Muhammad Rajab Abdulrahman was reportedly killed on Sunday night
Pictures of drone attack show killing was carried out with enormous accuracy
Suggestions a new smaller drone is now being used in remote air combat
Instead of 25lbs of explosives, drones carry charges of a 40mm grenade
It would mean less innocent casualties on the ground caused by drone strikes 
Egyptian-born Abdulrahman was known by nom de guerre Abu al-Khayr al-Masri
 He was released from an Iranian jail in 2015 and headed for Syria 
Abdullah Muhammad Rajab Abdulrahman, who had been deputy to al-Qaeda leader Ayman al-Zawahiri, was thought to have been killed on Sunday night in a drone attack on a car.
However, unlike previous bombings carried out by drones which usually result in catastrophic damage not to mention leaving the shell of a burned out car, in Sunday's attack the vehicle appeared relatively unscathed.
It could mean that a new type of ultra-accurate drone is being used to ensure killing are carried out with both pinpoint accuracy all while reducing the amount of collateral damage.
Could a new type of drone be responsible for the killing of Al-Qaeda's second in command?
http://www.dailymail.co.uk/news/article-4265870/Images-Syrian-strike-new-kind-drone-exist.html#ixzz4Zz3K6B1L
India To Deploy Israeli SPYDER Air Defence Missile System Near Pakistan Border
The Indian Air Force is in the process of deploying Israeli SPYDER air defence missile system on the western borders that it shares with Pakistan in the coming weeks.
The air force aims to boost its readiness to strike down any aerial threat from Pakistan, India Today reported today.
The deployment will help in tackling any aircraft, cruise missile, surveillance plane or drone that tries to violate our airspace, a defense official said.
The induction process for the country's air force was delayed more than three years due to lack of availability of Czech manufactured Tatra trucks on which the missiles were to be carried.
The SPYDER (Surface-to-air PYthon and DERby) is a low-level, quick reaction missile (LLQRM) to neutralise hostile targets up to 15 km away and at heights between 20 and 9,000 metres. The system provides fast reaction air defence protection against enemy aircraft and unmanned aerial vehicles.
http://www.defenseworld.net/news/18568/India_To_Deploy_Israeli_SPYDER_Air_Defence_Missile_System_Near_Pakistan_Border#.WLYCfpArJD8
Attacks on Top Trump Adviser Gorka a Product of Obama Admin Holdovers, Targeted Leaks
Support for Gorka not waning in Trump White House in light of media attacks
BY: Adam Kredo
February 27, 2017 12:00 pm
Obama administration holdovers and loyalists are waging a leak-driven media campaign against a senior counter-terrorism adviser hand-picked by President Donald Trump, with the aim of undermining the Trump administration's national security apparatus, according to multiple senior White House officials and sources close to the administration.
Sebastian Gorka, a longtime national security expert profiled by senior editor Bill Gertz in today's Free Beacon, has been the subject of multiple leaks and negative stories portraying him as a bigot as part of a campaign similar to the one that brought down former national security adviser Michael Flynn.
Senior White House officials dismissed the media narratives and said Gorka is well liked and respected by Trump's innermost crowd. Several of these sources would only speak on background because they were not authorized to discuss internal White House workings. They also expressed growing concern about leaks from within the administration that are aimed at undermining Trump's senior advisers.
http://freebeacon.com/national-security/attacks-top-trump-adviser-gorka-product-obama-admin-holdovers-targeted-leaks/
N. Korea has '1000s of tons of chemical weapons' scattered across country – Seoul
Published time: 28 Feb, 2017 10:41Edited time: 28 Feb, 2017 11:07
South Korea's foreign minister, Yun Byung-se, has warned that the North has "thousands of tons of chemical weapons" across the country and called to suspend Pyongyang from the UN.
Yun Byung-se has called for invoking a chemical weapons convention in light of the assassination that killed the half-brother of North Korean leader Kim Jong-un in Malaysia.
"North Korea is reported to have not just grams but thousands of tonnes of chemical weapons including VX all over the country…the recent assassination is a wake-up call to all of us to North Korea's chemical weapons capability and its intent to actually use them," the minister said as quoted by Reuters.
He also warned that within North Korea's stockpile is VX, the nerve agent which is believed to have killed Kim's half-brother Kim Jong-nam at Kuala Lumpur International Airport earlier this month.
The statement made at a UN disarmament conference in Geneva comes after Seoul signed a land swap deal with retail giant Lotte, which will allow South Korea to host the controversial US THAAD missile system. Both Seoul and Washington say the system is a defensive measure against Pyongyang.
https://www.rt.com/news/378867-korea-chemical-weapons-measures/
Fury in Berlin as Ankara reportedly arrests Die Welt journalist for 'terrorism propaganda'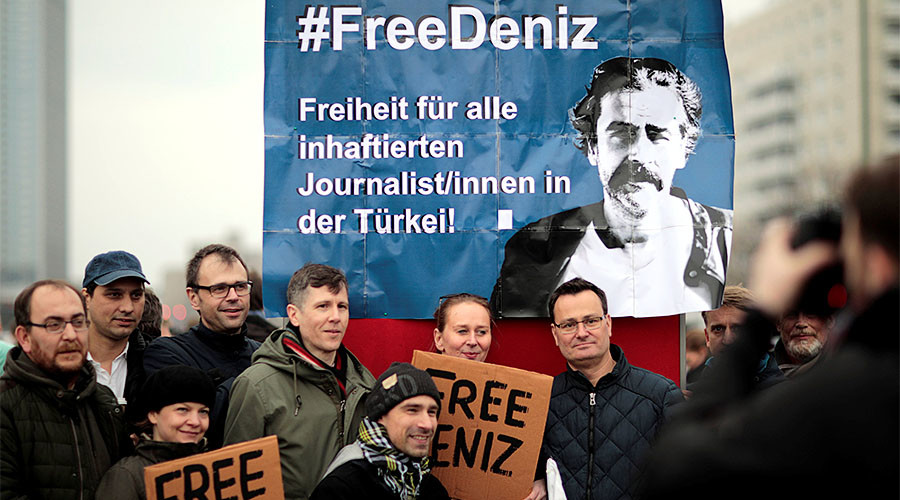 Die Welt's Deniz Yucel, who has both Turkish and German citizenship, has been arrested in Turkey on charges of "terrorism propaganda" and "inciting violence," according to a court witness. The news has sparked a harsh reaction from Germany.
Two weeks ago, Yucel was detained after reporting on emails allegedly from the private account of Turkey's energy minister, Berat Albayrak, who is also President Erdogan's son-in-law, which had been released by a leftist hacker collective.
The leak has been linked to a huge scandal that began months ago, when WikiLeaks said that the emails proved Albayrak's connections to Islamic State [IS, formerly ISIS/ISIL] oil trade.
The 57,000 emails from 2000-2016 tied Albayrak to staffing and salary questions at Powertrans, a company with a monopoly on providing road and rail logistics for oil being transported from Kurdistan. In 2014-2015, Powertrans was also linked to IS-produced oil coming from Syria. Though there wasn't enough evidence to prove the allegations, Albayrak denied having any links to Powertrans anyway.
A court witness told Reuters that the correspondent was jailed pending trial on Monday, becoming the first German reporter to be detained since the July coup and the ensuing crackdown on media.
German Chancellor Angela Merkel slammed the detention as "disproportionate," "bitter and disappointing," while German Foreign Minister Sigmar Gabriel went a step further, saying the journalist's arrest exposes the differences between the two countries' positions on freedom of the press in a "glaring light."
https://www.rt.com/news/378876-turkey-arrest-german-journalist/
Samsung Group chief charged with bribery, corporate nerve center dismantled
South Korean prosecutors charged Samsung Group [SARG.UL] chief Jay Y. Lee with bribery and embezzlement on Tuesday as the top conglomerate announced the dismantling of its corporate strategy office, the latest developments in a graft scandal that has rocked the country.
Jay Y. Lee, 48, was arrested on Feb. 17 over his alleged role in the corruption scandal involving impeached President Park Geun-hye, dealing a fresh blow to the standard-bearer for Asia's fourth-largest economy.
The special prosecutor's office said on Tuesday, the last day of its investigation, that it had charged Lee, third-generation leader of the tech giant "chaebol", and four other executives with bribery and embezzlement.
http://www.reuters.com/article/us-southkorea-politics-idUSKBN1670G2
Did China Just Make ALL Stealth Fighters (Think the F-22 and F-35) Obsolete?
Could Beijing's quantum radar technology render stealth aircraft obsolete?
While theoretically, if such a radar existed, it would be able to detect and track stealth aircraft with impunity, but it is unclear if China truly mastered such technology. The Chinese defense industry has claimed a breakthrough in mastering quantum radar technology, but Western defense industry officials said that such a system is not likely to exist outside a laboratory. Even then, the quantum radars would be difficult to build and test reliably even in a lab environment. Indeed, it is likely that networked low-frequency radars—which can also detect and track fighter-sized stealth aircraft—are more likely to be a more pragmatic development.
http://nationalinterest.org/blog/the-buzz/did-china-just-make-all-stealth-fighters-think-the-f-22-f-35-19608
$400bn F-35 can only hit 'stationary or slow moving objects' new report reveals as military bosses claim fighter jet could battle ISIS in the Middle East 'in a few years'
Fifth-generation fighter has been plagued with issues 
$400bn development schedule has stretched to 15 years
Report claims it won't be ready to even begin full combat testing until 2019
The F-35 Joint Strike Fighter has been hailed as the 'most expensive weapon in history', costing $400bn.
However, according to Aviation Week, the plane's laser targeting system has one slight flaw – it can only target stationary or slow moving objects.
'Despite being among the most technologically advanced low-observable warplanes on the planet, the Lockheed Martin F-35 has one significant shortcoming,' it wrote.
'The Joint Strike Fighter cannot strike moving ground targets using the targeting system and weapons loadout delivered in its final combat Lightning II configuration, Block 3F.'
The jet has gone through dozens of updates to its software, with the Block 3F being the most recent.
Google Fixes Ultra Sneaky Gmail Phishing Trick
Google has countered to a "highly effective" phishing scam that in recent months impacted users of its Gmail email service.
Scammers had been tricking people into divulging their passwords by directing them to lookalike login pages that tripped no alarms in the victim's web browser. Security researchers at WordFence, a company that makes security tools for WordPress sites, last month warned that the phishing effort was "having a wide impact, even on experienced technical users."
No longer. Google has responded to the problem with an update to its Chrome browser. In the new version, released earlier this month, the browser's address bar warns people when they have been served a page that uses the phishing trick.
http://fortune.com/2017/02/27/google-gmail-chrome-fix-phishing/
MOSCOW — Russia is moving aggressively on another traditional patron of U.S. arms exports: the United Arab Emirates. Rather than cheap small arms and land-based platforms, Russian companies appear to have identified a market opportunity: relatively cost-effective alternatives to Western fifth-generation fighters.
The head of Russia's largest defense conglomerate Rostec, Sergey Chemezov, told reporters at the IDEX show in Abu Dabi this week that Rostec would partner with the UAE Defense Ministry to develop a light fifth-generation fighter jet based on the MiG-29. Development is slated to begin in 2018, and production should launch seven to eight years after that.
"It takes quite a long period of time to develop," Chemezov told Defense News in an exclusive interview. "We anticipate local production here in [UAE], for the needs of [UAE]."
Russia-backed rebels issue ultimatum to Ukraine
Ukraine-run businesses to be seized in Donetsk and Luhansk if blockade does not end, say Russia-backed rebel leaders.Separatists in eastern Ukraine have threatened to take control of Ukraine-run businesses in rebel-held areas if the Kiev government does not end a rail blockade that had halted coal supplies.
The ultimatum came on Monday, a month since a group of Ukrainian legislators and army veterans started blocking some rail traffic in eastern regions.
The blockade is opposed by the Ukrainian government, as it prevents coal produced in the rebel-held territory from reaching power plants and the steel industry in the rest of the country, whose exports are a keystone of Ukraine's economy.
In a joint statement, leaders of the so-called Donetsk and Luhansk People's Republics (DNR and LNR) said on Monday the blockade had caused many businesses to suffer in rebel-held areas and that it went against the spirit of the 2015 Minsk peace agreement.
Alexander Zakharchenko, of the DNR, and the LNR's Igor Plotnitsky said: "We are forced to announce that if, by midnight on Wednesday, the blockade is not taken down, we will introduce a system of external management on all companies registered in Ukraine's jurisdiction that operate in the DNR and LNR."
They also said they would stop selling coal to Ukraine and send future coal supplies to Russia or elsewhere.
http://www.aljazeera.com/news/2017/02/russia-backed-rebels-issue-ultimatum-ukraine-170227172545227.html
Russia's Mysterious Cyber Treason Case Just Got Even Sketchier
Late last year, top cybersecurity investigators from a private firm and Russian intelligence were arrested in dramatic fashion. One was dragged out of a meeting with a bag over his head. All were disappeared. Details were scare at the time, but revelations from a new Reuters report now only complicate what we know.
In December, Ruslan Stoyanov, head of the computer incidents investigation team at Russian cybersecurity firm Kaspersky Lab, was arrested with no explanation from Russian law enforcement. Along with Russian Federal Security Service (FSB) agents Sergei Mikhailov and Dmitry Dokuchayev, Stoyanov was charged with treason. Reports indicated that the suspects would be tried in a "secret military tribunal."
According to a Reuters source, the treason charges are related to accusations made by a Russian businessman named Pavel Vrublevsky seven years ago. In 2010, Vrublevsky, founder of internet payment firm ChronoPay, reported the suspects to authorities. He claimed that they had passed state secrets to American firms including Verisign, a company that specializes in domain name services and internet security, which then turned them over to US intelligence. Reuters reports the accusations were never investigated.
A spokesperson from Verisign, the only American firm identified, denied that it had been given any secret information. The company does have an iDefense unit that gathers information on cybercrime and supplies dossiers to US intelligence, but the spokesperson insisted that it does not deal in classified information. "Nothing like the arrangement as described by Pavel Vrublevsky ever took place," said Kimberly Zenz, a former analyst at Verisign's iDefense unit.
http://gizmodo.com/russias-mysterious-cyber-treason-case-just-got-even-ske-1792786218
PUTIN AND ERDOGAN COZY UP TO DIVIDE SYRIA
Something big and important must be at the heart of a relationship in which both sides are able to overcome the pain they repeatedly inflict on each other. Russia and Turkey, historically adversaries and newly active allies, are one such case.
While the United States is sending conflicting signals about its Syria policy, Russia, Turkey and Iran are negotiating a pragmatic framework of coexistence in the region, which is torn by international and sectarian conflicts.
Russia and Turkey in particular seem to have found a way of pursuing larger goals while agreeing to disagree on the many diverging interests that will always keep the two countries apart.
The two countries' mutual history is rough. They clashed incessantly and waged war on each other once every quarter century when they were still empires. Soviet Russia and Kemalist Turkey ended up on opposite sides of the Cold War divide.
http://www.newsweek.com/putin-and-erdogan-cosy-divide-syria-561814
Iraq army seizes key Mosul bridge in ISIS battle
While all five bridges linking the government-held eastern Mosul to the western part have been destroyed, the takeover of the fourth bridge will allow Iraqi forces to lay a ramp over the broken part and open a supply route from east.
"The Rapid Response Forces of the Iraqi Federal Police completely liberated al-Jawsaq neighborhood and control the fourth bridge… Iraqi flags are now raised on buildings, and heavy casualties were inflicted on ISIS," Lt. Gen. Abdel Amir Rasheed Yarallah of the Joint Operations Command said Monday.
Asian imports of Iranian oil rise nearly 70 percent year/year in January
Imports of Iranian crude by Asia's four main buyers of the oil rose about two-thirds in January from a year ago when levels were lower as Western sanctions on Tehran had only just been lifted.
Iran's top four Asian buyers – China, India, South Korea and Japan – imported 1.64 million barrels per day (bpd) last month, up 67.6 percent on a year earlier, government and ship-tracking data showed.
http://in.reuters.com/article/asia-iran-crude-idINKBN1670Q3
Airbus faces battle on two fronts over call for A400M aid
Airbus (AIR.PA) faces tough negotiations on two fronts as it seeks new relief from European governments and engine makers for losses on its troubled A400M military transporter plane.
The planemaker called last week for new talks with European governments to ease "heavy penalties" for delays to the troop and armored vehicle carrier, after taking a fresh 1.2 billion euro ($1.3 billion) charge for Europe's largest defense project.
It has also appointed a new program manager for the A400M as part of a broader reshuffle and is set to beef up the management of its military aircraft business with a new deputy, industry sources said. Airbus declined to comment.
The 20-billion-euro project has been beset by political wrangling since its inception more than a decade ago. By citing a new 'crisis' and calling for ministerial talks, Airbus seems to be repeating tactics that led to a previous 3.5 billion euro bailout in 2010.
http://www.reuters.com/article/us-airbus-a400m-idUSKBN1661WR
Massive Azerbaijani Attack on Artsakh Rebuffed
STEPANAKERT, Artsakh (ArmRadio)—The Azerbaijani launched an offensive toward Artsakh (Nagorno-Karabakh) Republic positions on February 25 using various weaponry in the southeastern (Martuni) and eastern (Akna) directions of the Artsakh/Azerbaijani border, also known as the line of contact, twice at 3am and 4am, the Artsakh Defense Ministry reported.
The Artsakh armed forces did not have any casualties, while Azerbaijan lost five servicemen in the neutral zone.
"The attempt was a complete failure," the Ministry said, adding that, as the Azeri side tried to ascribe its actions to the Armenian side.
http://asbarez.com/160559/massive-azerbaijani-attack-on-artsakh-rebuffed/
Cyber attackers target Singapore Defence Ministry, but no secrets found
Cyber attackers have stolen basic personal data from about 850 Singapore national servicemen and employees in a possible attempt to access official secrets, the Defence Ministry said on Tuesday.
The ministry detected the breach this month in the I-net system that allows internet surfing using dedicated computer terminals on defense ministry and Singapore Armed Forces premises, the ministry said in a statement.
No classified military information was stored on I-net, the ministry said.
"The attack on I-net appeared to be targeted and carefully planned," it said.
"The real purpose may have been to gain access to official secrets, but this was prevented by the physical separation of I-net from our internal systems."
http://uk.reuters.com/article/us-singapore-defence-idUKKBN1670O3
SINGAPORE MILITARY HACK 'PROBABLY STATE SPONSORED'
Breach of defence ministry's 'I-net' system stole identity card information, telephone numbers and dates of birth of 850 people
Inside The Insane Coup Russian Spies Dressed As Cops Tried To Launch
A Russian intelligence official will reportedly face indictment for plotting a coup to stop Montenegro from joining NATO by assassinating its prime minister.
Eduard Sismakov, an officer with the GRU military service, allegedly ran a network of Serbian and Russian nationalists and paramilitaries who tried to disrupt the Montenegrin election Oct. 16. The plan was to break into the Montenegro Parliament, kill Prime Minister Milo Djukanovic and put pro-Russian parties in power.
Milivoje Katnic, Montenegro's special prosecutor, told The Telegraph that a group of plotters were placed among protestors outside the parliament building as the election results were announced. The group was supposed to force its way inside the building at an appointed sign. Another group, dressed in police uniforms, would then open fire against the protestors "so that citizens would think that the official police are shooting at them." The eventual goal was to kill Djukanovic inside the building.
http://dailycaller.com/2017/02/27/inside-the-insane-coup-russian-spies-dressed-as-cops-tried-to-launch/#ixzz4ZzCzTe1A
Singapore firm denies link to North Korean front company
Pan Systems' office in Ubi. Managing director Louis Low categorically denied any links with North Korean front company Glocom and said that while Pan Systems sold electronic goods in the North Korean market from 1996 to 2007, the business dealings were all "above board".
Pan Systems MD refutes report and says his firm began pulling out from N. Korea from 2007 after UN scanctions
Singapore-based firm Pan Systems had no connection to Glocom, the North Korean front company that violated United Nations sanctions by selling battlefield radio equipment, claims its managing director, Mr Louis Low.
His denial comes after a report by Reuters yesterday, citing a UN report drafted for the Security Council, which said Glocom was operated by the Pyongyang branch of Pan Systems.
The report also said the North Korean branch of Pan Systems made use of bank accounts, front companies and agents in China and Malaysia to trade in radio components and accessories.
http://www.straitstimes.com/asia/east-asia/spore-firm-denies-link-to-n-korean-front-company
Army deploys more than 100 MRAPs to South Korea
China secures its 'biggest' military export order for new UAV system
28 February 2017
Counterfeiters, hackers cost U.S. up to $600 billion a year
MONDAY, FEB. 27, 2017, 4:47 P.M.
WASHINGTON – Counterfeit goods, software piracy and the theft of trade secrets cost the American economy as much as $600 billion a year, a private watchdog says.
In a report out Monday, the Commission on the Theft of American Intellectual Property says the annual losses range from about $225 billion to $600 billion. The theft of trade secrets alone costs the United States between $180 billion and $540 billion annually. Counterfeit goods cost the United States $29 billion to $41 billion annual; pirated software costs an additional $18 billion a year.
The findings echo those of the Office of the Director of National Intelligence, which in 2015 pegged the annual cost of economic espionage by computer hacking at $400 billion.
The commission labels China the world's No. 1 culprit. Including Hong Kong, China accounts for 87 percent of counterfeit goods seized entering the United States. The report says the Chinese government encourages intellectual property theft.
http://www.spokesman.com/stories/2017/feb/27/counterfeiters-hackers-cost-us-up-to-600-billion-a/