Trump seeking $54B increase in defense spending, cuts elsewhere
President Trump plans to seek what he's calling a "historic" $54 billion increase in defense spending, while pursuing cuts elsewhere in the federal government, as part of his upcoming budget plan.
White House budget officials announced the proposed military spending boost Monday morning, saying the president will seek a commensurate reduction in spending across other federal agencies. Minutes later, Trump previewed the move while addressing the nation's governors at the White House.
"This budget will be a public safety and national security budget," Trump said. He said the plan would include a "historic increase in defense spending to rebuild the depleted military."
The president reiterated that he wants to better prepare the military to not only deter war but win wars when called to fight.
"We've got to win or don't fight it at all," Trump said.
http://www.foxnews.com/politics/2017/02/27/trump-seeking-54b-increase-in-defense-spending-cuts-elsewhere.html
There's a flaw in the homeland missile defense system. The Pentagon sees no need to fix it
The Pentagon is pushing ahead with an expansion of the nation's homeland missile defense system, despite a newly recognized deficiency that affects nearly all the system's rocket interceptors, a Los Angeles Times investigation has found.
The problem threatens the performance of small thrusters attached to the interceptors. In the event of a nuclear attack, the thrusters would be relied on to steer interceptors into the paths of enemy warheads, destroying them.
 If a thruster malfunctioned, an interceptor could fly off-course and miss its target, with potentially disastrous consequences. The interceptors are the spine of the Ground-based Midcourse Defense system, or GMD, the nation's primary protection against a missile strike by North Korea or Iran.
Air Force buys mysterious $15m Israeli 'drone killer' kits to fight DIY ISIS UAVs
Over the last two months coalition forces have seen one drone a day near Mosul  
New award will see 21 kits delivered to US forces by delay 
Believed the kits are able to scan for drones and the jam signals to down them
The US Air Force is spending $15m on a mysterious drone killing system from an Israeli firm.
The contract for  'counter-unmanned aerial systems' will supply 21 kits, which are believed to be earmarked for dealing with the growing threat of drones from ISIS.
However, details of the kits and how they will work have not been revealed, although it is believed to be a modified version of the firm's existing 'drone shield'
 http://www.dailymail.co.uk/sciencetech/article-4258262/Air-Force-buys-15m-Israeli-drone-killer-fight-ISIS.html#ixzz4Zt7fSwHj
Former Ambassador John Bolton: Trump Needs to Renegotiate 'One China' Policy
'We support the people of Taiwan. We support their continued self-government.'
BY: Natalie Johnson
February 27, 2017 4:59 am
Former U.S. Ambassador to the United Nations John Bolton on Friday urged President Donald Trump to upend four decades of precedent by renegotiating the "One China" policy that denies Taiwan's sovereignty.
Bolton told the Washington Free Beacon in an exclusive interview that the One China policy, which was established during President Richard Nixon's visit to China in 1972, is "ahistorical" and fails to reflect the current reality in East Asia, where natives of Taiwan overwhelmingly identify as "Taiwanese" rather than "Chinese."
"The One China policy is inherently ambiguous," Bolton said. "China thinks it means one thing, we think it means another."
http://freebeacon.com/national-security/john-bolton-to-trump-renegotiate-one-china-policy/
North Korea executes 5 senior security officials over false reports, Seoul says
SEOUL, South Korea –  North Korea executed five senior security officials with anti-aircraft guns because they made false reports that "enraged" leader Kim Jong Un, South Korea's spy agency said Monday.
The comments by the National Intelligence Service in a private briefing to lawmakers come as Malaysia investigates the poisoning death of Kim's estranged elder half brother, Kim Jong Nam. That investigation is still going on, but South Korea says it believes Kim Jong Un ordered the assassination, which took place Feb. 13 at Kuala Lumpur's airport.
The spy agency told lawmakers that five North Korean officials in the department of recently purged state security chief Kim Won Hong were executed by anti-aircraft guns because of the false reports to Kim, South Korean lawmaker Lee Cheol Woo said. It's not clear what false reports they allegedly made, and the NIS didn't say how it got its information.
http://www.foxnews.com/world/2017/02/27/north-korea-executes-5-senior-security-officials-over-false-reports-seoul-says.html
China warns US, S. Korea of 'consequences' over THAAD land swap deal
China announced that Washington and Seoul will face "consequences" over a land swap deal which will allow the US to host its THAAD missile defense system on South Korean soil – a move which Beijing claims will undermine its own ballistic capabilities.
The agreement, which involves a land swap between Seoul and retail giant Lotte, was approved on Monday.
"We received a message that the board approved the exchange of land for THAAD (Terminal High Altitude Area Defense) deployment," the South Korean Defense Ministry said in a statement, as quoted by AFP.
That news was met with disapproval from China's Foreign Ministry, with spokesman Geng Shuang claiming the system "severely disrupts regional strategic balance and jeopardizes the strategic security interests of regional countries including China."
Beijing "will definitely take necessary measures to safeguard its security interests," he said during a news briefing, adding that "all the consequences entailed will be borne by the US and the Republic of Korea."
https://www.rt.com/news/378742-thaad-land-deal-china/
Iran test-fires Nasr sea-launched cruise missile during naval drills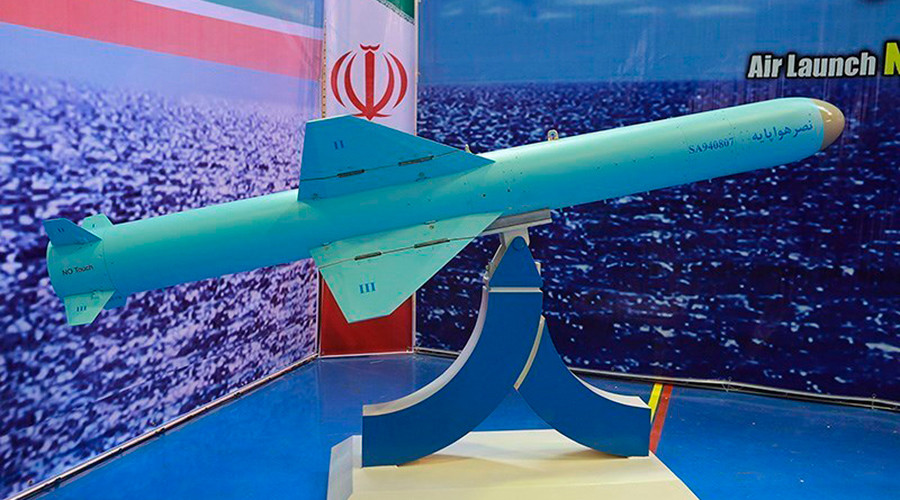 The Iranian Navy has successfully test-fired its Nasr sea-launched cruise missile, Defense Minister Hossein Dehghan said. The test took place during large-scale military drills stretching over an area covering 2 million sq km in the Persian Gulf.
The latest naval cruise missile, called Nasr, was test-fired during 'Velayat 95' naval exercises stretching from the Strait of Hormuz and Oman Sea to north of the Indian Ocean, Defense Minister Hossein Dehghan said, as quoted by the Fars news agency on Monday.
The Nasr was successfully launched and hit the predetermined targets, the minister added, according to Mehr news agency.
Tasnim news agency meanwhile reported that the Iranian Navy had also successfully test-fired an advanced domestically-made laser-guided missile system dubbed Dehlaviyeh, "specialized in targeting vessels and ships."
The Dehlaviyeh anti-ship missile was reportedly tested for the first time and hit the target as well.
https://www.rt.com/news/378737-iran-tests-missile-nasr/
Iran says it test-fired missile from submarine
In latest series of launches, laser-guided missile also fired; US reimposed some sanctions after January tests
Amid tensions with the United States, Iran announced on Monday that it tested two missiles during a series of naval drills in the Persian Gulf. One was fired from a submarine, it said.
Iranian Defense Minister Hossein Dehghan said the Nasir missile, which he described as Iran's latest submarine launched cruise missile, "successfully hit its target" during its test launch, the official IRNA news agency reported.
Tasnim news agency said the Dehlaviyeh, a laser-guided missile, had also been successfully tested.
It was reported back in 2012 that Iran had based the Dehlaviyeh on a Russian anti-tank missile.
The ranges of the two missiles were not given.
Cruise missiles — such as the Nasir fired in the most recent missile launches — are not covered by UN Resolution 2231, which was passed shortly after the nuclear deal with Iran was signed in July 2015 and calls on Tehran "not to undertake any activity related to ballistic missiles designed to be capable of delivering nuclear weapons, including launches using such ballistic missile technology." Iran argues that its ballistic missile program is also not covered by the resolution because it does not have a nuclear weapons program.The most recent Iranian missile firings follow the launches of a ballistic missile and cruise missile in late January — both of which are nuclear capable — with the former resulting in new US sanctions on a number of entities involved in Iran's ballistic missile program and a warning from US President Donald Trump that the Islamic Republic had been "put on notice" and that "nothing is off the table" in terms of a military response to perceived Iranian provocations.
However, the test is likely to be viewed in Israel and the US as another aggressive maneuver by Tehran to expand its missile program.
http://www.timesofisrael.com/iran-says-it-test-fired-missile-from-submarine/
Filipino terrorists behead German hostage, release video
A German hostage in the conflict-wracked southern Philippines has been beheaded by Islamist militants, with the video being posted online by the terrorism monitoring group SITE.
In the video released on Monday, the hostage, 70-year-old Jurgen Kantner, can be seen in a jungle clearing with his hands tied behind him. He can be heard saying the words "Now he'll kill me" before a man starts cutting Kantner's head off with a large knife.
Kantner was being held by men loyal to Muammar Askali aka Abu Rami, a commander in the Islamist militant group Abu Sayyaf, for a sum of 30 million pesos (approximately $500,000) before talks for his release collapsed on Sunday, the deadline for the ransom payment. He had been kidnapped almost two months ago when he and his wife, Sabine Merz, were cruising through the Philippines in their yacht through an area controlled by Abu Sayyaf. Merz was reportedly killed when she tried to fight back with a shotgun.
https://www.rt.com/news/378729-abu-sayyaf-behead-german-hostage/
US drone strike in Syria kills top al-Qaida leader, jihadis say
Abu al-Khayr al-Masri, a son-in-law of Osama bin Laden, was implicated in deadly 1998 African embassy bombings