Iraqi Kurdish TV reporter killed in Mosul
Shifa Gardi dies after roadside bomb explodes on road in west Mosul; cameraman is injured
"Prominent Rudaw war reporter and journalist Shifa Gardi has been killed in Mosul as she covered clashes," Rudaw said on social media.
"Journalism remains male-dominated — Shifa Gardi broke those perceptions and stereotypes — we pay tribute to her courageous journalism," the channel said.
Rudaw editors told AFP that the 30-year-old reporter, who was born a refugee in Iran, was killed by an explosive device on a road in west Mosul and said that the cameraman working with her was wounded.
https://twitter.com/RudawEnglish/status/835485344384573440/photo/1?ref_src=twsrc%5Etfw
New National Security Advisor doesn't believe in "radical Islamic terrorism"?
President Trump's new National Security Advisor doesn't believe it is "helpful" to say the phrase "radical Islamic terrorism."
President Trump's newly appointed national security adviser has told his staff that Muslims who commit terrorist acts are perverting their religion, rejecting a key ideological view of other senior Trump advisers and signaling a potentially more moderate approach to the Islamic world.
The adviser, Lt. Gen. H. R. McMaster, told the staff of the National Security Council on Thursday, in his first "all hands" staff meeting, that the label "radical Islamic terrorism" was not helpful because terrorists are "un-Islamic," according to people who were in the meeting.
Wrong. The tens of thousands of people fighting in the "Islamic State" and Al Qaida and Boko Haram and Hamas and Hizbullah are radical Muslims. To pretend that they are not Muslims is to deny who the enemy is, and to give comfort to Muslim governments like Pakistan and Iraq and Afghanistan who are on the fence about confronting radical Islamists in their own rank.
In his language, General McMaster is closer to the positions of former Presidents Barack Obama and George W. Bush. Both took pains to separate acts of terrorism from Islamic teaching, in part because they argued that the United States needed the help of Muslim allies to hunt down terrorists.
So we are now back to the Obama-era policy of refusing to say who the enemy is?
Pentagon ditches onerous rules of engagement, gives Mosul troops quicker firepower access
By Douglas Ernst
– The Washington Times – Friday, February 24, 2017
Iraqi forces and U.S. coalition troops are no longer burdened by strict rules of engagement, which some say have turned firepower requests into bureaucratic nightmares.
U.S. Army Lt. Col. James Browning, commander of 2nd Battalion, 508th Parachute Infantry Regiment, 2nd Brigade Combat Team, 82nd Airborne Division, recently spoke with reporters about a Dec. 26 directive that streamlined the process of delivering aid. The order, attributed to U.S. Army Lt. Gen. Stephen Townsend, was confirmed on Thursday by Air Force Col. John Dorrian, the U.S.-led coalition's spokesman.
"It changed the relationship [between forces]," Lt. Col. Browning told The Associated Press about increased flexibility on the battlefield. "It gives me a better understanding of how I can bring to bear the limited capabilities I have."
The new rules, which were supplemented with more directives weeks ago, allow U.S. personnel to better assist — physically and logistically — the Iraqi army's 9th Division. Advisers are increasingly embedded with Iraqis and they can avoid cumbersome requests through a joint command center.
http://www.washingtontimes.com/news/2017/feb/24/pentagon-ditches-onerous-rules-of-engagement-in-ir/
Iran requests 950 tons of uranium from Kazakhstan
Tehran says it needs the material to help develop its civil reactor program
The request has been made to the body that oversees the nuclear deal signed between Iran and world powers in 2015.
Ali Akbar Salehi, head of Iran's Atomic Energy Organisation, told the ISNA news agency that the purchase was supposed to happen "within three years."
"650 tons will enter the country in two consignments and 300 tons will enter Iran in the third year," he said.
Salehi said the final shipment of concentrate, known as yellow cake, would be turned into uranium hexafluoride gas and sold back to Kazakhstan — its first international sale of the compound which is used in the uranium enrichment process.
Under the nuclear deal, many of Iran's centrifuges were mothballed but it has the right to enrich uranium to a level of 3.5 percent and sell it abroad.
Nuclear weapons require uranium enriched to 80% or more.
Salehi said Iran has already received around 382 tons of yellow cake, primarily from Russia, since the nuclear deal came into force in January last year.
Under the deal, Iran is allowed to run around 5,000 "IR-1" centrifuges and has been testing more advanced models that can produce greater quantities of enriched uranium — all under the strict supervision of the UN atomic agency.
http://www.timesofisrael.com/iran-requests-950-tons-of-uranium-from-kazakhstan/
Why Iran's favorite weapon is the cyber attack
In a piece written for The Cipher Brief, Michael Eisenstadt of the Washington Institute details Iran's weapon of choice for imposing its will on domestic and foreign threats alike — cyber attacks.
Eisenstadt, as well as experts contacted by Business Insider, say that Iran has a weak conventional military that couldn't possibly hope to push around stronger countries. For that reason, cyber attacks represent the perfect weapon.
Cyber attacks are cheap, ambiguous, hard to pin on any one actor, and almost completely without precedent when it comes to gauging a military response.
http://www.businessinsider.com/why-iran-favorite-weapon-cyber-attack-2017-2
Unofficial US-North Korea talks dropped after State Dept denies visa to top official – report
The first talks planned between Washington and Pyongyang in years have reportedly been canceled, as the US State Department denied entry to a high-level North Korean diplomat, with the North's recent missile tests and Kim Jong Nam's murder also possible factors.
The low-key talks between former US officials and Choe Son Hui, the director-general of the American affairs bureau in the North Korean Foreign Ministry, were set to take place between March 1 and 2 in New York, but Choe was denied a visa, the Wall Street Journal reported on Saturday, citing sources familiar with the matter.
The rationale behind scuttling the meeting was not immediately clear, but the report said Pyongyang's latest ballistic missile test and the assassination of Kim Jong-nam, the half-brother of North Korean leader Kim Jong-un, may have played a role.
https://www.rt.com/news/378584-us-north-korea-contacts-cancelled/
Top US commander for Mideast said to make secret Syria trip
Syrian Democratic Forces say General Joseph Votel met with group leaders for first time under Trump, 'discussed increase in support'
QAMISHLI, Syria — The top US military commander for the Middle East made a secret trip to northern Syria Friday to meet a US-backed alliance fighting the Islamic State group, the alliance's spokesman said.
General Joseph Votel, who heads US Central Command (Centcom), met with leaders from the Syrian Democratic Forces in the first such trip under the new US administration.
SDF spokesman Talal Sello told AFP that Votel "discussed the increase of coordination and support (to the SDF) in the era of Donald Trump".
"There were promises of heavy weapons in future stages," Sello said.
In an online statement, Sello said Votel had met with several SDF commanders.
"The results were positive. We discussed the developments in the Euphrates Rage campaign and shared military matters," Sello said.
http://www.timesofisrael.com/top-us-commander-for-mideast-said-to-make-secret-syria-trip/
Is Iran Preparing For War In The Middle East? Russia To Send $1B In Weapons To Tehran
White House Says Further Punishment Of Iran Possible After New Sanctions  
Russia was set to send Iran about $1 billion worth of missile defense systems, Russian news agency Tass reported Monday. The deal was the result of a contract Iran signed with Russian defense manufacturer Rostec Corporation in 2007, but it was put on hold by Russia in 2010. Russian President Vladimir Putin recently ended the delay and paved the way for the contractual obligation for the S-300 air defense systems to be met in full starting this past November.
"The S-300 cost about one billion dollars," Rostec Corporation CEO Sergey Chemezov said. "We were through with the supplies of S-300. No plans for anything are on the agenda."
http://www.ibtimes.com/iran-preparing-war-middle-east-russia-send-1b-weapons-tehran-2494993
Lockheed Martin Wins Contract to Support Aegis Ashore System in Poland
Lockheed Martin has been awarded additional funding to provide equipment and technical support for Aegis Ashore test and operational systems in Poland.
WASHINGTON (Sputnik) — Lockheed Martin has been awarded additional funding to provide equipment and technical support for Aegis Ashore test and operational systems in Poland as part of a $2.5 billion contract, the Department of Defense said in a press release.
"Lockheed Martin Rotary and Mission Systems, Moorestown, New Jersey, has been awarded a $10,396,703 modification to a previously awarded contract to provide equipment and technical support for Aegis Ashore test and operational systems in Poland," the release explained on Thursday.  "The modification brings the total cumulative face value of the contract to $2,476,786,132 from $2,466,389,429."
Other services to be provided include combat systems engineering study support for increased capabilities, the release added.
Russia has repeatedly expressed concern over the creation of the ballistic missile defense system in Europe, approved in 2010 during a NATO summit in Lisbon. A group of European countries, including Poland, Romania, Spain and Turkey, agreed to deploy elements of the system on their territories.
Work will be performed in the US state of New Jersey, with an expected completion date of Dec. 31, 2018.
https://sputniknews.com/military/201702241050999070-lockheed-contract-aegis-ashore-support/
Attack on Syrian security forces kills at least 40
Militants attacked two Syrian security offices in the western city of Homs on Saturday with guns and suicide bombers, killing at least 42 people including a senior officer, a war monitor said.
The attackers killed the head of military security and 29 others at one of its headquarters in the city and 12 more people at a branch of state security in attacks that began early in the morning, said the Syrian Observatory for Human Rights.
Syrian state television reported that clashes had rocked the districts of al-Ghouta and al-Mohata, where the two targets were located, before three suicide bombers detonated their explosives at each place.
It said that the attacks had killed 32 people including General Hassan Daaboul, the head of the military security branch.
http://nypost.com/2017/02/25/attack-on-syrian-security-forces-kills-at-least-40/
Yemenis' bank accounts canceled in Germany
It's hard to imagine life without a bank account. In Germany, it's a universal right. But many Yemenis living here have now had their accounts terminated – even that of the Ambassador. The banks are on the defensive.
For many Yemeni students and business people in Germany, the year 2017 began with a nasty surprise. For some time now Deutsche Bank and a series of other credit institutes have been canceling the current accounts of dozens of these individuals, without giving any reason. Yemeni diplomats, all of them Commerzbank customers, have also been affected by the wave of cancellations.
"All Yemeni diplomats received the same termination letter from the Commerzbank in mid-October," Yahia Mohammed Abdullah Al-Shaibi, the Republic of Yemen's Ambassador to Germany, told DW.
Except for the accounts belonging to the Ambassador himself and the Embassy, which expired on March 15, all accounts were terminated by Commerzbank on December 15.
According to Al-Shaibi, Yemeni representations in other European countries and diplomats representing other countries in Germany are not affected.
http://www.dw.com/en/yemenis-bank-accounts-canceled-in-germany/a-37708148
Germany mulls a real, but unrealistic, pledge on defense spending
Years after it pledged to spend billions more on defense, new pressure from the US is forcing the German government to consider whether it can actually meet its goal.
Pressure from the US to spend more on defense has split Germany's governing coalition.
The pledge is real. But is it realistic?
Nearly three years after it promised to meet a NATO guideline calling for billions more toward the nation's defense funding over the coming decade, the German government is sending mixed signals over whether the goal is feasible—or even necessary.
Opposition came this week not just from the foreign minister, whose coalition-member Social Democrats (SPD) will challenge German chancellor Angela Merkel in fall elections. It came from Merkel's own party, whose parliamentary budget expert called the idea "unreasonable."
The debate reflects how a symbol of transatlantic cooperation—an expectation that member states spend two percent of their gross domestic product (GDP) on defense—has turned into a political tool on both sides of the Atlantic, and one that says little about military capabilities.
"Because it's a very handy metric, it can be politicized easily," Jan Techau of the American Academy in Berlin told DW.
http://www.dw.com/en/germany-mulls-a-real-but-unrealistic-pledge-on-defense-spending/a-37709485
France's deradicalization centers seen as a 'total fiasco'
PARIS —

A bipartisan report in the French Senate minced no words in describing this country's efforts to "deradicalize" former and future terrorists.The French government's attempt — including the controversial opening of a deradicalization center in the middle of the countryside — was a "total fiasco," in the words of Philippe Bas, a senator from the center-right Republicans party.

Among the most damning elements in the report was a firm condemnation of the planned network of 12 deradicalization centers, perhaps the most widely publicized — and criticized — element of the government's push to combat homegrown extremism.

https://www.washingtonpost.com/world/europe/frances-deradicalization-centers-are-a-total-fiasco-lawmakers-say/2017/02/24/218a8072-fa97-11e6-aa1e-5f735ee31334_story.html?utm_term=.f187a94caa3a
NSA snoops told: Get your checkbooks and pens ready for a cyber-weapon shopping spree
US Cyber Command boss lays out plans for next decade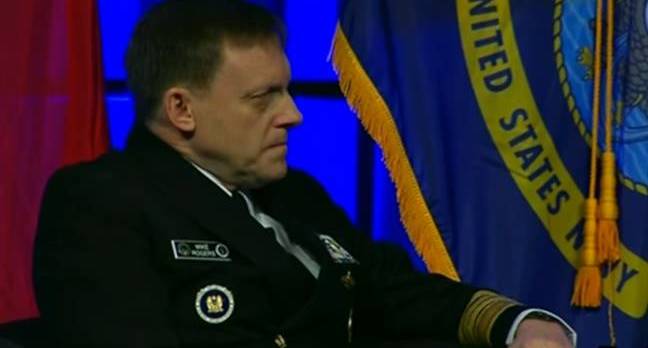 NSA and US Cyber Command boss Mike Rogers has revealed the future direction of his two agencies – and for the private sector, this masterplan can be summarized in one word.
Kerching!
Speaking at the West 2017 Navy conference on Friday, Rogers said he is mulling buying up more infosec tools from corporations to attack and infiltrate computer networks. At the moment the online offensive wing of the US military develops most of its own cyber-weaponry, he claimed, and he figures the private sector has plenty to offer.
"In the application of kinetic functionality – weapons – we go to the private sector and say, 'Build this thing we call a [joint directed-attack munition], a [Tomahawk land-attack munition].' Fill in the blank," he said.
"On the offensive side, to date, we have done almost all of our weapons development internally. And part of me goes – five to ten years from now is that a long-term sustainable model? Does that enable you to access fully the capabilities resident in the private sector? I'm still trying to work my way through that, intellectually."
https://www.theregister.co.uk/2017/02/25/us_government_to_spend_more_on_online_weapons/
Nuke capable stealth bombers get deadly upgrades to take on North Korea and ISIS
A FLEET of deadly stealth bombers has been fitted with new weapons for attack missions against ISIS and North Korea
By Nicole Stinson / Published 25th February 2017
The US Air Force's B-2 Spirit "stealth bombers" have been upgraded with high-tech flight-management-control processors and enemy targeting systems as engineers prepare to fit the aircraft with nuclear arsenal.
The upgrades come as Donald Trump vowed to be "top of the pack" for nuclear weapons as tensions continue to rise with North Korea.
Two B-2 stealth bombers were sent to blitz an ISIS terrorist camp last month – killing 100 jihadis.
The fleet of 20 B-2 bombers will be fitted with B-61 Mod 11 weapons – a nuclear bomb designed to penetrate enemy hideouts.
Maj Kent Mickelson, who has served as a B-2 piolot, said: "This is a GBU-28 (bunker-buster weapon) on steroids. It will go in and take out deeply buried targets.
He added: "It [the B-2] is a dream to fly. It is so smooth."The B-2 bomber has been sent on missions to Korea peninsula and Iraq
"It is really an awesome bombing platform and it is just a marvel of technology."Described as a "digital aircraft" it also features a Synthetic Aperture Radar for creating photo-like images of enemy targets from an altitude of up to 50,000 feet.

The stealth bomber can carry up to 40,000lb of weapons – including nukes.

http://www.dailystar.co.uk/news/latest-news/591424/North-Korea-Kim-Jong-un-US-upgrade-nuclear-weapons-stealth-bomber-aircraft-fight-ISIS
NEW DELHI — The Indian Air Force says it will not make an acquisition request for the British Advanced Hawk trainer aircraft.
The decision comes after the Ministry of Defence asked the service not request the aircraft following allegations that British company Rolls-Royce bribed officials of India's state-owned Hindustan Aeronautics Limited between 2005 and 2009 to secure orders for engines to power the British Hawk 132 advanced jet trainers meant for the Indian Air Force.
"We will not make any formal request for the Advanced Hawk to HAL, and the program will be officially shelved. This is because the MoD does not want [to] give additional orders for engines to tainted Rolls-Royce for the Advanced Hawk program," a senior IAF official said. "IAF has no intentions to place any order for the Advanced Hawk trainers."
Israeli, Indian defense cos to expand cooperation
11 Israeli companies will participate in the Aero India 2017 exhibition opening Tuesday.
Israeli defense companies taking part in the Aero India 2017 aeronautics exhibition opening tomorrow in Bangalore, India plan to expand their business in the Indian market, while extending their cooperation with local cyber companies. The plan involves joint development, mainly in cyber defense, which the Ministry of Defense International Defense Cooperation Authority (SIBAT) has marked as one of the sectors for development over the coming year, with increased worldwide marketing in addition to systems for Israel's defense.The Ministry of Defense and the defense companies are aiming a major proportion of their efforts in the cyber industry at the Indian market, in view of the warm relations prevailing between the two countries, accompanied by huge arms deals and partnerships in the development of innovative defense systems.

http://www.globes.co.il/en/article-israeli-indian-defense-cos-to-expand-cyber-cooperation-1001176874
Kim Jong-nam killing: Chemicals found in KL condo
A still image from a CCTV footage appears to show a man purported to be Kim Jong-nam walking into the lobby at KLIA2 on February 13, 2017. —
KUALA LUMPUR, — Police seized an undisclosed number of chemicals from a condominium in Jalan Klang Lama on Wednesday, according to an agency source after it was revealed that the VX nerve agent was used to kill Kim Jong-nam.
According to The Star newspaper, police also arrested a Malaysian man during the raid over suspicions that he may be involved in the alleged assassination of the half-brother to North Korea's leader, Kim Jong-un.
Police also recovered chemistry equipment and protective gear from the condominium.
"Police are not ruling out the possibility that the Malaysian man might have expertise in chemistry," a source was quoted as saying.
http://www.themalaymailonline.com/malaysia/article/kim-jong-nam-killing-chemicals-found-in-kl-condo#sthash.Wi9ONmiz.dpuf
Japanese Think Tank Argues for Moving Marines Off
Stars and Stripes
|
Feb 25, 2017
|
by Erik Slavin
TOKYO — The 31st Marine Expeditionary Unit could leave Okinawa without sacrificing its value as a security provider in the Asia-Pacific, a Japanese think tank said following a study of alternatives to building a new runway opposed by the island's governor.
It's a point of view speakers from the New Diplomacy Initiative, a Tokyo-based think tank, conceded wasn't likely to sway the security establishment, during a press conference Friday.
However, the academics, journalists and a former government defense official argued that plans to build a new runway for Marine aircraft are so unpopular on Okinawa that they risk straining the broader U.S.-Japan security agreement.
http://www.military.com/daily-news/2017/02/25/japanese-think-tank-argues-moving-marines-okinawa.html
Sea of Japan the next target for Chinese military
Confusion on Korean Peninsula fuels tension over sea
TETSURO KOSAKA, Nikkei senior staff writer
TOKYO — A growing Chinese military presence in the Sea of Japan is becoming an issue that Tokyo cannot overlook.
On Jan. 5, three Chinese naval vessels sailed through the Tsugaru Strait between Japan's main island and the northernmost island of Hokkaido into the Sea of Japan. Four days later, a Chinese air force fleet entered the sea by flying over the waters between the southern Japanese island of Kyushu and the Korean Peninsula.
According to the Joint Staff of the Japanese Defense Ministry, the fleet consisted of six bombers, which are capable of carrying cruise missiles, an early warning aircraft and an intelligence-gathering plane. With an additional fighter jet as an escort and a refueling aircraft, the fleet could have been ready to bomb ground targets.
http://asia.nikkei.com/Politics-Economy/International-Relations/Sea-of-Japan-the-next-target-for-Chinese-military
Pentagon Provided Intel for Iraqi Airstrikes in Syria
The United States has been notified in advance of the planned Iraqi airstrikes in Syria and has provided intelligence to guide them, US Department of Defense spokesman Capt. Jeff Davis said in a briefing on Friday.
WASHINGTON (Sputnik) — Earlier in the day, Iraqi Prime Minister Haider Abadi announced the launch of airstrikes on Daesh in Syria. According to him, the operation was linked to recent Baghdad attacks.
"We were aware; we supported it as well with information," Davis said when asked if the United States provided intelligence information to the Iraqi military.
The Iraqi strikes in Syrian Deir Ez-Zor province has been fully coordinated with the Syrian government, Al-Watan reported, citing a source, close to the Syrian Foreign Ministry earlier in the day.