Marine Le Pen's bodyguard and chief of staff are arrested over claims they were paid for fake jobs at the EU Parliament
Thierry Legier and Catherine Griset were taken into police custody today
The suspects, including National Front candidate Le Pen, face imminent charges
Ms Le Pen's lawyers have branded the arrests a 'conspiracy'
The European Anti-Fraud Office says it has compelling evidence of fake payments 
Two senior aides to Marine Le Pen were today taken into police custody as the fraud enquiry that could see the far-right French presidential candidate jailed for up to 10 years deepened.
Thierry Legier, who is Ms Le Pen's bodyguard, and Catherine Griset, her chief of staff, were escorted to the judicial police station in Nanterre, the Paris suburb, in the late morning.
A raid was also carried out at the home of Mr Legier, Ms Le Pen's 51-year-old bodyguard who is nicknamed 'The Gorilla'.
http://www.dailymail.co.uk/news/article-4249970/Marine-Le-Pen-s-bodyguard-chief-staff-arrested.html
Kim Jong-nam's body targeted in morgue break-in, say police
Malaysian authorities seek to question senior North Korean diplomat and man connected with Air Koryo, while dismissing claims that assassins were duped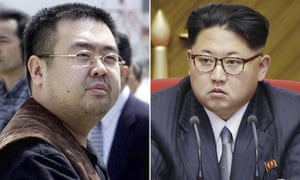 Malaysian police investigating the murder of Kim Jong-nam say attempts were made to break into the morgue where his body is being held and have demanded to question a senior North Korean diplomat.
The announcements by police chief Khalid Abu Bakar throw further suspicion on Pyongyang over the apparent assassination of the exiled half-brother of the North Korean dictator, Kim Jong-un.
Khalid said another man wanted for questioning and identified as Kim Uk-il was linked to North Korea's state airline, Air Koryo. Both he and the high-level embassy official, named as Hyon Kwang-song, 44, remained in Malaysia, Khalid said.
https://www.theguardian.com/world/2017/feb/22/kim-jong-nams-body-targeted-in-morgue-break-in
North Korean suspects in Kim Jong-nam murder 'hiding' in Pyongyang's embassy in Kuala Lumpur
Two North Koreans suspects in the murder of Kim Jong-nam are believed to be "hiding" inside Pyongyang's embassy in Malaysia, security sources have told the Telegraph.
Tensions between the two countries are high following the killing of the half-brother of Kim Jong-un, North Korea's "Supreme Leader", at Kuala Lumpur International Airport last Monday.
http://www.telegraph.co.uk/news/2017/02/22/exclusive-north-korean-suspects-kim-jong-nam-murder-hiding-pyongyangs/
Possible mole in security detail of Dutch frontrunner Wilders
A Dutch secret service agent who was part of the team responsible for protecting Geert Wilders, the frontrunner in next month's election, has been suspended on suspicion of leaking details to a criminal organization, the secret service said on Wednesday.
Wilders, who campaigns on an anti-Islam platform that includes closing mosques and banning immigration from Muslim countries that has led to the protection, condemned the alleged breach, saying he cannot function without adequate security.
Dutch newspapers De Telegraaf and NRC Handelsblad and the country's national broadcaster NOS identified the suspect as an experienced officer in his mid-30s, using his first name and last initial.
http://www.reuters.com/article/us-netherlands-election-wilders-idUSKBN1611LB
Iran Renews Destructive Cyber Attacks on Saudi Arabia
Tehran strategy seeks takeover of oil-rich U.S. ally
After a four-year hiatus, Iran recently resumed destructive cyber attacks against Saudi Arabia in what U.S. officials say is part of a long-term strategy by Tehran to take over the oil-rich kingdom and regional U.S. ally.
Late last month, the Saudi government warned in a notice to telecommunications companies that an Iranian-origin malicious software called Shamoon had resurfaced in cyber attacks against some 15 Saudi organizations, including government networks.
http://freebeacon.com/national-security/iran-renews-destructive-cyber-attacks-saudi-arabia/
Planes, tanks, ships: Russian military gets massive upgrade
MOSCOW (AP) — The Russian military received a sweeping array of new weapons last year, including 41 intercontinental ballistic missiles, and the wide-ranging military modernization will continue this year, the defense minister said Wednesday.
Minister Sergei Shoigu told lawmakers the air force will receive 170 new aircraft, the army will receive 905 tanks and other armored vehicles while the navy will receive 17 new ships this year.
Amid tensions with the West, the Kremlin has continued to spend big on new weapons despite Russia's economic downturn.
Also this year, three regiments of Russia's strategic nuclear forces will receive new intercontinental ballistic missiles, Shoigu said. Each regiment has up to 10 launchers.
The rising number of new weapons has raised demands for new personnel. Shoigu said the military currently needs 1,300 more pilots and will recruit them by 2018.
http://www.bigstory.ap.org/article/8b7532462dd0495d9f756c9ae7d2ff3c/russian-military-continues-massive-upgrade
Christian father is shot dead and his son is burned alive in Egyptian ISIS hotbed days after the group vowed Christians were its 'favourite prey'
The father, in his 60s, was found with multiple gunshot wounds in North Sinai
His son, who was a Coptic Christian like his dad, was burned alive on Wednesday
The area of North Sinai has become a stronghold for Islamic State in Egypt
Their bodies were discovered at dawn behind a school in the city of  El-Arish
Read more: http://www.dailymail.co.uk/news/article-4250292/Christian-father-burned-alive-son-shot-dead.html#ixzz4ZRgb6diK
Follow us: @MailOnline on Twitter | DailyMail on Facebook
GOP Lawmaker Urges Trump to Buy New Icebreakers Amid Russian Buildup in Arctic
Russia set to debut the world's largest nuclear-powered icebreaker
BY: Natalie Johnson
Rep. Duncan Hunter (R., Calif.) urged President Donald Trump on Tuesday to pursue funding for the U.S. Coast Guard to purchase new ice-capable vessels to counter Russia's military buildup in the Arctic.
Hunter, who chairs the House Subcommittee on Coast Guard and Maritime Transportation, warned in a letter to Trump that Russia is set to debut the world's largest nuclear-powered icebreaker, Arktika, while the United States struggles to maintain its two 1970s-era icebreakers.
http://freebeacon.com/national-security/gop-lawmaker-urges-trump-buy-new-icebreakers-amid-russian-buildup-arctic/
Report: China nearly finished building South China Sea structures to house missiles
May 21, 2015: Chinese dredging vessels are purportedly seen in the waters around Mischief Reef in the disputed Spratly Islands in the South China Sea in this still image from video taken by a P-8A Poseidon surveillance aircraft.  (U.S. Navy)
China is reportedly nearing completion of more than 20 buildings on its artificial islands in the South China Sea that are capable of housing long-range surface-to-air missiles.
The concrete structures have retractable roofs and at about 66 feet long and 33 feet tall. They are located on three islands: Subi, Mischief and Fiery Cross.
Fox News reported exclusively in December that the U.S. intelligence community was monitoring whether surface-to-air missiles would be shipped to the reefs to protect China's three airstrips.
http://www.foxnews.com/world/2017/02/22/report-china-nearly-finished-building-south-china-sea-structures-to-house-missiles.html
Military plane cost hits Airbus profits
Aircraft manufacturer Airbus reported a drop in 2016 profits, mainly because of a charge on the A400M military plane.
Its net income fell by 63% to 995m euros (£838m), although revenue went up 3% to 66.5bn euros (£56bn).
The results are the first since Airbus started simplifying the company by mixing its European business with the parent company, previously called EADS.
Chief executive Tom Enders said: "We've delivered on the commitments we gave a year ago."
He added: "We achieved our guidance and objectives, with one exception, the A400M, where we had to take another significant charge totalling 2.2bn euros (£1.85bn) in 2016.
The A400M has suffered a number for setbacks over the years.
Earlier this month, one A400M broke down on the ground while carrying German Defence Minister Ursula von der Leyen.
http://www.bbc.com/news/business-39049318
Ildar Dadin: Russian activist jail term quashed
Russia's Supreme Court has ordered the release of opposition activist Ildar Dadin, who was the first person to be convicted under new laws on protests.
The court said the criminal case against him should be dismissed and he had a "right to rehabilitation", Russian media report.
Mr Dadin, jailed in December 2015, has been serving two-and-a-half years for a series of protests.
Last November he said he was tortured in prison in north-west Russia.
The authorities denied the claims, but transferred him to another prison.
http://www.bbc.com/news/world-europe-39050949
Montenegro Coup Suspect 'Was Russian Spy in Poland'
A Russian suspected by Montenegro of masterminding the recent alleged coup attempt was a military officer who was expelled from Poland amid an espionage scandal in 2014, a Polish diplomat told BIRN.
Natalia Zaba, Dusica Tomovic
Edvard Shirokov, currently on the Interpol's red notice, based on a warrant issued by Montenegrin authorities. Photo: Interpol.
The Polish ambassador to Podgorica, Irena Tatarzynska, told BIRN that Russian military officer Eduard Shishmakov, one of the leading suspects in the alleged coup plot in Montenegro, was thrown out of Poland due to a spying accusation.
Tatarzynska said Shishmakov was a deputy military attache at Russia's embassy in Warsaw, but was declared persona non grata in Poland in June 2014, along with three other Russian citizens, because it was believed that they were involved in spying.
"For us [in Poland] it was a really unpleasant case, a deputy military attache was declared persona non grata. But for the Polish state, this case is over," Tatarzynska said.
http://www.balkaninsight.com/en/article/montenegro-coup-suspect-was-russian-spy-in-poland–02-21-2017#sthash.MsKQ4wGH.dpuf
Israeli warplane attacks Syrian Army in west Damascus
BEIRUT, LEBANON (3:45 A.M.) – Minutes ago, an Israeli warplane conducted an airstrike over the western countryside of Damascus, targeting the Syrian Arab Army's (SAA) positions in the Qalamoun Mountains near the Lebanese border.
A Syrian Army source told Al-Masdar this morning that the Israeli warplane had crossed into Syria after flying over Lebanon's 'Arsal Barrens, where both Al-Qaeda and the Islamic State (ISIS) are headquartered in the eastern Beqa'a Governorate.
The Syrian Army source added that the specific location of the attack was in the Al-Quteifah area of the Qalamoun Mountains.
https://www.almasdarnews.com/article/breaking-israeli-warplane-attacks-syrian-army-west-damascus/
With US support, Saudi Arabia ready to send special forces to Syria
In cooperation with the United States, Saudi Arabia is "ready to send ground troops" to Syria to fight against Daesh, Saudi Foreign Minister Adel Al-Jubeir announced on Tuesday.
In an exclusive interview with Sueddeutsche Zeitung German newspaper on Tuesday, Al-Jubeir said: "The Kingdom and other Gulf countries said it was ready to allocate forces to fight on the US side."
He noted that discussions with the US forces are underway to "find out what the plan is and what you need to implement it." He explained that the plan would be announced "soon".
The foreign minister affirmed that the liberated territories from Daesh, must be handed over to the Syrian opposition. "The basic idea is to free the region from the IG [Daesh] and not to allow their controlled Hezbollah, Iran or the Syrian regime," he said.
https://www.middleeastmonitor.com/20170221-with-us-support-saudi-arabia-ready-to-send-special-forces-to-syria/
Turkey Defense Talks With Russia on S400 Missiles Have Progressed, Minister Says
Greek FM: Turkey close to crossing Greece's red lines
Turkey came very close to crossing Greece's red lines in the Aegean last week, when a Turkish coast guard vessel fired shots in Greek territorial waters east of the islet of Farmakonisi, Foreign Minister Nikos Kotzias told Skai Television's "Istories" program Tuesday night. In a wide-ranging interview with Kathimerini's executive editor, Alexis Papachelas, Kotzias spoke also about Greece's determination to protect its sovereign interests, the Cyprus issue, the case of the eight Turkish servicemen whom the Supreme Court refused to extradite to Turkey, and NATO's operations in the Aegean.
http://www.ekathimerini.com/216392/article/ekathimerini/news/greek-fm-turkey-close-to-crossing-greeces-red-lines
India may forego offset package for S-400
An offset package could delay deliveries by up to two years.
S-400 Triumf is Russia's long-range anti-aircraft missile system that went into service in 2007. Source: Mikhail Voskresenskiy/RIA Novosti
India's Defence Ministry may forego the offset clause to speed up deliveries of the S-400 Russian air defence system, The Economic Times reported on Feb. 21.
The offset clause mandates foreign companies to invest at least 30 per cent of the contract value in the Indian aerospace and defence sectors.
Viktor Kladov, director of international cooperation at Rostec holding, told the paper that the purchase of the S-400 is a strategic project and delivery should not be delayed by offset packages.
According to Kladov, the offset package may delay delivery by up to two years. A deal with no offset package is the best choice, he added.
http://in.rbth.com/economics/defence/2017/02/22/india-may-forego-offset-package-for-s-400_707448
Germany to expand Bundeswehr to almost 200,000 troops
Germany's Defense Ministry has announced it will increase the number of professional soldiers by around 10 percent. It comes amid increasing pressure for Germany to reach its NATO-mandated defense spending target.
Since the end of the Cold War, Germany had been reducing its military scope and manpower. Recent years, however, have marked a major shift in its defense policy, as it pledged once again to expand the Bundeswehr.
"The Bundeswehr is under demand like never before," Defense Minister Ursula von der Leyen (a Christian Democrat) said on Tuesday, as she announced plans to increase the number of Germany's professional soldiers from 178,000 to 198,000 by the year 2024. "In light of these increasing responsibilities, the Bundeswehr must be allowed to grow accordingly."
As part of its enlargement plans, the Bundeswehr will also expand its non-combat civilian employees to over 61,000 in response to the growing threat of cyber and hacking attacks.
http://www.dw.com/en/germany-to-expand-bundeswehr-to-almost-200000-troops/a-37655018
Industrial control systems top threat to UK cyber security
Most organisations understand cyber security readiness, but lack response and resilience capabilities – especially regarding industrial control systems in the UK, says RSA cyber defence expert Azeem Aleem
Alexandria visits Sasebo during Indo-Asia-Pacific deployment
USS Alexandria Public Affairs
SASEBO, Japan (NNS) — Los Angeles-class attack submarine USS Alexandria (SSN 757) arrived at Fleet Activities Sasebo for a visit as part of its Indo-Asia-Pacific deployment, Feb. 19.
The visit strengthens the already positive alliance between the U.S. and Japan through the crews' interaction with the Japan Maritime Self-Defense Force. It also demonstrates the U.S. Navy's commitment to regional stability and maritime security in the U.S. 7th Fleet area of operations.
http://japan.stripes.com/news/alexandria-visits-sasebo-during-indo-asia-pacific-deployment#sthash.nHclSyCd.dpuf
China gives Lotte 'severe' warning on THAAD
3:39 am, February 22, 2017
Reuters
BEIJING (Reuters) — South Korea's Lotte Group will face severe consequences if it allows the South Korean government to deploy a U.S. anti-missile system on land that now forms part of a golf course it owns, China's state-run Xinhua news agency has warned.
The comments come soon after Lotte said this month that Chinese authorities had halted work at a multi-billion-dollar real estate project following a fire inspection, amid South Korea's worries that Beijing is retaliating for its plans to host the system.
China has repeatedly expressed opposition to South Korea's planned deployment later this year of the U.S. Terminal High Altitude Area Defence (THAAD) system, which Seoul and Washington say is needed to defend against North Korea.
China worries the system's powerful radar can penetrate its territory.