Angela Merkel says Europe must take MORE refugees and Islam 'isn't source of terror'
GERMAN Chancellor Angela Merkel has launched a staunch defence of her refugee policy.
The embattled leader says Europe has an obligation to take displaced people from Syria and Iraq. 
She also said Islam "is not the cause of terrorism" and that combatting extremism needs the cooperation of Muslim countries.
In a wide-ranging speech at a Munich security conference, the German chief also vowed to work closely with Vladimir Putin's Russia in the fight with ISIS in the Middle East.
http://www.dailystar.co.uk/news/latest-news/589410/Angela-Merkel-more-refugees-Syria-Iraq-German-chancellor-terrorism-ISIS
Captured ISIS jihadi reveals how he killed 500 civilians and raped 200 women during the terror group's barbaric raids on Yazidi settlements… and boasts: 'It was normal'
ISIS jihadi Amar Hussein was captured and imprisoned by Kurdish forces in Iraq 
He said that he raped more than 200 women while fighting for the terrorists
Hussein boasted about shooting 40 people at a time, blindfolding them first
A second prisoner, Ghaffar Abdel Rahman, was also interviewed but gave little away 
Amar Hussein says he reads the Koran all day in his tiny jail cell to become a better person, yet he shows little remorse for the 200 women he raped as he pillaged Iraqi villages.
Hussein and another Islamic State militant were both captured during an assault on Kirkuk in October that killed 99 civilians and members of the security forces, as well as 63 Islamic State militants.
http://www.dailymail.co.uk/news/article-4237910/Captured-ISIS-jihadi-tells-life-killer.html#ixzz4Z5SACwSw
Britain's 110 nuclear alerts are revealed: Safety watchdog makes a mockery of the MoD's claim of just 27 'incidents' in 65 years
A catalogue of more than 100 incidents show how close we came to disaster
The figure is four times higher than the Ministry of Defence has ackowledged 
This included a truck carrying weapons overturning and two submarines nearly colliding 
A chilling catalogue of more than 100 accidents involving Britain's nuclear weapons reveals for the first time how often we may have come close to disaster.
The shock report by an independent nuclear watchdog documents 110 major alerts – four times higher than the Ministry of Defence has acknowledged.
Among the incidents in the dossier by the Nuclear Information Service (NIS), which has been seen by The Mail on Sunday, are:
Undated handout photo issued by the Ministry of Defence of a still image taken from video of the missile firing from HMS Vigilant, which fired an unarmed Trident II
 British warships carrying nuclear depth charges by mistake in the 1982 Falklands War;
 a mid-Atlantic collision between nuclear-armed British and French submarines in 2009;
 a truck carrying nuclear warheads overturning on an icy road in Wiltshire in 1987;
 the deaths of 116 UK nuclear workers from accidents and cancer.
http://www.dailymail.co.uk/news/article-4238532/Britain-s-110-nuclear-alerts-revealed.html#ixzz4Z5RT6O2X
David Petraeus says he will NOT be Trump's new national security adviser: Disgraced ex-CIA head takes himself out of running over fears the president will control the hiring and firing of staff
David Petraeus, a retired general and former CIA director, will not be Trump's new NSA
He expressed concern about Trump's reluctance to grant new adviser full discretion over policy and staffing
Officials said Petraeus's prerequisites for the job were not acceptable
Retired Vice Admiral Bob Harward declined offer to become the next NSA on Thursday
Trump said Friday that acting NSA Keith Kellogg and 'three others' are in contention for job
Michael Flynn was fired on Monday following controversy over Russia contacts
Mike Pence widens US rift with Europe over Nato defence spending
On first visit to Europe since taking office, US vice-president tells Munich conference Nato allies must step up their contributions
The US vice-president has delivered the most uncompromising message yet from the Trump administration to Nato allies that they have to step up financial contributions towards defence spending.
On his first visit to Europe since taking office, Mike Pence said "some of our largest allies do not have a credible path" towards paying their share of Nato's financial burden. Although he did not name individual countries, his targets included Germany, France and Italy. "The time has come to do more," he said.
This section of his speech to the Munich security conference, which is being attended by 500 delegates including government leaders and defence and foreign ministers from around the world, was greeted with lukewarm applause.
https://www.theguardian.com/world/2017/feb/18/mike-pence-widens-us-rift-with-europe-over-nato-defence-spending
Kim Jong-nam: Malaysian police arrest North Korean man
Move is likely to escalate row as Pyongyang accuses Kuala Lumpur of 'colluding with outside forces who want to damage the image of our republic'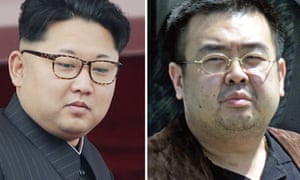 The detained man, identified as Ri Jong Chol, 46, is the fourth person to be picked up by investigators and the only suspect from North Korea. They other three suspects hold Vietnamese, Indonesia and Malaysian documents.
People close to Kim Jong-nam say the former heir to the North Korean leadership had feared his younger brother, the country's supreme leader, Kim Jong-un – a man he's reportedly never met but who has executed several senior officials including family members – might make an attempt on his life.
https://www.theguardian.com/world/2017/feb/18/kim-jong-nam-killing-north-korean-man-arrested-as-second-autopsy-peformed
Merkel resists US demands to raise defence spending and warns that she won't rush to meet Nato targets
Germany's chancellor said her country was 'conscious of its responsibility'
It will stick to the aim of raising defence spending to 2% of national income
EU chief Jean-Claude Juncker yesterday said Europe must not cave in to the US demands to raise military spending

Angela Merkel last night refused to concede to US demands to raise defence spending.
Germany's chancellor said she was in no hurry to meet Nato targets because there were other issues to deal with.
She said her country was 'conscious of its responsibility' and would stick to the long-term aim of raising defence spending to 2 per cent of national income by 2024.
http://www.dailymail.co.uk/news/article-4236654/Europe-not-cave-military-spending-Juncker.html#ixzz4Z2lYmCVd
F-15s scramble to intercept unresponsive aircraft over restricted airspace over West Palm Beach
Two F-15s caused a 'sonic boom' as they raced from their base in Homestead, Fla., Friday to intercept an unresponsive general aviation aircraft that flew near Palm Beach during a stay by President Trump at Mar-a-Lago.
The jets flew at supersonic speeds and residents were startled by the loud boom, the North American Aerospace Defense Command, NORAD, said in a statement. The two fighters were able to establish communication with the aircraft. This incident occured at about 7 p.m. ET.  No further details were immediately available.
"The intent of military intercepts is to have the identified aircraft re-establish communications with local FAA air traffic controllers and instruct the pilot to follow air traffic controllers' instructions to land safely for follow-on action," the statement read.
http://www.foxnews.com/us/2017/02/18/f-15s-scramble-to-intercept-unresponsive-plane-over-restricted-airspace-over-west-palm-beach.html
House committee probes Russia payment to Flynn
Citing a Yahoo News interview with retired Lt. Gen. Michael Flynn last July, a House committee has opened an investigation into whether President Trump's recently resigned national security adviser received an improper payment from the Russian government for a trip to Moscow in December 2015.
In an unusual bipartisan letter, House Oversight and Government Reform committee chair Rep. Jason Chaffetz and ranking minority member Rep. Elijah Cummings have asked a Washington-based speakers bureau, Leading Authorities, to turn over information on how much Flynn was paid for his appearance at an event celebrating the 10th anniversary of RT — the Russian-government funded news organization — where he sat at the same table for dinner as President Vladimir Putin. Flynn also sat for a 44-minute interview with RT anchor Sophie Shevardnadze, granddaughter of former Soviet foreign affairs minister Eduard Shevardnadze, as part of the trip.
https://www.yahoo.com/news/house-committee-begins-probe-of-payments-to-flynn-210144266.html
'We'll Field Robert Mugabe's Corpse As Candidate For Election', Says Wife Grace
Zimbabwean First Lady Grace Mugabe has reportedly said that if her husband President Robert Mugabe, 92, dies, the ruling Zanu-PF party would "field his corpse (sic) to participate in elections".
According to media reports, Grace said this during a rally in Buhera.
Tillerson, in diplomatic debut, urges Russia to pull back in eastern Ukraine
BONN, Germany —

Secretary of State Rex Tillerson made his debut on the world stage Thursday, meeting the Russian foreign minister and urging Moscow to pull back in eastern Ukraine, then signing a joint statement condemning North Korea's latest ballistic missile test.

He attended almost a dozen meetings with his diplomatic counterparts from the Group of 20 major world economies, all fairly routine for a secretary of state on an overseas trip.

But in one sense it was a landmark day for Tillerson, a former ExxonMobil chief executive with no previous experience in public office. For the first time since addressing employees upon arriving at the State Department two weeks ago, he made a public statement about foreign policy, taking a firm line on Russia and Ukraine. That suggested that the stasis that has gripped the State Department in recent weeks may be ebbing.

https://www.washingtonpost.com/world/europe/tillerson-and-lavrov-meet-for-first-time-in-bonn/2017/02/16/256d571a-f2fd-11e6-9fb1-2d8f3fc9c0ed_story.html?utm_term=.3e5da0dd13b0
UK faces embarrassment over Nato defence spending ahead of summit
Britain not meeting target it was supposed to urge other EU countries to meet, calculation says