Trump nixed candidate for State Department job over campaign criticism: report
Russia suspected over hacking attack on Italian foreign ministry
Exclusive: Italian government official says no classified emails were compromised in attack believed to have lasted more than four months last year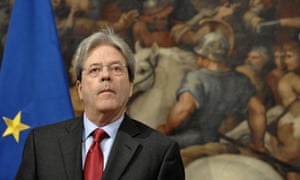 Russia is suspected by Italian officials of being behind a sustained hacking attack against the Italian foreign ministry last year that compromised email communications and lasted for many months before it was detected, according to people familiar with the matter.
An Italian government official confirmed that the attack hit the foreign ministry last spring and lasted for more than four months but did not infiltrate an encrypted system used for classified communications.
https://www.theguardian.com/world/2017/feb/10/russia-suspected-over-hacking-attack-on-italian-foreign-ministry
Britain's entire fleet of attack submarines 'out of action'Laura Hughes,
The Royal Navy's fleet of attack submarines are all currently out of action, according to reports.
Britain's seven 'hunter-killer' vessels are understood to be 'non-operational' as they undergo repairs and maintenance.
HMS Astute is the only vessel currently at sea, but she is still "weeks away" from active service.
Theresa May is said to have been kept in the dark by Defence chiefs, the Sun reports.
http://www.telegraph.co.uk/news/2017/02/10/britains-entire-fleet-attack-submarines-action/
French Jews will have to renounce their Israeli citizenship if Marine Le Pen is elected as president, the National Front leader reveals
Far-right leader said citizens with dual nationalities from non-European countries will have to choose one or the other
She was quizzed on whether she includes Israel within proposed rules
Le Pen said those who do not choose French nationality will not necessarily be forced to leave
She has previously called for Jews to stop wearing kippahs in public 
French Jews who have dual Israeli nationality will have to give up one of their nationalities if far-right candidate Marine Le Pen is elected.
The Front National leader said she would not allow citizens to hold dual citizenship in two non-European countries.
She will, however, not include Russia in the policy, stating she considers it to be part of the 'Europe of nations'.
http://www.dailymail.co.uk/news/article-4211324/Le-Pen-French-Jews-renounce-Israeli-citizenship.html#ixzz4YHtgNgaZ
Girl, 16, is among four people arrested in France on suspicion of plotting a suicide bomb attack in Paris using 'Mother of Satan' explosives
The four are suspected of planning a terror attack on the French capital
They were arrested today in the southern city of Montpellier
Reports from France suggest they may have been identified on social media
Explosives were reportedly found by anti-terrorist teams 
A 16-year-old girl has been arrested in the French city of Montpellier on suspicion of plotting a suicide attack in Paris.
She was one of four suspects arrested after investigators from the anti-terrorist sub-directorate swooped this morning.
Agents had been monitoring their computers for several weeks, and it thought the four may have been identified on social media.
A 'bomb-making laboratory' was found in the single flat raided in Montpellier, said a source close to the case.
http://www.dailymail.co.uk/news/article-4211008/Girl-16-arrested-Paris-terror-probe.html#ixzz4YHui5Jg2
Trump tells Chinese president US will honor 'one China' policy
Published February 10, 2017