Hamas upgrades cyber espionage capability — report
Internal Security Minister and sports broadcaster feature in fake news items designed to persuade email users to open rogue spyware file
Washington, Seoul Believe Pyongyang May Have 60 Nuke Warheads, Secret Facilities
© REUTERS/ KCNA
MILITARY & INTELLIGENCE
South Korean and US intelligence agencies are reporting that North Korea has the ability to build up to 60 nuclear warheads, as the country has been secretly producing highly-enriched uranium (HEU) at higher levels than previously thought.
Figures for 2016 show that the DPRK has an estimated 54 kilograms of plutonium and 758 kilograms (.83 tons) of highly-enriched uranium, according to South Korean news outlet JoongAng Ilbo.
Previously, defense experts estimated that Pyongyang possessed around 40-50 kilograms of plutonium, and 300-400 kilograms of highly-enriched uranium.
Producing a nuclear warhead requires 16-20 kilograms of highly-enriched uranium, and between four to six kilograms of plutonium, according to estimations from US and South Korean military experts. Around six kilograms of plutonium were used to make the atomic bomb dropped on Nagasaki during World War II.
https://sputniknews.com/military/201702091050523266-north-korea-sixty-warheads-possible/
Trump Admin Eyes Opportunity to Squash Iran, China, N. Korea Missile Threats
Congressional allies want wholesale revamp of U.S. missile defense systems
BY: Adam Kredo
February 8, 2017 5:00 am
The newly installed Trump administration is eyeing an opportunity to revamp the U.S. domestic missile defense system to combat evolving threats posed by Iran, China, North Korea, and other rogue regimes, according to senior White House officials and new congressional communication disclosing how nations across the globe are "working diligently to exploit the many gaps and seams" in America's current defenses.
Congressional allies of the Trump administration's national security vision recently petitioned the White House to allocate funds needed to rebuild and update the country's missile defense systems, which have been beset by problems and can no longer defend against the latest missile technology.
Iran's latest test of ballistic missile technology has only reinforced the belief in Congress that something must be done to secure the American homeland, according to a team of nearly 30 leading lawmakers led by Rep. Trent Franks (R., Ariz.), co-chair of the House's missile defense caucus.
http://freebeacon.com/national-security/trump-admin-eyes-opportunity-squash-iran-china-n-korea-missile-threat/
RAF heroes ward off two Russian bombers flying near UK airspace just one DAY after Vladimir Putin told pilots to 'prepare for war'
Russian premier has ordered his armed forces to prepare for a 'time of war' after tensions with the West
NEW AXIS OF EVIL
Highly-trained Hamas commandos head to Egypt to team-up with terror group ISIS
Bomb makers are among those said to have joined Islamic State jihadis
5 lightly wounded in Petah Tikva shooting, stabbing attack
Palestinian suspect arrested, still in possession of the gun used, after opening fire near a market in central Israel
IS claims rocket fire at Israel resort from Egypt
Gaza City (Palestinian Territories) (AFP) – The Islamic State group said Thursday that it fired rockets at the Israeli resort of Eilat from the Sinai Peninsula in a rare attack on the Jewish state from Egyptian territory.
The Israeli army said there were no casualties from Wednesday evening's rocket fire — three of the rockets were intercepted by Israel's Iron Dome air defence system and a fourth fell short of the town.
A few hours later, two Palestinians were killed elsewhere in the Sinai. The Islamist Hamas movement which rules Gaza said it was an Israeli air strike. The Israeli army denied carrying out any such action.
https://www.yahoo.com/news/confirms-fired-rockets-israels-eilat-egypt-004134014.html
Paris to erect bulletproof wall around Eiffel Tower
In the face of the ongoing terrorism threat in France, Paris's iconic monument, the Eiffel Tower, will undergo a massive facelift to tighten security by next autumn.
Heightened security measures around the capital's "iron lady" were put in place as early as 2012 during the European football championships. Temporary fences were installed last June, but these rather unattractive barriers will now become permanent with the placement of a 2.5 meter-high bulletproof glass wall, according to French daily Le Parisien.
http://www.france24.com/en/20170209-paris-erect-bulletproof-glass-wall-around-eiffel-tower-terrorism
Russia calls Romania 'a clear threat' and NATO outpost: Ifax
Russia views Romania as a NATO outpost and as a threat due to it hosting elements of a U.S. anti-missile shield, the Interfax news agency reported on Thursday, citing a Russian foreign ministry official.
The U.S. military, which says the shield is needed to protect from Iran, not threaten Russia, switched on the $800 million Romanian part of the shield in May last year. Another part of the shield is due to be built in Poland.
"Romania's stance and the stance of its leadership, who have turned the country into an outpost, is a clear threat for us," Alexander Botsan-Kharchenko, a senior Russian foreign ministry official, told Interfax in an interview.
http://www.reuters.com/article/us-russia-romania-nato-idUSKBN15O0W0
Energy facilities may become main target of cyber-attacks in Russia
It's estimated that power companies in Russia suffered more than 350 serious cyber-attacks in 2016, a 50 percent increase on the previous year.
Large energy facilities and nuclear power plants may become a main target of cyber-attacks in Russia and Western countries in the coming year, according to a recent report, issued by the experts of Kiberbezopasnost, one of Russia's leading analysts in the field of cyber-security and IT.
https://www.scmagazineuk.com/energy-facilities-may-become-main-target-of-cyber-attacks-in-russia/article/635133/
Obama appointees flee Pentagon; Trump left with scores of vacancies to fill
Army looking at direct commissions for civilian cybersecurity experts
WASHINGTON – Civilians with expertise in cybersecurity could be directly commissioned into the Army with a rank up to colonel to help the service improve its expanding cyber domain operations under a Pentagon pilot program authorized in recent weeks.
The program would be similar to the Army's direct commissioning programs for medical doctors, lawyers and chaplains, which place experts in those fields into the Army at a rank that is commensurate with their experience in the civilian sector, said Army Brig. Gen. Patricia Frost, the service's cyber director for operations and planning. The Pentagon tasked the Army with the project on Jan. 30.
https://www.stripes.com/news/army-looking-at-direct-commissions-for-civilian-cybersecurity-experts-1.453101
Iraqi Kurds to receive sniper rifles, anti-tank weapons, mortars from Canada
Canada will provide long-range sniper rifles and anti-tank weapons to the Kurdish forces fighting the Islamic State (ISIL) in northern Iraq, the Department of National Defence said Wednesday.
Prime Minister Justin Trudeau announced a year ago that Canada would arm the Kurds, and DND said Wednesday the list included .50-calibre sniper rifles equipped with silencers, 60mm mortars, as well as Carl Gustav anti-tank systems. Details about the numbers of each type of equipment were withheld for security reasons.
Iraqi Kurds to receive sniper rifles, anti-tank weapons, mortars from Canada
'What's the big deal?' Moscow says after UK scrambles jets over Russian bombers' routine flight
Published time: 9 Feb, 2017 21:18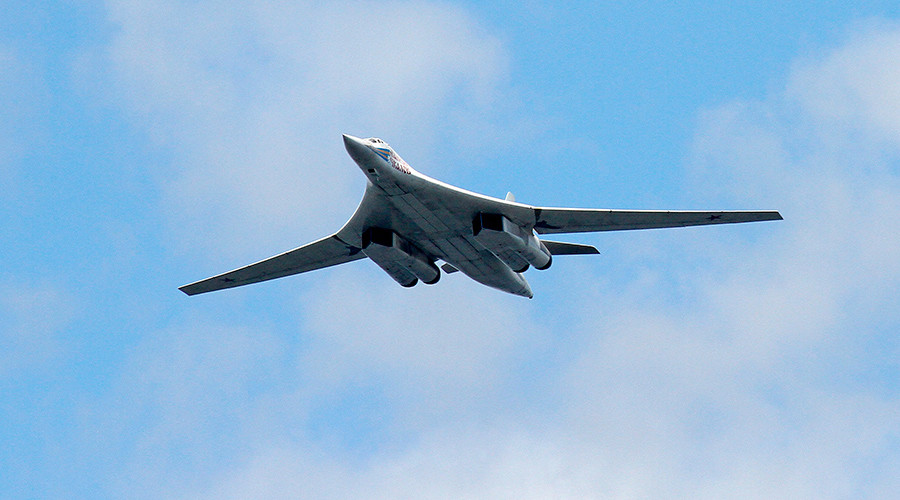 Two Tu-160 strategic bombers were monitored by British jets in neutral waters on Thursday, a Russian Defense Ministry spokesman has confirmed, saying he was surprised that such attention was paid to a routine flight.
"We can confirm that quick reaction alert Typhoon aircraft from RAF Lossiemouth and RAF Coningsby scrambled to monitor two Blackjack (Tu-160) bombers, while they were in the UK area of interest," a Royal Air Force (RAF) spokesman said in a statement.
The strategic bombers were followed by RAF as they arrived from northeast of Britain and passed to the west of Ireland, over the Bay of Biscay and then turned back to Russian territory, Sky News reported.
Earlier, France said that two of its Mirage military aircraft escorted the two Russian bombers down the French coast before handing over to Spanish Air Force.
Russia's Defense Ministry has confirmed Thursday's event, stressing that the flight of its bomber violated no international rules.
"They flew over neutral waters in the Barents and the Norwegian seas, as well as in the Atlantic Ocean," Defense Ministry spokesman Maj. Gen Igor Konashenkov said.
At some stages of the flight, the two Tu-160s were closely followed by NATO combat aircraft, including the Royal Air Force, he added.