Three US service members hurt in Osprey crash after deadly Yemen terror raid
Three U.S. service members were hurt in a crash-landing of an MV-22 Osprey sent in to evacuate the wounded after the terror raid in Yemen over the weekend, the Pentagon revealed on Monday.
The operation targeting a group of senior Al Qaeda leaders in central Yemen killed a U.S. Navy SEAL and wounded three others, according to U.S. Central Command, which initially reported only one American was hurt in the aircraft's "hard landing."
"A lot of female combatants" were part of the resistance the SEALs encountered on the target, Pentagon spokesman Capt. Jeff David told reporters. "Some of the enemy killed in action were female."
http://www.foxnews.com/us/2017/01/30/three-us-service-members-hurt-in-osprey-crash-after-deadly-yemen-terror-raid.html
U.S. MV-22 Osprey tilt-rotor aircraft crash lands in Yemen during Special OPS raid on Al Qaeda
A U.S. Marine Corps Osprey that was supporting the first known counterterrorism operation under President Trump crash-landed in Yemen. It was later destroyed by U.S. raid.
Early in the morning on Jan. 29, one American Special Operations commando was killed and three others were injured in a fierce firefight with Al Qaeda fighters targeted by a predawn raid against the AQ headquarters in Yemen.
The surprise attack was carried out by commandos from the U.S. Navy SEAL Team 6 in Bayda Province who killed 14 Qaeda militants in what is the first confirmed anti-terror operation under Trump presidency.
It's not clear what aircraft were supporting the raid; what has been confirmed is that a U.S. Marine Corps MV-22 Osprey aircraft called in to evacuate the wounded American soldiers crash landed, injuring 2 service members (1 according to other sources).
The tilt-rotor aircraft was intentionally destroyed in place by a U.S. raid once it was determined that it could not leave the crash landing site.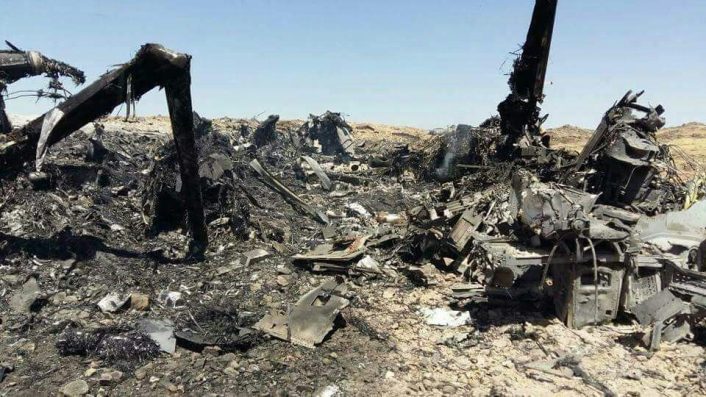 https://theaviationist.com/2017/01/29/u-s-mv-22-osprey-tilt-rotor-aircraft-crash-lands-in-yemen-during-special-ops-raid-on-al-qaeda/
Iran conducts ballistic missile test, US officials say
[Editor's Note: A reentry vehicle test is for a nuclear weapon.]
Iran on Sunday conducted a ballistic missile test in yet another apparent violation of a United Nations resolution, U.S. officials told Fox News.
The launch occurred at a well-known test site outside Semnan, about 140 miles east of Tehran.
The missile was a Khorramshahr medium range ballistic missile and traveled 600 miles before exploding, in a failed test of a reentry vehicle, officials said. Iran defense minister Brigadier Gen. Hossein Dehqan said in September that Iran would start production of the missile.
U.N. resolution 2231 — put in place days after the Iran nuclear deal was signed — calls on the Islamic Republic not to conduct such tests, however, this is at least Iran's second such test since July. The resolution bars Iran from conducting ballistic missile tests for eight years and went into effect July 20, 2015.
http://www.foxnews.com/world/2017/01/30/iran-conducts-ballistic-missile-test-us-officials-say.html
Islamist suspects arrested in Austria were planning to establish a caliphate in the country, police reveal
Heavily armed SWAT teams detained 14 people in the cities of Graz and Vienna
Suspected of recruiting around 40 people to fight for Islamic extremist groups
Also being investigated for attempts to set up a 'kind of theocracy in Austria'
Heavily armed SWAT teams supported by hundreds of other officers detained 14 people in Graz and Vienna last week over suspected ISIS links.
Justice Ministry official Christian Pilnacek has since revealed they are being investigated for attempts to try to set up a 'parallel society… an attempt to create a kind of theocracy in Austria.'
Islamist suspects arrested in Austria were planning to establish a caliphate in the country, police have claimed  (file picture)
Pilnacek said two of the 12 locations raided were Muslim social centers also used as mosque
http://www.dailymail.co.uk/news/article-4159214/Austrian-police-raid-homes-search-Islamic-radicals.html
PICTURED: White university student named as the sole suspect accused of killing six men at Quebec City mosque – one day after Canadian PM condemned Trump's immigration ban
Alexandre Bissonnette is suspected of carrying out the attack on Quebec City Islamic Cultural Center alone
He was arrested on Sunday night after allegedly shooting six men dead during evening prayers before 8pm
The university student fled the scene of the crime but called 911 20 minutes later to turn himself in to police 
Mohamed el Khadir, a Moroccan-Canadian, was also taken into custody but is now considered to be a witness
Six men aged between 39 and 60 died, five are critically injured and dozens more were caught up in killings
It came a day after Canadian Prime Minister Justin Trudeau condemned Donald Trump's immigration ban
President Trump has banned citizens from seven Muslim-majority countries from entering the US temporarily
Trudeau tweeted in response that all refugees 'regardless of your faith' are welcome in Canada 
Police have not suggested a possible motive for the mosque killings but are treating them as a terror attack
Alexandre Bissonnette is suspected of carrying out the Quebec City mosque massacre alone
White university student Alexandre Bissonnette has been named as the sole suspect accused of killing six men at Quebec City mosque.
Bissonnette, who is in his late twenties, was arrested alongside Moroccan-Canadian Mohamed el Khadir on Sunday night after six men were slaughtered at the Quebec City Islamic Cultural Center during evening prayers.
On Monday afternoon, Sûreté du Québec confirmed one of the men was no longer facing charges.
A source later told Reuters police were looking at Bissonnette as a 'lone wolf'.
The student, who is from the affluent Quebec City suburb Cap Rouge, will appear in court sometime on Monday or Tuesday.
Six men aged between 39 and 60 were killed at the mosque and five remain in a critical condition in intensive care at the city's Hôpital de l'Enfant-Jésus after the killings on Sunday night.
http://www.dailymail.co.uk/news/article-4170500/Five-dead-GUNMEN-open-fire-Mosque-Quebec-City.html
Marine Le Pen still ahead in poll for first round of French presidential election with Fillon and Macron neck-and-neck
 Marine Le Pen, of the National Front, is ahead in the polls with 25 percent
 Conservative Francois Fillon, independent Emmanuel Macron on 22 percent
 Socialist candidate Benoit Hamon is trailing way behind on just 15 percent 
 In the second round of voting she is likely to be defeated by Fillon or Macron
 In 2002 her father Jean-Marie was beaten by Jacques Chirac in second round 
Marine Le Pen, the leader of the Far-Right National Front, is still ahead in the polls as France heads towards the first round of presidential elections in the spring.
A poll by Kantar Sofres put her on 25 percent, ahead of Francois Fillon, a conservative former prime minister, who is now neck-and-neck with Emmanuel Macron, a maverick independent, who is polling better than expected.
Fillon is on 22 percent and Macron is on 21 percent.
Putin's Russia in biggest Arctic military push since Soviet fall
By Andrew Osborn
MURMANSK, Russia (Reuters) – The nuclear icebreaker Lenin, the pride and joy of the Soviet Union's Arctic great game, lies at perpetual anchor in the frigid water here. A relic of the Cold War, it is now a museum.
But nearly three decades after the Lenin was taken out of service to be turned into a visitor attraction, Russia is again on the march in the Arctic and building new nuclear icebreakers.
It is part of a push to firm Moscow's hand in the High North as it vies for dominance with traditional rivals Canada, the United States, and Norway as well as newcomer China.
Interviews with officials and military analysts and reviews of government documents show Russia's build-up is the biggest since the 1991 Soviet fall and will, in some areas, give Moscow more military capabilities than the Soviet Union once had.
The expansion has far-reaching financial and geopolitical ramifications. The Arctic is estimated to hold more hydrocarbon reserves than Saudi Arabia and Moscow is putting down a serious military marker.
US commando, Al Qaeda advocate's young daughter among casualties in Trump's first counterterror op
In the first counterterrorism operation authorized by President Trump, the 8-year-old daughter of a radical Yemeni-American cleric was reportedly among the dozens of civilians, Al Qaeda militants, and one US commando killed in a pre-dawn firefight in southern Yemen on Sunday, according to the girl's grandfather.
Nawar al-Awlaki was the daughter of the American-born Anwar al-Awlaki, a US citizen and al Qaeda leader killed in a drone strike in 2011, which former President Obama directed the Central Intelligence Agency to carry out.
On Sunday, the White House said in a statement that an American commando was killed in the Navy SEAL Team 6 raid, the first in the years-long shadow war against al Qaeda's Yemen affiliate, which American intelligence and counterterrorism officials have long seen as the most dangerous branch of the global terrorist network.
The United States has been engaged in this clandestine war in Yemen since around 2002, when a drone killed an al Qaeda leader, Salim Sinan al-Harithi, and five others there. The Yemeni affiliate organized the Charlie Hebdo attack in Paris in 2015 and has planned numerous, thwarted attacks on commercial jets.
Saturday's raid, meant to recover intelligence from the Qaeda unit, was in the works for months, three officials told The New York Times. But Obama administration aides ultimately chose to hand the decision over to Mr. Trump, who vowed on the campaign trail to not only go after terrorists, but also their families.
While Trump authorized the mission last week, the raid came the same day he signed a directive that ordered Defense Secretary Jim Mattis to devise within 30 days a more aggressive plan to defeat the self-declared Islamic State group. Preparing for the directive, military planners had already begun drafting classified options to present to the commander-in-chief, including loosening restrictions designed to limit the risk of civilians, according to The New York Times.
While military officials told the Times there is no indication that the rules of engagement had been loosened for the mission in Yemen, Nawar's grandfather indicated such drone strikes and clandestine raids come at a cost.
https://www.yahoo.com/news/us-commando-al-qaeda-advocates-young-daughter-among-193030529.html
Manila Eager to Sign Military Agreement With Moscow, Eyes Russian Weapons
The Philippines' military is looking forward to signing a memorandum of understanding with Moscow to allow regular contacts with its Russian counterparts, Defense Secretary Delfin Lorenzana said. Manila is also pursuing through Russian weapons offerings, and is considering purchasing specialized sniper rifles, UAVs and maybe even submarines.
Speaking at a press conference on Thursday, Philippines' Secretary of Defense Delfin Lorenzana confirmed that he would be joining President Rodrigo Duterte for his official visit to Moscow in April or May. He noted that he looks forward to signing a Memorandum of Understanding with his Russian counterpart during the visit that would allow for regular exchanges to take place between the two countries' militaries.
https://sputniknews.com/military/201701291050135368-philippines-russia-military-cooperation-prospects/
Brand New Russian Corvette Bristling With Advanced Weapons Starts Sea Trials
The newest Steregushchy-class corvette, the Sovershenny ('Unbeatable') has begun sea trials, the Russian Pacific Fleet reported on Monday. Armed with the latest missile technology and fitted with advanced radar, stealth and electronic warfare systems, the warship is expected to significantly improve the Pacific Fleet's defensive capabilities.
Laid down at the Amur Shipyard in 2006 and launched in 2015, the Sovershenny will be the fifth Steregushchy ('Vigilant') class, Project 20380 corvette to be commissioned into the Russian Navy, and the first to join the Pacific Fleet. The Steregushchy class is Russia's newest corvette design, and with a displacement of 2,200 metric tons, is designated by NATO as a frigate.
https://sputniknews.com/military/201701301050150193-russian-corvette-sovershennyy-sea-trials/
ISLAMIC JIHAD MASTER DRONE HACKER CONVICTED IN PLEA BARGAIN
Islamic Jihad master hacker Maagad Ben JuwadOydeh was convicted by the Beersheba District Court in a plea bargain
on Monday
for hacking IDF drones hovering over Gaza, thereby enabling Hamas commanders to view the device's video feed.
An indictment filed by the Southern District Attorney's Office in March 2016 also charged Oydeh with hacking into the IDF, the police and the transportation authority's video cameras, enabling the terrorist group to study the location of civilians and IDF personnel in real-time, at a time during conflicts when it was firing rockets.
The plea bargain, which included dropping some charges, contained a suggested jail sentence of nine years, but the court is not bound to the recommendation.
According to the indictment, Oydeh's hacking also allowed Islamic Jihad to keep track of the movement of airplanes at Ben-Gurion Airport; view passenger lists on incoming and outgoing flights; and see the type of airplane and its weight and landing and departure times.
What triggered the infighting among Syrian rebels?
Armed groups in Syria are fighting among themselves, as they continue to lose territory to the Syrian army.
Pictures: Syrian Army intercepts American missiles destined for Nusra in southern Syria
Damascus, Syria (1:23 A.M.) – Syrian forces intercepted a smuggling car loaded with armament destined for the deignated terrorist group Jabhat Fateh Al-Sham (formerly Nusra Front) in Dara'a countryside.
The shipment consisted of five US-manufactured TOW missiles, 30 grenade launcher rounds, dozens of RPG missiles, and a large amount of rifle ammunition. According to a Syrian Army source, the military received information about  this shipment and its designated destination through an anonymous rebel source (likely a rival faction).
Noticeably, there has been a spike in weapon smuggling in Damascus's vicinity as the SAA managed to halt a series of TOW missile shipments last of which was in Barzeh district of Damascus. It is not unlikely that a foreign sponsor is invested in initiating a major battle in the capital where rebels find themselves increasingly isolated and choked with every passing day.
https://www.almasdarnews.com/article/pictures-syrian-army-intercepts-american-missiles-destined-nusra-southern-syria/
The Bashar al-Assad regime in Syria has had a quiet but well-funded lobbying effort in Washington since well before he began murdering his own people. But that influence campaign's clearest triumph came only this month, when it succeeded in bringing Rep. Tulsi Gabbard (D-Hawaii) to Damascus and having her parrot Assad's propaganda on her return.
Gabbard was not the first U.S. elected official to meet Assad. In the early years of Assad's presidency, several senior U.S. lawmakers publicly traveled to see the young English-speaking optometrist-turned-ruler, in the hope that he might be a reformer, break with Iran and even make peace with Israel. Then-House Speaker Nancy Pelosi (D-Calif.) visited Assad in 2007. Then-Sen. John F. Kerry (D-Mass.) led a delegation in 2009.
https://www.washingtonpost.com/opinions/global-opinions/how-tulsi-gabbard-became-assads-mouthpiece-in-washington/2017/01/29/215e9c70-e4bf-11e6-a547-5fb9411d332c_story.html?utm_term=.706eb73fa95b
A Shakeup in Russia's Top Cybercrime Unit
A chief criticism I heard from readers of my book, Spam Nation: The Inside Story of Organized Cybercrime, was that it dealt primarily with petty crooks involved in petty crimes, while ignoring more substantive security issues like government surveillance and cyber war. But now it appears that the chief antagonist of Spam Nation is at the dead center of an international scandal involving the hacking of U.S. state electoral boards in Arizona and Illinois, the sacking of Russia's top cybercrime investigators, and the slow but steady leak of unflattering data on some of Russia's most powerful politicians.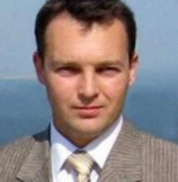 In a major shakeup that could have lasting implications for transnational cybercrime investigations, it's emerged that Russian authorities last month arrested Sergey Mikhaylov — the deputy chief of the country's top anti-cybercrime unit — as well as Ruslan Stoyanov, a senior employee at Russian security firm Kaspersky Lab. 
In a statement released to media, Kaspersky said the charges against Stoyanov predate his employment at the company beginning in 2012. Prior to Kaspersky, Stoyanov served as deputy director at a cybercrime investigation firm called Indrik, and before that as a major in the Russian Ministry of Interior's Moscow Cyber Crime Unit.
In a move straight out of a Russian spy novel, Mikhaylov reportedly was arrested while in the middle of a meeting, escorted out of the room with a bag thrown over his head. Both men are being tried for treason. As a result, the government's case against them is classified, and it's unclear exactly what they are alleged to have done.
https://krebsonsecurity.com/2017/01/a-shakeup-in-russias-top-cybercrime-unit/
Lithuanian Lawmaker Proposes Taking Kaliningrad Away From Russia
Lithuanian lawmaker Linas Balsys has suggested that the European Union should think seriously about how to take the Russian exclave region of Kaliningrad away from Moscow's jurisdiction and 'return' it to Europe, saying that recent Russian actions have shown that the borders formed after the Second World War have lost their legal force.
Balsys made the proposal last week at a conference called 'The World in 2017: The View from Vilnius', Lithuanian news portal Baltnews.lt reported.
The lawmaker suggested that Russia lost its legal right to the Kaliningrad Region after Moscow's 'annexation' of Crimea, and now the status of the territory formerly known as East Prussia needs to be discussed at the international level.
"Time has run out for Kaliningrad," Balsys declared, speaking before conference delegates in the Lithuanian capital. "Kaliningrad was not given to Russia in perpetuity, either at the Potsdam Conference or at Helsinki. It was [only] said that the region would be put under Soviet administration until a final European peace agreement is signed," he suggested. Accordingly, Balsys added, European officials should discuss how to 'return' the former German territory to Europe.
Balsys isn't the first Lithuanian politician to propose taking Kaliningrad away from Russia. Earlier, Laurynas Kasciunas, a lawmaker from the Homeland Union party, proposed something similar.
US-China war increasingly a 'reality,' Chinese army official says