Giuliani and top Trump White House officials hacked, passwords leaked
The Trump Presidency's new cyber tsar, former New York Mayor Rudy Giuliani has had his passwords leaked online along with a whole host of top officials
Trump's proposed 'cyber tsar' and former New York Mayor Rudy Giuliani has been hacked. A Channel 4 Investigation has revealed that the passwords of Trump's cyber-security adviser and 13 prospective government officials, including cabinet members, have "been leaked in mass hacks".
The investigation discovered the passwords of those 14 top officials as well as those of their aides, publiclly available online.
Giuliani announced that he would become the new regime's  cyber tsar last week on Fox News morning talk show, Fox & Friends. A statement from Trump's organisation gave a broad approximation as to what role a cyber tsar might have. Giuliani will apparently be "sharing his expertise and insight as a trusted friend concerning private sector cyber-security problems and emerging solutions developing in the private sector".  Last year Giuliani assumed the chair of 'the cyber-security, privacy and risk management practice' at law firm Greenberg Traurig.
Rudy Giuliani was far from the only prospective government official who was caught in these hacks. According to Channel 4, a number of others were also affected who expected to take office tomorrow as Trump is inaugurated as President of the United States. Affected individuals include the prospective secretary for the interior Ryan Zinke, secretary for labour Andy Putzer, press secretary Sean Spicer, director of the Domestic Policy Council Andrew Bremberg, director of the National Trade Council Peter Navarro, head of social media Dan Scavino, chief trade negotiator Jason Greenblatt and director of Oval Office operations Kevin Schiller, among others.
Nor was this the first time that hacking has characterised a moment in Donald Trump's ascent to the presidency. Throughout the election season, several incidents of high profile breaches on the Democratic Party and the Clinton campaign lay open questions that are still being hotly debated to this day.
All 17 of the US intelligence agencies have concluded that the Russian government attempted to interfere in the election.
https://www.scmagazineuk.com/giuliani-and-top-trump-white-house-officials-hacked-passwords-leaked/article/632532/
'Never Trump' Hillary Backer Aiming to Sneak into Administration as U.S. Ambassador to India
Ashley J. Tellis, a former George W. Bush administration official who became a top "Never Trump" Republican and actually backed Democratic presidential candidate Hillary Rodham Clinton in the 2016 presidential election, is trying to sneak his way past President Donald J. Trump into a plum diplomatic position in the Trump administration.
Tellis, who is reportedly close to being selected as President Trump's United States ambassador to India, supported Clinton for president to undermine Trump during the campaign as part of a group of Republicans who tried to tank his candidacy post-primary. Tellis has even been openly opposed to the Trump administration's "America First" doctrine, making the news he is even being considered for the top diplomatic position in one of the biggest countries in the world even more puzzling.
Tellis, 55, is a former Bush administration White House official and former senior adviser at the U.S. embassy in New Delhi from 2001 to 2003. He also worked on the National Security Council as a special assistant to president George W. Bush, and as senior director for Strategic Planning and Southwest Asia during the early part of the Bush administration. He is an Indian scholar who went on be a senior fellow at the Washington-based Carnegie Endowment for International Peace, among other positions.
http://www.breitbart.com/big-government/2017/01/27/never-trump-hillary-backer-to-sneak-into-admin-as-u-s-ambassador-to-india/
'DISASTROUS': Nicola Sturgeon plans to drop the pound and introduce a NEW CURRENCY
"DISASTROUS" plans for a separate Scottish pound are set to be put forward by Nicola Sturgeon's expert commission on monetary policy.
The SNP went back to the drawing board last year after party leaders were forced to accept their attempt to retain sterling during the 2014 independence referendum was a failure.

They are now finalising a review of the currency options for an separateScotland in preparation for another attempt to break away from the rest of the UK.

The work is being led by Professor Andrew Hughes Hallett, a former World Bank and International Monetary Fund consultant, and will be presented to Ms Sturgeon later this year. GETTY
Nicola Sturgeon's SNP is drawing up plans for a separate currency
Although the expert group is considering all options, including keeping the pound and adopting the euro, a source said the introduction of a new Scottish currency was the most "likely" outcome.
Speaking to a pro-independence newspaper, the insider said: "My reading of the situation is that there will certainly be a change from what the position was last time and I think some form of arrangement where you move reasonably quickly and go to use a Scottish currency is likely and will at the very least be seriously considered."
But opposition politicians quickly branded the plan a "disaster".
http://www.express.co.uk/news/uk/760160/Nicola-Sturgeon-SNP-Scotland-new-currency
Russia sends aircraft to help fight Chile wildfires
Jan. 27 (UPI) — Chilean President Michelle Bachelet said Russia has sent an Ilyushin Il-76 strategic airlifter to conduct firefighting operations amid the South American country's worst fires in history.
"We accept generous Russian government support [of the] Ilyushin Il-76 aircraft to fight fires," Bachelet said in a statement, adding her administration has also requested helicopter help.
Bachelet said she held a meeting with private entrepreneurs from the regions affected by the fires, adding that the private sector said it is "committed to continue supporting in emergency."
At least six people have died in the fires that have scorched more than 1,120 square miles, Chile's Ministry of Interior and Public Safety said in a statement.
Early Friday, the agency, known as ONEMI, said there are 77 active fires, 51 fires that have been controlled and 14 that have been extinguished.
http://www.upi.com/Top_News/World-News/2017/01/27/Russia-sends-aircraft-to-help-fight-Chile-wildfires/7061485517721/
HMS Putin Hunter: For the first time since the Cold War Theresa May sends Royal Navy warship to Black Sea after warning we must stand up to Russia
HMS Diamond, a Type 45 destroyer with anti-aircraft rockets, will go to Ukraine 
It is part of the biggest British military build-up on Russia's borders for decades
It comes as the PM told US politicians that Britain and USA should stand up Putin
In a dramatic show of strength by Theresa May, HMS Diamond, a Type 45 destroyer equipped with the latest anti-aircraft rockets, will set sail for Ukraine carrying up to 60 Special Boat Service and Royal Marine commandos.
The move is part of the biggest British military build-up on Russia's borders for decades, and comes after the Prime Minister told US politicians that Britain and America should stand up to President Vladimir Putin.
In a dramatic show of strength by Theresa May, HMS Diamond, a Type 45 destroyer equipped with the latest anti-aircraft rockets, will set sail for Ukraine
HMS Diamond will lead a Nato task force and help protect 650 British troops who are involved in secret exercises in Ukraine – a country invaded by Russian-backed rebels in 2014.
UK experts are already teaching infantry skills to thousands of Ukrainian troops. The high-tech warship, which was launched in 2007 and entered service three years later, will carry Sea Viper missiles.
Travelling at nearly 3,000mph, the radar-guided warheads have a range of up to 70 miles and can destroy enemy jets and drones.
http://www.dailymail.co.uk/news/article-4167612/HMS-Putin-Hunter-sends-Royal-Navy-ship-Black-Sea.html#ixzz4X9j2ID2R
India & Russia to develop BrahMos missile for PAK FA 5th generation fighter jet
Report: Trump May Designate Muslim Brotherhood a Terrorist Organization
According to Reuters, a "factional" debate is under way within the Trump administration over adding the Muslim Brotherhood to the State Department and Treasury lists of foreign terrorist organizations.
This is a measure often called for by such critics of the Brotherhood as Center for Security Policy President Frank Gaffney, who once again recommended an official terrorist designation on Wednesday's edition of Breitbart News Daily.
A source in the Trump transition team told Reuters the effort to so designate the Muslim Brotherhood is led by National Security Adviser Michael Flynn. The source was personally in agreement with Flynn.
In Congress, a bill to add the Muslim Brotherhood to the official terrorist list was introduced this month by Sen. Ted Cruz (R-TX) and Rep. Mario Diaz-Balart (R-FL). Secretary of State nominee Rex Tillerson denounced the MB as an "agent of radical Islam" during his confirmation hearings, but he has not made public statements regarding adding them to the foreign terrorist organization list.
However, other Trump advisers, and members of the intelligence and law-enforcement communities, argue the Brotherhood has "evolved peacefully in some countries," Reuters claims.
http://www.breitbart.com/national-security/2017/01/27/trump-administration-weighs-terrorist-designation-muslim-brotherhood/
'No legitimate military objectives': UN panel finds Saudi strikes in Yemen may amount to war crimes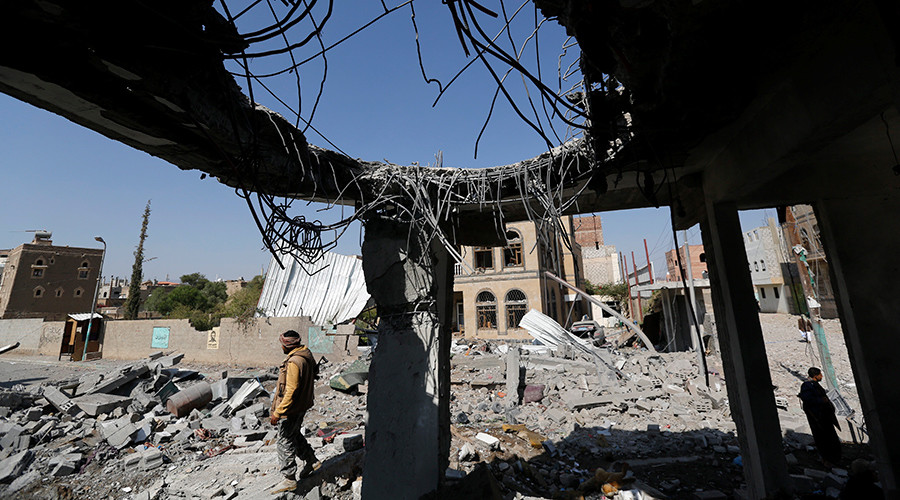 An expert UN panel investigating ten separate airstrikes by the Saudi-led coalition in Yemen – in which at least 292 civilians died – has found that most were the result of an 'ineffective targeting process' or deliberate attacks on peaceful targets.
"In eight of the 10 investigations, the panel found no evidence that the airstrikes had targeted legitimate military objectives," the 63-page report presented to the UN Security Council on Friday stated, which has been obtained by Reuters. "For all 10 investigations, the panel considers it almost certain that the coalition did not meet international humanitarian law requirements of proportionality and precautions in attack."
"The panel considers that some of the attacks may amount to war crimes," the experts said, echoing statements repeatedly made by independent observers since conflict broke out in the country two years ago.
The small subset of attacks, which took place between March and October last year, resulted in the deaths of over 100 women in children. Earlier this month, the UN humanitarian coordinator for Yemen, Jamie McGoldrick, estimated that more than 10,000 people have been killed in the war so far, with many of them the victims of air strikes.
https://www.rt.com/news/375549-un-yemen-strikes-war-crime/
UK military computers 'are wide open to Russian hackers', says one of Britain's top cyber experts
Major General Jonathan Shaw said nothing could be done to stop the attacks
He said it may lead to top-secret information being read by Vladimir Putin 
The retired general suggested limiting the information on military computers 
One of Britain's top cyber experts has warned that Russian hackers are able to penetrate the country's military computers.
Major General Jonathan Shaw, a former head of the UK's cyber defences security programme, said nothing could be done to stop the attacks, which may lead to top-secret information being read by Vladimir Putin.
The retired officer also claimed he expects 800 British troops to be targeted by Russian cyber attacks when they deploy to Estonia this summer.
http://www.dailymail.co.uk/news/article-4167624/UK-military-computers-wide-open-Russian-hackers.html#ixzz4X9jU1Eds
Suspected US commando raid kills 41 Al-Qaeda militants & 16 civilians in Yemen – local officials
A suspected US commando raid in Yemen has killed 41 Al-Qaeda militants and 16 civilians, according to local officials. The helicopter-borne assault was conducted at dawn in the south of the war-ravaged country.
U.S. service member killed in surprise raid in Yemen targeting al-Qaida
The U.S. military says a service member has been killed and three others wounded in a raid in Yemen targeting a local al-Qaida affiliate.
U.S. Central Command said in a statement Sunday that another service member was injured in a "hard landing" in a nearby location.
It says the aircraft was unable to fly afterward and "was then intentionally destroyed in place."
It says 14 fighters from al-Qaida in the Arabian Peninsula were killed in the assault and that U.S. service members captured "information that will likely provide insight into the planning of future terror plots."
http://www.chicagotribune.com/news/nationworld/ct-yemen-united-state-raid-20170129-story.html
Image Credit: Reuters
Brigadier General Abdo Abdullah Majili, Yemen army spokesperson, told Gulf News that the government forces backed massive air support from the Saudi-led coalition took control of Hodeida-Mocha road, cutting off a major supply route to the remaining Al Houthi pockets in the nearby areas.
"This means that Al Houthis will not be able to receive military reinforcements from Hodeida," Majili said.
http://gulfnews.com/news/gulf/yemen/yemen-army-liberates-mocha-hodeida-road-1.1969218
Abe, Trump agree to meet on Feb. 10
Jiji PressTOKYO (Jiji Press) — Prime Minister Shinzo Abe and U.S. President Donald Trump on Saturday agreed to hold a meeting in Washington on Feb. 10.
In their telephone talks, which lasted more than 40 minutes, the two leaders also confirmed the importance of the Japan-U.S. alliance and agreed to strengthen it further.
Abe and Trump also shared the view that their countries should beef up bilateral relations on the trade and investment fronts, after Trump issued an order to withdraw the United States from the Trans-Pacific Partnership free trade deal.
"We've confirmed the significance of the Japan-U.S. alliance," Abe told reporters after his phone conversation with Trump, the first one between them since Trump took office on Jan. 20.
"I hope to exchange frank views on economic and security issues in general in a meaningful manner," the Japanese leader also said, referring to his planned meeting with Trump.
Russian draft serves as 'guide' for final Syrian constitution – MoD
Russia has proposed a draft to serve as a "guide" for the Syrian constitution, Russian military said adding that the final document must be worked out solely by the Syrian people.
…
Among other issues, the Russian draft addressed territorial integrity, separation of political powers, as well as respect for minority's rights and international treaties.
It stipulates that Syria's territory "is united, inviolable, and indivisible," and the country's borders can only be changed after a public referendum conducted "among all citizens of Syria."
The question of whether certain regions should become more autonomous should be decided only through internal negotiations amongst Syrian, Gadzhimagomedov emphasized.
"The question of giving any administrative unit, including predominantly populated by Kurds, a status of autonomy, must be decided by all Syrians," he said.
Another cornerstone of the Russian-proposed draft refers to the international and domestic use of the Syrian military. According to the document, Damascus rejects war as a tool "to resolve international conflicts," and its armed forces should not be used to "suppress" own population.
"Another important part of the Constitution is that the army and other armed forces are separated from politics and are under control of the people," Gadzhimagomedov told reporters.
The paper also says that Syria's foreign policy will be built on the basis of "good neighborliness, cooperation and mutual security" and abide by international treaties and norms.
https://www.rt.com/news/375437-russia-draft-syria-constitution/
Hackers hit D.C. police closed-circuit camera network, city officials disclose

Hackers infected 70 percent of storage devices that record data from D.C. police surveillance cameras eight days before President Trump's inauguration, forcing major citywide reinstallation efforts, according to the police and the city's technology office.City officials said ransomware left police cameras unable to record between Jan. 12 and Jan. 15. The cyberattack affected 123 of 187 network video recorders in a closed-circuit TV system for public spaces across the city, the officials said late Friday.https://www.washingtonpost.com/local/public-safety/hackers-hit-dc-police-closed-circuit-camera-network-city-officials-disclose/2017/01/27/d285a4a4-e4f5-11e6-ba11-63c4b4fb5a63_story.html?utm_term=.558d3720b554
FREED DETAINEE SHOCKS PRESS: Iraqi Interpreter Responds To Question About How He Feels About President Trump: "I Like Him" [VIDEO]
That was certainly NOT the answer the press was hoping for…
"America is the land of freedom and I'm very grateful and very happy." -Hameed Khalid Darweesh, 10 year Iraqi interpreter for US Military (He certainly sounds like a Trump supporter)
An Iraqi interpreter who put his life on the line for the U.S. military told reporters that he likes Donald Trump, even though the president's executive order resulted in his airport detention. His praise for America was even stronger.
Hameed Khalid Darweesh, 53, was freed after spending hours at John F. Kennedy airport in New York. An ebullient Darweesh also told the crowd of reporters that he thinks America is the greatest nation in the world and a symbol of freedom.
http://100percentfedup.com/freed-detainee-shocks-press-iraqi-interpreter-responds-question-feels-president-trump-like-video/
Benoit Hamon wins socialist nomination in French presidential primary
Paris (CNN)Benoit Hamon clinched the socialist nomination for this year's French presidential election Sunday, securing victory over former Prime Minister Manuel Valls.
Hamon won with 58.9 percent of the vote, according to the Socialist Party website, defeating Valls who had 41.1 percent.
So far, 76.61 percent of the votes have been counted. The Socialist Party website states that more than 1.7 million people voted in the primary election.
Hamon's win defied polls that had predicted a runoff between Valls and former economy minister Arnaud Montbourg.
Hamon thanked those who voted for him in a tweet, saying "I warmly thank the left-wing voters for giving me, by their vote, a considerable strength for the fights to come."
Valls issued a tweet of his own: "Serving France for five years has been an honor, I will never forget it."