Turkey threatens to CANCEL EU migrant deal over Greece extradition row
TURKEY is threatening to cancel its migrant deal with the European Union (EU) after Greece refused to extradite Turkish soldiers following a failed coup.
Getty
The eight Turkish soldiers are accused of helping start the coup
Greece's Supreme Court ruled on Thursday against extraditing the eight soldiers, who have sought political asylum in Greece, saying they feared for their lives in Turkey.

Ankara says they were involved in the July 15 coup attempt against President Recep Tayyip Erdogan and branded them traitors.

The three majors, three captains and two sergeant majors fled in a helicopter to Greece after the coup attempt.

http://www.express.co.uk/news/world/759891/Turkey-cancel-European-Union-migrant-deal-Greece-extradition-row
 
https://player.vimeo.com/video/201417502
Abu Dhabi: Arab coalition forces in Yemen, with the help of the UAE Air Force, have destroyed an Iranian military drone in the northern port city of Mocha in Yemen, a Yemeni military source has said.
The drone was positioned on a mobile launching platform and intended to target Yemeni forces participating in the liberation of Mocha and the city's port when it was neutralised.
General Ahmad Saif Al Yafei, deputy chief of general staff of the Yemeni armed forces, said that Yemeni forces detected the aircraft during surveillance to areas north of Mocha, adding that the aircraft was about to take off for its mission when it was destroyed by an air-to-surface missile in coordination with the UAE Air Force operating in Yemen.
He said that cornered rebel militias have resorted to using weapons smuggled from Iran to Yemen and that the unmanned aircraft was part of such clandestine weapons shipments.
He also stressed that the presence of such Iranian weapons in Yemen clearly show the blatant Iranian interference in Yemen's crisis and attempts made by Tehran to destabilise the region and threaten peace in Yemen.
http://gulfnews.com/news/gulf/yemen/iranian-military-drone-destroyed-in-yemen-s-mocha-1.1969140
'Euro is at its end!' Anti-Merkel part attack failing currency which 'CANNOT' be saved
A LEADING member of Alternative for Germany (AfD) has warned of an impending "crisis" within the EU because of the crumbling euro.
Beatrix von Storch, an MEP and influential member of the far-right group, invited speakers to discuss the future of the euro and potential alternatives to the present European monetary system in Berlin on Thursday.She said the currency, which was introduced in Germany in January 2002, was destined for failure and said it "cannot be saved".

The AfD has enjoyed a rise in support in recent months while Germany was hit by multiple terrorist attacks.

http://www.express.co.uk/news/world/759732/afd-mep-Beatrix-von-Storch-slams-failing-euro-eurozone-cannot-be-saved
Western navies said planning major drill off coast of Iran
A joint strike group of American, British and French forces will conduct exercise next week, reportedly including simulation of conflict with Tehran
Western navies are planning a show of force off the coast of Iran next week with a large military exercise involving American, British and French forces, the Middle East Eye website reported Friday.
Exercise "Unified Trident," which will reportedly involve a simulation of a confrontation with Iran, is intended to "enhance mutual capabilities, improve tactical proficiency and strengthen partnerships in ensuring the free flow of commerce and freedom of navigation," according to US Naval Forces Central Command.7
It will be held near the coast of Bahrain by Combined Task Force 50, and will involve aircraft carriers, destroyers and frigates from the three nations.
Iran has had numerous confrontations recently with US Navy ships in the Persian Gulf and around the Strait of Hormuz, with the most notable case being Iran's capture of 10 US Navy sailors last January who had drifted into Iranian waters after experiencing mechanical problems.
http://www.timesofisrael.com/western-navies-said-planning-major-drill-off-coast-of-iran/
US Strikes Al-Qaida in Yemen on First 3 Days of Trump Presidency
WASHINGTON — The United States conducted airstrikes against al-Qaida members in Yemen on the first three days of President Donald Trump's administration, the Pentagon announced Wednesday.
The drone strikes occurred Jan. 20, 21 and 22 in the Bayda province of southwestern Yemen and killed five suspected terrorists with al-Qaida's affiliation in the Arabian Peninsula region, according to a U.S. Central Command statement. Al-Qaida has taken advantage of civil war across Yemen since 2015 to gain territory where they've plotted terrorist attacks on Western targets, according to Pentagon officials.
"Strikes against al-Qaida operatives in Yemen put consistent pressure on the terrorist network and prevent them from plotting and executing attacks against the [United States] and our allies," said Army Maj. Josh T. Jacques, a U.S. Central Command spokesman. "Al-Qaida remains a significant threat to the region, the United States, and beyond."
http://www.military.com/daily-news/2017/01/26/us-strikes-al-qaida-in-yemen-on-first-3-days-of-trump-presidency.html
About 40 Turkish NATO soldiers requested asylum in Germany: media
About 40 mostly high-ranking Turkish soldiers who worked at NATO facilities in Germany but were suspended after the failed coup in Turkey in July have requested asylum in Germany, news magazine Der Spiegel and broadcaster ARD reported on Saturday.
No comment was immediately available from the government or NATO officials.
The reports of the asylum applications filed by Turkish soldiers in Germany came as Chancellor Angela Merkel prepares to travel to Turkey to meet President Tayyip Erdogan.
Ties between the two NATO partners have been strained over issues including alleged spying by Turkish clerics in Germany, German concerns about Turkey's crackdown on dissidents, and Ankara's accusation that Berlin is harboring militants from the Kurdistan Workers Party (PKK) and far-leftists of the DHKP-C.
http://www.reuters.com/article/us-turkey-security-germany-idUSKBN15C0AJ
Russia's Bold MiG-35 Fighter Finally Starts Flight-Testing (And Putin Is Watching)
Russian President Vladimir Putin held a video-conference with Russian Aircraft Corporation MiG (RSK-MiG) at the Kremlin on Jan. 26 to mark the start of flight-testing for the new Mikoyan MiG-35 Fulcrum-F. An advanced derivative of the venerable Soviet-era MiG-29, the MiG-35 incorporates new features such as three-dimensional thrust-vectoring and an active electronically scanned array radar.
"Let me start by congratulating you on this important event – the start of our new MiG-35 light fighter plane's flight tests," Putin said according to a transcript released by the Kremlin. "I hope very much that this fighter will contribute substantially to bolstering our Air Force and Aerospace Forces. The plane also has good export potential, given that more than 30 countries actively operate another model, the MiG-29."
http://nationalinterest.org/blog/the-buzz/russias-bold-mig-35-fighter-finally-starts-flight-testing-19212
North Korea has restarted reactor to make plutonium, fresh images suggest
Water plume indicates activity at reactor in Yongbyon that produces plutonium for nuclear weapons program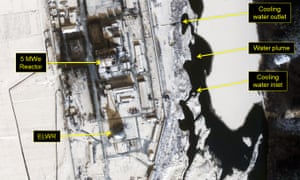 Washington's 38 North project, which monitors North Korea, said previous analysis from 18 January showed signs that North Korea was preparing to restart the reactor at Yongbyon, having unloaded spent fuel rods for reprocessing to produce additional plutonium for its nuclear weapons stockpile.
It said in a report: "Imagery from January 22 shows a water plume (most probably warm) originating from the cooling water outlet of the reactor, an indication that the reactor is very likely operating."
https://www.theguardian.com/world/2017/jan/28/north-korea-has-restarted-reactor-to-make-plutonium-fresh-images-suggest
Iran to ban US citizens in response to Trump's immigration order
Iran calls Trump's order "an obvious insult to the Islamic world"
Iran is one of seven Muslim-majority nations targeted in US order
Iran is among seven countries whose nationals are barred from entering the United States for 90 days under Trump's order
"The US decision to restrict travel for Muslims to the US, even if for a temporary period of three months, is an obvious insult to the Islamic world and in particular to the great nation of Iran," the statement said.
"Despite the claims of combating terrorism and keeping American people safe, it will be recorded in history as a big gift to extremists and their supporters."
Russia Is Set To Launch Its Quietest Submarine Yet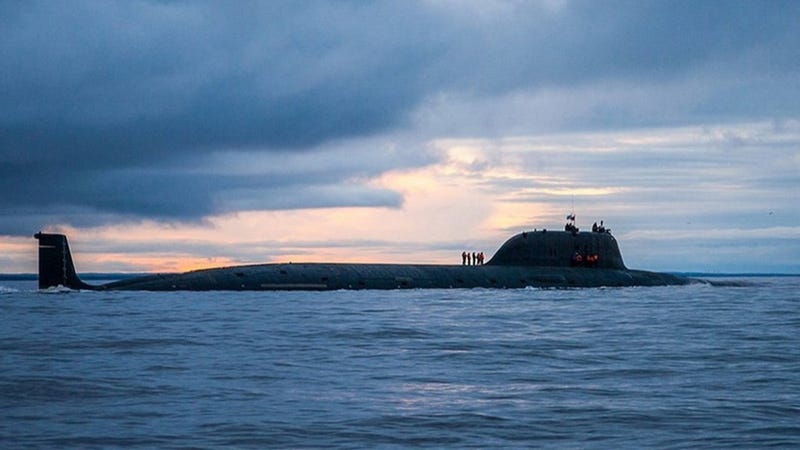 The fourth Yasen-class submarine, the Krasnoyarsk, has passed critical tests of its structures and pressure hull, according to Russia's TASS news agency. It's supposed to be the most quiet nuclear-powered attack sub ever to enter the Russian fleet.
As TASS reports, the Krasnoyarsk's pressure hull withstood hydraulics tests and that further work is being planned for installation and assembly. The hull is built with low magnetic steel to help it avoid detection, according to The Diplomat. Keep in mind that Magnetic Anomaly Detectors were a large part of Cold War submarine hunting.
Russia has five Yasen-class subs under construction at the Sevmash Shipyard, in Severodvinsk, Russia. The only one in service at the moment is the K-329 Severodvinsk. That boat is 390 feet long and 13,800 tons; it carries a crew of 32 officers and 58 enlisted submariners. It has "The vessel has eight torpedo tubes, four of which are 650mm tubes while the rest are 533mm tubes," according to The National Interest.
http://foxtrotalpha.jalopnik.com/russia-is-set-to-launch-its-quietest-submarine-yet-1791698847
Defective engines may ground Russia's Proton rocket for months
by Jeff Foust — January 27, 2017
Russian media reported that test firings found problems with engines used in the second and third stages of the Proton rocket, reportedly due to the replacement of heat-resistant alloys in those engines with cheaper, but more failure-prone, materials.
The Proton may not return to flight until June or July as a result. Roscosmos is also looking into engines made by the same manufacturer, Voronezh Mechanical Plant, used in the upper stage of Soyuz rockets.
The director general of the plant resigned last week. [Russian Space Web]
http://spacenews.com/defective-engines-may-ground-russias-proton-rocket-for-months/#sthash.8cMKvCn0.dpuf
Turkey sentences journalist six years in jail for writing about Kurds

Kurds confirm death of third US volunteer as part of Raqqa campaign
ARA News
On Friday, the Kurdish People's Protection Units (YPG) and the Syriac Military Council (SMC) confirmed in a statement the death of a 5th foreign volunteer as part of the anti-ISIS Raqqa operation–launched in November 2016.
On Thursday, the group Assisting Volunteers of Rojava suggested a US volunteer died in the operation, but this was not confirmed by the YPG forces.
"With great sadness we announce the passing away of our good friend Albert Avery Harrington, an American Volunteer who was injured in a bomb explosion a few days ago in Syria and passed away early this morning from his injuries," the Assisting Volunteers of Rojava said. "Rest in peace brother Cekdar Rojava [Kurdish nickname of Harrington], you are loved and missed. Our condolences to Harrington family."
http://aranews.net/2017/01/kurds-confirm-death-third-us-volunteer-part-raqqa-campaign/
Trump suspends entry of Syrian refugees indefinitely
The United States is shutting its door to refugees fleeing war-torn Syria and suspending entry by citizens of seven Muslim-majority nations, including Iraq, Iran and Libya.
President Donald Trump signed an executive order authorizing the steps on Friday, asserting the moves would help protect the U.S. from terrorist attacks.
The order will institute "new vetting measures to keep radical Islamic terrorists out of the United States of America," said Mr. Trump. "We only want to admit those into our country who will support our country and love, deeply, our people."
http://www.theglobeandmail.com/news/world/us-politics/donald-trump-refugees-syria-executive-order/article33809191/
Saudi Journalist to Palestinians: Armed Resistance to Israel is Futile, Arab World Has Lost Interest in Your Cause
The Palestinian cause is "no longer a top priority" for the Arab world, a Saudi journalist declared earlier this month.
In an article published by the Saudi daily Al Jazirah newspaper — and translated by the Middle East Media Research Institute (MEMRI) — Muhammad Aal Al-Sheikh wrote that the reliance of radical Palestinian groups on armed resistance "constitutes a kind of political suicide that only political ignoramuses [can] condone."
According to Al-Sheikh, a two-state solution to the Israeli-Palestinian conflict is the sole option "that can be demanded and which enjoys the support of most of the international community."
https://www.algemeiner.com/2017/01/27/saudi-journalist-to-palestinians-armed-resistance-to-israel-is-futile-arab-world-has-lost-interest-in-your-cause/
Former KGB general who helped MI6 spy compile the Donald Trump dirty dossier is found dead in the back of his car amid claims of a Kremlin cover up
Oleg Erovinkin was found dead on Boxing Day in the back of his black Lexus
The morgue in Russia has not reached a conclusion about the cause of death 
Local media is claiming foul play was at the centre of him being killed in Moscow
It has been claimed Erovinkin is a key source mentioned in the explosive dossier 
Oleg Erovinkin served as a general in the KGB and was found dead on Boxing Day in the back of his car in Moscow.
It has been claimed he died of a heart attack, but an expert on Russian security threats believes he was murdered for his role in the explosive dossier.
http://www.dailymail.co.uk/news/article-4166610/Kremlin-covered-murder-former-KGB-chief.html#ixzz4X49E9Iv4
Trump to speak with Putin, Merkel and Abe in day of calls
Trump: I hope for good relations with Putin
00:52
Story highlights
Trump and Putin have expressed a desire to build warmer ties between the two nations
The US leader will also speak with key European and Asia-Pacific allies