Obama commutes Chelsea Manning's sentence & General Cartright's Pending Sentence
BY JORDAN FABIAN –

01/17/17 04:20 PM EST
Nigerian military jet 'mistakenly bombs refugee camp', killing more than 100 including 20 Red Cross volunteers
Istanbul nightclub attack: suspected gunman 'had training in Afghanistan'
Man held by Turkish authorities is named as Abdulgadir Masharipov, who was born in Uzbekistan in 1983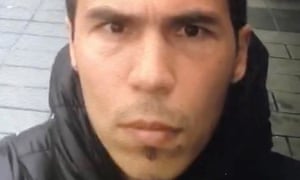 The man accused of killing 39 people in an Istanbul nightclub on New Year's Eve was born in Uzbekistan, received training in Afghanistan and entered Turkey illegally last year, Istanbul's governor has said.
Vasip Sahin said it was clear that the gunman, arrested on Monday night and named as Abdulgadir Masharipov, carried out the attack on behalf of Islamic State. Masharipov has admitted his guilt and his fingerprints matched those at the scene, Sahin added, describing the attacker as a well-educated terrorist, born in 1983, who speaks four languages.
He was apprehended at the house of a friend, a Kyrgyz national, in the Istanbul suburb of Esenyurt, a community made up largely of families and retired people. The friend and three women were also arrested.
https://www.theguardian.com/world/2017/jan/17/istanbul-nightclub-attack-suspected-gunman-abdulgadir-masharipov-had-training-in-afghanistan
We're going for FULL Brexit! PM puts immigration curbs at heart of 12-point plan for leaving the EU as she confirms we are quitting single market… but MPs WILL get a vote on final deal
Prime Minister is finally unveiling her blueprint for taking UK out of the EU
Rejects 'half-in, half-out' deal and makes clear are leaving the single market
Britain will regain control over borders and quit the European Court of Justice
Warns that EU could be 'crushed to tiny pieces' unless it recognises demands for greater sovereignty 
But makes concession by announcing MPs and peers to get vote on final deal 
Says should be fixed length 'transitional' deal to avoid cliff edge for business
Theresa May unveiled her bold blueprint for cutting ties with Brussels today – and warned that if the EU does not cooperate it could be 'crushed into tiny pieces'.
In an historic speech that will define the UK for generations, the Prime Minister vowed to take the country out of the European single market
She insisted controlling rampant immigration is a red line – and made clear Britain will no longer tolerate being bossed around by European judges.
http://www.dailymail.co.uk/news/article-4127246/PM-immigration-Brexit-plan-leaving-EU-single-market.html#ixzz4W1QPvX82
Serbia plans to annex part of Kosovo 'using the Crimea model' claims president after soldiers are deployed to stop a train with the slogan 'Kosovo is Serbia' entering the country
President Hashim Thaci fears Serbia wants to seize a slice of northern Kosovo
Balkan neighbours are trading accusations of wanting to ignite new regional war
Kosovo has prevented train in Serbia's national colours from crossing the border
Kosovo's leader fears Serbia is trying to annex part of his country – just as Russia annexed Ukraine's Crimea region in 2014.
President Hashim Thaci said Serbia wants to seize a slice of northern Kosovo as the two Balkan neighbours trade accusations of wanting to ignite a new regional war.
It comes after Kosovo special police units on Saturday prevented a train painted in Serbia's national colours and bearing the words 'Kosovo is Serbia' from crossing the border.
http://www.dailymail.co.uk/news/article-4125406/Serbia-wants-annex-Kosovo-using-Crimea-model-president.html#ixzz4W1RLPfgw
Waning Influence: Washington Losing Its Grip and Its Allies in Asia Pacific
Washington's influence in the Asia-Pacific region is waning with its allies adopting a more independent foreign policy course and bolstering economic ties with China.
Although the Obama administration continues to push ahead with its "Pivot to Asia" project, Washington's influence is steadily waning across the Asia Pacific region, Tony Cartalucci, a Bangkok-based geopolitical researcher, notes in his article for New Eastern Outlook. "Washington has suffered geopolitical setbacks in virtually every nation in Asia Pacific, including those now led by regimes it has meticulously organized, funded, and backed for decades. It is also waning, however, among those nations considered long-time and crucial US allies," Cartalucci emphasizes.
'America Has Lost' Behind Manila's Separation From Washington
According to the researcher, Thailand, Washington's longstanding ally, has recently "incrementally dismantled American influence over it." Thailand's trade activities are now focused primarily on Asia with the majority of its imports and exports "divided equally between China, Japan, and ASEAN" nations. For its part, the West represents a smaller, "though not insignificant," market, the researcher stresses. Likewise, the country has also rushed to diversify its military acquisitions. "What used to be a military dominated by American hardware and military exercises, is transforming with the acquisition of Chinese tanks, European warplanes, Middle Eastern assault rifles, Russian helicopters, and Thai-made armored vehicles — as well as joint drills held with a variety of nations, including for the first time, China," he writes.
https://sputniknews.com/politics/201610261046758004-us-asia-pacific-thailand-philippines/
McCain Calls For Major Boost to Defense Spending, Modernization of Joint Force
McCain, who chairs the Senate Committee on Armed Services, released a 28-page white paper recommending a $640 billion base defense budget in fiscal year 2018, which would represent a $54 billion increase over the budget proposal put forth by outgoing President Barack Obama. The plan also calls for repealing the Budget Control Act of 2011, which placed caps on the federal budget for a decade and paved the way for roughly $1 trillion in cuts to defense spending.
If adopted, the plan would add $430 billion to defense spending over the next five years in order to modernize the joint force and regain the capacity of the armed forces that has been eroded as a result of budget constraints and force drawdowns.
The paper includes specific recommendations to grow and modernize the Army, Air Forces, Marine Corps, Navy, and special operations forces. It also calls for expanding U.S. missile defense, making investments in next-generation space capabilities, and boosting funding for cyber forces and cyber weapons systems.
http://freebeacon.com/national-security/mccain-calls-for-major-boost-to-defense-spending-modernization-of-joint-force/
F-35 has 276 deficiencies and counting, unfit for combat operations – Pentagon report
Published time: 16 Jan, 2017 23:23Edited time: 17 Jan, 2017 11:29
The F-35 stealth fighter jet suffers from hundreds of problems and won't be fully combat-capable before 2020, says a scathing report from the Pentagon's top evaluator. New issues keep cropping up, and fixing them all may cost over $1 billion.
Dr. Michael Gilmore's damning assessment is part of the massive annual report for fiscal year 2016, and his 62-page dossier devoted to the F-35 paints a grim picture of America's much touted,futuristic Joint Strike Fighter. The program, which began in 2001, was supposed to deliver a fifth-generation jet serving the needs of the Air Force, the Navy and the Marine Corps, achieving savings through a modular design. Instead, it is 70 percent over initial cost estimates and years behind schedule.
Dr. Gilmore, the Pentagon's director of operational test & evaluation (OTE) under President Barack Obama, is leaving the Department of Defense as part of the regular change in politically appointed officials. Though F-35 officials have continued to insist the jet is doing just fine and that the problems found in operational testing were being fixed rapidly, Gilmore's final report makes it clear that he doesn't believe their reassurances.
"The Services have designated 276 deficiencies in combat performance as 'critical to correct' in Block 3F, but less than half of the critical deficiencies were addressed with attempted corrections," says Gilmore's report, referring to problems in the F-35's software. "Deficiencies continue to be discovered at a rate of about 20 per month," the report added.
"Much more testing is needed to assess the cybersecurity structure of the air vehicle and supporting logistics infrastructure system," the report says, "and to determine whether, and to what extent, vulnerabilities may have led to compromises of F-35 data."
https://www.rt.com/usa/373891-f35-report-flaws-delays/
Upgrade of Finland's Military Planned According to Russia's Sputnik International Paper
Finland is planning a series of massive updates for its armed forces, which include counter artillery systems and high-precision projectiles. Moreover, the non-aligned Nordic country is buying torpedoes for the first time since World War II.
Cold War Apparitions Resurface as Norway Welcomes US Marines In the coming years, Finland plans to acquire counter artillery radar systems, previously unbeknown to the Finnish Armed Forces. According to Finnish daily Helsingin Sanomat, the effectiveness of such systems has been observed during the ongoing conflict in Ukraine, where 85 percent of casualties were reportedly caused by artillery fire.
According to Finnish Armed Forces artillery inspector Colonel Pasi Pasivirta, the aim is to accelerate the acquisition schedule so that the radar system will be in active use by 2020. By Pasivirta's estimations, the choice is between six to seven companies, including Sweden's Saab, Israel's Elta Systems and the US' Raytheon. The Finnish Defense Forces have made an open request, which means that Russia potentially may participate in the tender. However, Pasivirta declined to assess what the Russians could offer. The overall price tag for the new system is expected to run into tens of millions of euros. The final price will be determined by the scope of the system purchased. In a related case, the Finnish Armed Forces are seeking high-precision ammunition for their artillery. According to Pasivirta, Finland is prepared to study the state-of-the-art market for homing missiles and is preparing a market survey, to begin with.
https://sputniknews.com/military/201701171049679876-finland-army-upgrade/
China to develop prototype super, super computer in 2017
AFP 
China plans to develop a prototype exascale computer by the end of the year, state media said Tuesday, as it seeks to win a global race to be the first to build a machine capable of a billion, billion calculations per second.
If successful, the achievement would cement its place as a leading power in the world of supercomputing.
The Asian giant built the world's fastest supercomputer, the Sunway TaihuLight machine, in June last year, which was twice as fast as the previous number one.
It used only locally made microchips, making it the first time a country has taken the top spot without using US technology.
Exascale computers are even more powerful, and can execute at least one quintillion (a billion billion) calculations per second.
https://sg.finance.yahoo.com/news/china-develop-prototype-super-super-113730727.html
The Italian Ministry of Defense signed contracts with Leonardo for the acquisition of its new M-345 jet trainer and a new assault helicopter set to replace the  A129 Mangusta.
The two contracts were together worth over 500 million euros, or US $532 million, the Italian state controlled firm said in a statement released late Friday.
The M-345 contract covers five aircraft, making it the initial batch in an eventual expected order of 45 aircraft, Leonardo said, which will replace 137 MB-339 aircraft that entered service in 1982. First deliveries will be in 2019.
The company announced Dec.30 that the prototype of the jet made its first, 30-minute flight in Italy.
The aircraft's development has been funded by the Italian government and is set to be acquired by the Italian Air Force to prepare trainee pilots to move up to the firm's advanced M-346 trainer, which is now being offered to the US in the TX program.
The Williams FJ44-4M-34 engine on the aircraft offers 3,400 pounds of thrust, and has been touted by Leonardo officials as contributing to the aircraft's low life cycle cost, similar to or lower than a turbo prop.
The firm, which believes it can sell 200 M-345s around the world, will be using life cycle stats to try to woo turbo prop trainer customers.
Experts Following Florida Terrorist Attack –  Huge Breach Neglected by US
This post is also available in:
עברית (Hebrew)
By Arie Egozi
"In a state where one can purchase almost any type of weapon just as you buy a hamburger, it has been reasonable to expect that weapons would not be allowed at a passenger aircraft baggage hold, ready to use for a terrorist attack right after landing", an Israeli expert on aviation security said yesterday.
According to this expert, he and his colleagues had cautioned the US security authorities time and again about this danger, but the regulations were not changed.
http://i-hls.com/2017/01/experts-following-florida-terrorist-attack-huge-breach-neglected-us/
Mazda reportedly introducing sparkless gas engine in 2018
Mazda may be losing its spark, and that's a good thing.
The automaker is reportedly set to introduce the first modern gasoline automobile engine that works more like a diesel, using compression to ignite its fuel mixture, rather than an electronic spark.
The technology is known as Homogenous Charge Combustion Ignition (HCCI,) and it could deliver a 30 percent improvement in fuel economy, according to Nikkei. The lean-running motors also deliver better emissions performance than conventional gasoline engines.
http://www.foxnews.com/auto/2017/01/16/mazda-reportedly-introducing-sparkless-gas-engine-in-2018.html
Shock Israeli Poll Finds Only 4% Want a Left-of-Center Prime Minister